Firsthand Report: Whitetail
By Connie Lawn, DCSki Columnist
January 4, 2004 — Editor's Note: DCSki Columnist Connie Lawn visited Pennsylvania's Whitetail Resort on Thursday, January 1, and filed this Firsthand Report. Due to the unseasonably warm temperatures, Whitetail closed on Sunday, January 4, and will remain closed on Monday, January 5. Cold temperatures will return to the region on Monday night, and Whitetail plans to resume snowmaking then.
---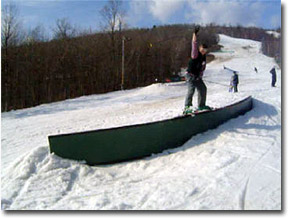 Whitetail can be great fun, and provide some challenging runs, even under sparse conditions. On Thursday, January 1, I had some of the best runs of my life! I even had a nearly private mountain - I was one of the few skiers on Exhibition, which I sailed down five times until my legs gave out. But, there is no denying, this January thaw is the pits! You have to love "pet rocks" and bare spots to ski in it. I propose a contest to see who can retrieve the most rocks on the slopes, and throw them into the woods.
On Thursday, Whitetail had done a valiant job of trying to keep snow on the operating slopes. They had not been able to make snow for a few nights . Hopefully, that will change soon. Of the trails listed as open, 5 were beginner, 6 intermediate, and 3 advanced (sadly, Bold Decision and Farside were among those closed).
Again, I love to ski, and had a wonderful time. The weather was springlike - jackets were not needed. There was no biting wind; no pellets of ice biting and freezing your face. The lines were short, and most slopes were without crowds. The most popular slopes were the runs leading to the Terrain Park. We thoroughly enjoyed Limelight, Upper and Lower Angel Drop, and of course, Exhibition. While I stayed on it to commune with the rocks, my husband Charles checked out Snowpark, in the beginner area. He reports it was well-groomed, but thin.
I want to emphasize that everyone I saw appeared to be having a great day. No one was complaining - everyone knew what to expect. We have spring conditions in January, and it is a miracle there is any skiing around here at all (I must admit I am jealous of our friend Crush out West, but we all can't fly out there for half a day. Sail on some powder for us Crush!)
Guests also had a great time New Year's Eve at Whitetail. The buffet was sold out, but the food was bountiful. Several hundred people enjoyed the feast and music. And, hundreds skied until after Midnight - what a fantastic way to usher in the New Year!
Tubing at Whitetail
Perhaps the best part of the New Year's experience for us was tubing, which my husband and I enjoyed after a magnificient sunset on the mountain. Tubing manager Eric Kerlin and his staff were great to us. The tubing runs were in terrific shape - fast and icy. Tubing is so much fun, for any age. As they say - no experience is necessary - just guts! Place your faith in the rubber tube as it hurls you down the mountain! You won't jump into another lane, and won't crash into other tubers - so long as they get out of their lanes at the end! Tubing is inexpensive, and Whitetail supplies the tubes so you needn't worry about equipment. Cost is $8 an hour midweek, and $10 an hour on weekends and holidays. For two hours, the price is $12 for weekdays and $15 for weekends/holidays. There are also special party packages for children's birthdays - $17 a person gives you two hours of tubing, food, and use of the party room. Now, if that doesn't exhaust the little ones, nothing will!
Connie's Recommendations
As usual, I have a few suggestions for the ski areas. One important one is helmets. It is really important for everyone to wear them - especially the little kids. Why not make them mandatory at all ski and tubing areas, and rent them at a reasonable price? It will make injuries (and lawsuits) less likely. In the tubing areas, helmets could be very important. My husband and I were the only ones wearing them, and the kids around us said, "Wow, look at those cool crash helmets!"
Other suggestions - especially for us in the older set. Please put out some benches, water and paper cups, and tissues at the bottom of the slopes. That used to be standard in many areas, but now I hardly ever see them. It costs the resorts a bit more, but makes up for it in good relations. Just fine anyone, if they try to throw the debris on the slopes. Some ski areas even sell coffee or other drinks at the lift lines. In Sugarbush, Vermont, I remember fresh hot maple syrup in buckets, which you could scoop out, roll in the snow, and eat. The smell permeated the slopes. That was some amenity!
But, in short, take what you can get, and savor every moment. And, do anything you can - pray, snow dance, whatever - but bring back the cold!
Related Links:
Related DCSki Stories:
Firsthand Report: Whitetail Resort (January 4)
A midweek escape to Pennsylvania's Whitetail Resort on Thursday revealed the perfect skiing trifecta: plenty of sun, plenty of snow, and no crowds. DCSki's Editor provides this Firsthand Report from his first turns of the season.
(3 reader comments)

Mid-Atlantic Ski Season Gains Momentum (December 27, 2012)
A shot of cold air and some natural snow has helped launch the 2012-2013 winter season in a big way. Find out the status of Mid-Atlantic ski areas.

The Weekly Altitude (November 18, 2012)
The Weekly Altitude provides a look at what's happening in the Mid-Atlantic ski and snowboard scene. In this week's issue: Wisp Resort to change hands; Wintergreen's "Snow License Program" offers free skiing to 5th and 6th graders; Thanksgiving Eve Pub Crawl at Bear Creek; and Whitetail pledges $10,000 to the MPMC Project.

Firsthand Report: Liberty and Whitetail (February 5, 2012)
In recent days, Connie Lawn and Charles Sneiderman visited Pennsylvania's Liberty and Whitetail Mountain Resorts. On Saturday, they experienced a snow squall at Liberty, which added a layer of snow across the resort. They provide this Firsthand Report.

Firsthand Report: New Ski Technology for Whitetail Rentals (January 28, 2012)
Connie Lawn and Charles Sneiderman visited Pennsylvania's Whitetail Resort this past week, where they tried out new ski technology available across Whitetail's rental fleet.
(2 reader comments)

Whitetail's Buddy Hauk Passes Away (January 17, 2012)
On Sunday, January 15, 2012, long-time Whitetail Ski Resort mountain host Buddy Hauk passed away. Buddy was 63.
(1 reader comment)

AT&T Expands Cell Service at Whitetail Resort (January 14, 2012)
A recent tower upgrade at Whitetail should deliver solid 3G cell coverage to AT&T cell phone subscribers visiting the Pennsylvania resort.

Firsthand Report: Whitetail Great Outdoors Festival (October 23, 2011)
Connie Lawn filed this report from the first day of Whitetail's 11th Annual Great Outdoors Festival.

What's New for 2011: Whitetail Resort (August 13, 2011)
The Fanciful trail is getting some love for the upcoming season at Whitetail Resort. $2.8 million in capital enhancements will see lighting added to the intermediate trail, as well as snowmaking improvements, a new deck area, and a loading carpet on the EZ Rider Quad.
(2 reader comments)

Firsthand Report: Special Times at Whitetail (February 19, 2011)
Connie Lawn recently made two visits to Pennsylvania's Whitetail Mountain Resort. She provides this combined Firsthand Report.
Lodging Near Whitetail (extracted from the DCSki Lodging Finder):

About the Author
Connie Lawn is an avid skier. In her spare time, she has covered the White House as a reporter since 1968. To read other articles by Connie, click here.
---
---
There are 5 reader comments about this article. To read them, or add your own, scroll below or click here.
The views and opinions expressed in DCSki Article Comments are strictly those of the comment authors and have not been reviewed or approved by DCSki. If you believe a comment is inaccurate or inappropriate, please contact DCSki's Editor.
Drinks
- posted by JohnL
January 5, 2004 at 10:11 am
Some ski areas even sell coffee or other drinks at the lift lines.

Connie, I've never seen this in my years of skiing. What areas do (or did) this?

For drinking water when on the slopes, try skiing with a Camelback. Nowadays, I even ski with my Camelback @ Whitetail; I originally bought it for the dry climates out West but it comes in handy everywhere.

Camelback
- posted by JR
January 5, 2004 at 11:02 am
Yeah, Camelbacks are great. I've had the mouthpiece freeze up before at snowshoe though.

nice touches
- posted by Connie Lawn
January 5, 2004 at 1:17 pm
Dear John - I have never actually seen areas sell coffee or drinks at lift lines, but think it would be a good idea, as long as people do not litter the slopes with refuse!
I have seen water and tissues often, out West and in New England. But, less often now, as areas try to save money.
I would still like to see benches! Yours, Connie

Hey Connie!
- posted by Crush
January 5, 2004 at 8:40 pm
Hi - The Whitetail article was straight to the point. Snowtime is doing what they can, but need to be a little most sensitive to some customer comfort. I use to think they were sort of the Deer Valley of PA (before Snowtime) but things sort of became a little shabby since. .. but on the other hand they do put money into snowmaking which allows one to ski in not-too-great conditions and still have GREAT TIME!! Yes, there is a lot of powder (oh p.s. replied to you in the Liberty piece .. TY for the mention in here) in UT, but glad you had an uplifting ski experience. I use to like to show off on Limelight on a nice day ... even with the rocks LOL (had those days too). I learned to repair my own ski bases fairly early on!
smile

Lift line amenities
- posted by Scott
January 5, 2004 at 9:48 pm
Colorado's Beaver Creek Resort, Vail's upscale neighbor, used to hand out warm chocolate chip cookies in the lift lines, free of charge. (I say "used to" because I'm not sure they still do this; they did a few years ago.) Vail and Beaver Creek also both had tissues and trash cans in the lift lines the last time I visited. Beaver Creek has had the reputation of being very upscale -- it's one of the only resorts I know of in North America that actually has conveyor belts and escalators at the base area so folks don't need to clod around in their ski boots as much.

Whitetail was modeled after Deer Valley. They still have the free ski check, which is a plus -- I'm not sure if any other Mid-Atlantic areas offer that. Another thing I miss is that they used to groom the slopes in between the day and evening sessions. They stopped doing that after a couple years -- but perhaps there just hasn't been enough snow to do that. With the flex tickets, there isn't a nice transition point between day and night sessions anymore, too. Still, it was great arriving in the early evening to freshly-groomed corduroy...