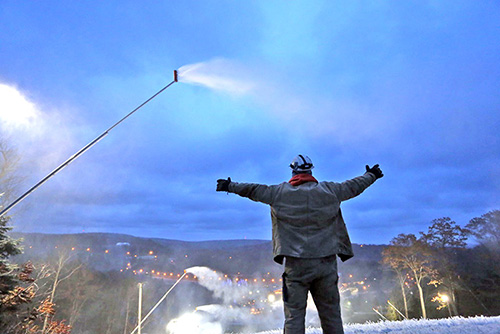 The Race to Open is On! Seven Springs Begins Snowmaking Operations.
On Friday, November 10, 2017, Pennsylvania's Seven Springs Resort took advantage of falling temperatures to fire up its snow guns. Although the resort has not yet announced an opening date, it plans to make snow as long as conditions allow. Photo provided by Seven Springs Resort.

November 5, 2017
- For the fourteenth year, the Pennsylvania Ski Areas Association (PSAA) is offering a Snowpass program that allows fourth and fifth graders to his the slopes free, up to three times each at each participating Pennsylvania resort, with some limitations.
November 5, 2017
- Sugar Mountain has updated its snowmaking system over the summer, replacing the oldest of its four water pumps with a new high-efficiency, variable-speed pump capable of pushing 1,000 gallons of water per minute to the North Carolina resort's snowmaking guns
November 4, 2017
- Continued snowmaking improvements set the stage for the upcoming winter season at West Virginia's Canaan Valley Resort.

November 4, 2017
- The $865 Gold Card acts as a season pass to North Carolina's six ski areas, but is limited in sales to 100 passes and going fast.

October 22, 2017
- Connie Lawn and Charles Sneiderman recently visited Liberty Mountain Resort's Fall Festival. They provide this Firsthand Report.

August 16, 2017
- Whitetail Resort is in the process of spending just over $1 million this summer towards capital improvements as it prepares for the upcoming winter season.

April 1, 2017
- In February, DCSki Columnist Robbie Allen decided to tackle five ski areas located around Mount Hood, Oregon. He describes each area in this report, concluding that he would love to have Mount Hood in his backyard.
1 comment

March 15, 2017
- DCSki Columnist John Sherwood revisited his high school stomping grounds: Watchusett Mountain, in the suburbs of Boston. In this story, John describes his recent trip to Watchusett, which he describes as "the Whitetail of Massachusetts."
1 comment

March 10, 2017
- In February, 2017, DCSki Columnist John Sherwood visited Utah's Snowbasin Resort. In this story, he reflects on all the small and large things Snowbasin does to deliver a solid experience to visitors.
1 comment

February 23, 2017
- David Rappaport spent the recent holiday weekend at West Virginia's Snowshoe Mountain Resort, where fog and mild temperatures didn't get in the way of some good skiing. David provides this Firsthand Report.