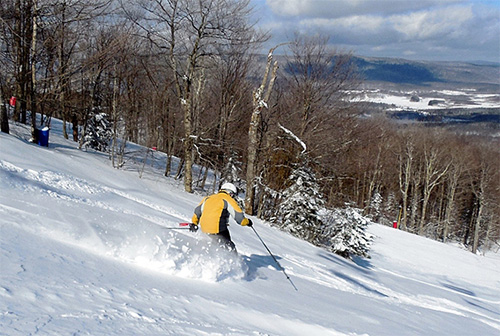 November 9, 2014
- Pennsylvania's Seven Springs Mountain Resort has kept busy with capital improvements over the past year. Enhancements include re-graded slopes, additional snowmaking, a new experience-based instruction program, and a new dining option.

November 9, 2014
- Pennsylvania's Hidden Valley Resort has been refreshed with multiple enhancements and beautification projects over the past summer.

November 9, 2014
- In late March, 2014, DCSki Columnist Jim Kenney and his son, Vince, headed north to New York's Hunter Mountain for some skiing and a two-day PSIA Level III skiing exam for Vince. Jim provides this Firsthand Report.

October 26, 2014
- Connie Lawn and Charles Sneiderman swung by Liberty Mountain's Annual Fall Festival on October 19, 2014. They provide this Firsthand Report.

October 19, 2014
- Cool temperatures. A landscape full of golden hues. Fall has arrived, bringing a fantastic display of foliage and the promise of a ski season just around the corner.
2 comments

October 13, 2014
- A brand new, 2,900-foot long intermediate trail will greet guests at North Carolina's Sugar Mountain Resort this winter.
October 5, 2014
- Roundtop will present guests with upgraded snowmaking and a repaved parking lot this winter.
1 comment

October 5, 2014
- Liberty Mountain Resort is in the middle of a multi-year Master Plan to bring significant improvements to the Pennsylvania resort. DCSki Reader Ed Fowler checks in with an update of what's new for this winter and beyond.
2 comments

September 3, 2014
- Whitetail is spending $2.5 million in capital improvements this summer, modernizing snowmaking on the Angel Drop trail, expanding the Kid's Mountain Camp facility, and more.

May 31, 2014
- Depressed that the winter season is over? No worries. Mid-Atlantic ski resorts will provide plenty of activities this summer to distract you from the fact that there is no snow on the ground. Here's a look at the summer offerings of many local resorts.
1 comment