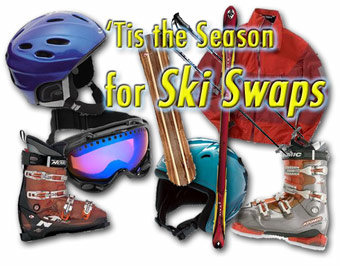 Ski Swap Season Underway
The snow guns aren't flying yet, but the bartering is underway at ski and snowboard swaps throughout the Mid-Atlantic region. Way back in 1998, Otto Matheke shared his advice on how to get the most out of local swaps, and his tips are still relevant today —
check them out
.
The next swap will be at Princeton Sports in Columbia, Maryland, on Sunday, October 30, run by the Liberty Mountain Ski Patrol.
Learn more
about this swap.
More swaps are scheduled throughout November; DCSki readers have been cataloging upcoming swaps in the
Forums
.

October 17, 2016
- Connie Lawn and Charles Sneiderman stopped by the Liberty Mountain Fall Festival on October 16, 2016 and filed this Firsthand Report.
October 1, 2016
- Remember Winter Storm Jonas last winter? DCSki Columnist Jim Kenney had the good fortune of being on site at West Virginia's Canaan Valley Resort as the monster snow storm hit. Jim provides this Firsthand Report from his trip in January, 2016.

March 21, 2016
- On a recent ski trip to Utah, DCSki Columnist John Sherwood spent seven days skiing at Snowbasin, and then decided to mix things up by heading to Powder Mountain. Powder Mountain quickly became one of John's favorite ski areas in Utah. He describes why in this report.

March 6, 2016
- What do you get when you mix a ski area (Stevens Pass in Washington state), an outstanding cause (cancer research), and a bunch of motivated skier and boarders? DCSki Columnist Robbie Allen recently found out, when he participated in a 24-hour ski challenge as part of HOPE on the Slopes. He provides this report.
4 comments

March 2, 2016
- On February 28, 2016, Connie Lawn experienced adaptive skiing firsthand by riding in a bi-ski at Pennsylvania's Liberty Mountain Resort. She provides this report.
1 comment

February 24, 2016
- On Saturday, February 20, 2016, the Thunderstruck chairlift at West Virginia's Timberline Four Seasons Resort experienced a significant failure, causing a cross-arm to separate from the top of lift tower #12 and injuring multiple skiers. Following the accident, Timberline invited industry experts to the resort to investigate the failure and restore the lift to safe operation. Timberline is aiming to repair the lift and perform rigorous safety inspections in order to re-open the lift by Saturday morning, February 27. Meanwhile, other resorts across the nation have begun to inspect similar lifts for early signs of failure.
2 comments

February 20, 2016
- A significant chairlift malfunction on the morning of February 20, 2016 left multiple skiers injured at Timberline Four Seasons Resort. (Updated February 21 with additional details and photos.)
1 comment

February 3, 2016
- DCSki Columnist Robbie Allen always seems to be finding off-the-beaten-track ski areas, and during a recent trip to Washington state, he discovered Hurricane Ridge. In this Firsthand Report, Robbie describes the "old school skiing" he found at Hurricane Ridge Ski and Snowboard Area, located right in Olympic National Park.
2 comments

January 17, 2016
- Sourced Adventures, an outdoor activity company, will begin offering bus trips from Washington, DC to Whitetail Ski Resort on many Saturdays this winter, providing a hassle-free way to make it to the slopes for those who lack cars or prefer not to drive. Sourced Adventures is offering a 20% discount to DCSki readers on some packages.
3 comments

January 16, 2016
- On Friday, January 15, Jim Kenney stopped by for a few hours of skiing at Virginia's Bryce Resort. He provides this Firsthand Report.