Mt. Washington, Memorial Day weekend
7
posts from
6
users
Updated one year ago
1,473 views

The Mt. Washington auto road  opened as usual in time for Memorial Day.  It's the easy way to ski a famous mountain.  The summit snowfields begin 100 yards from the top.  The snow will last for another month.  I did it, on Sunday, 5/28.  Just one run on the summit snowfields, followed by a  long slow climb back up, it gets a bit steeper and longer every year.  Then hanging out, appreciating the views and the conversations with other practitioners and fans of the big mountain.  Not much of a story there.  But, if you'll indulge me there is a backstory.

Rotator cuff surgery on the right shoulder was in November.  4 torn ligaments, one a complete rupture with 5 cm if retraction, plus a torn labrum.  No skiing for 6 months said the doc.  Everything was clean with no fraying, the best prognosis for full recovery.   Rehab and wait.  By early Feb. range of motion and strength began coming back faster; I felt like skiing again.  The Sierra, now my backyard playground, was in the midst of a snowfall record year.  Did a few days of cross country and in early March resumed downhilling.  The first 3 days were powder days, the first, with a 16 year old grandson for company, being the best.  The count for the season is now up to 15 and I've enjoyed it immensely.  What I have not done yet is ski with high energy and abandon, as I once did.  The shoulder begins telling me to back off.  Not yet; not anything steep.  The summit snowfields run was the biggest mental challenge yet on the road back.  The rehab process is now mental.

Three weeks ago, at Mt. Hood, the thought occurred, 'you've had a great run and it isn't over yet, but your window for adventure skiing is closing.  Better get after it, because you don't know how many years are left.'

In June I will try another bucket list run, Beartooth Pass.  

Where is Beartooth Pass?   Be careful, we older skiers heal slowly; still some pain in the upper rib cage.
MorganB

It's the high point of the beartooth highway, a scenic road between Cooke city Montana and Red Lodge, MT, at 11000 feet.  It's at the point where the road dips briefly into Wyoming.  The Red Lodge ski area sets up a poma lift there for the summer season.  You fly into Billings.
http://www.mdt.mt.gov/travinfo/beartooth/ 
Was there on 7 Jun about 20 years ago and the pass was closed for snow!

Believe folks have been doing organized summer skiing at Beartooth Pass since Pepi Gramshammer (of Vail fame) started doing ski instruction there in the 1960s.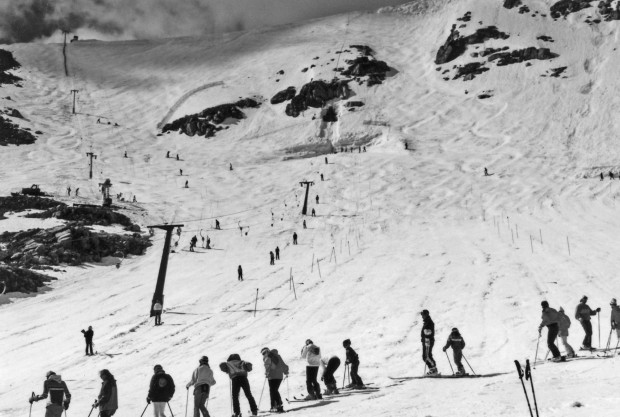 I was in Pepi's bar late one night 2 season ago and got to talk with Pepi (and his daughter) for about 20 min.  He was pretty frail but could make conversation.  We talked about several of his awards/trophies from long ago that are on display in the bar area.  Such an icon.

I hope to have at least half the Heart you have Dennis moving on from 56 years of age…even at my age I can feel the strain of an offshore fishing trip…the ocean and a rocking Boat is hardcore…at least with Snow skiing vs water skiing you can take a break (Alpine)….your walk back up Mt Washington sounds hard at any age….I just hope I can make it up the ramp at a fishing pier when im your age! Keep on gettin it!
Speak truth to powder.
If you'd like to share your own comments, please
log in
to DCSki.