Holiday Valley Recommendations
3
posts from
3
users
Updated one year ago
771 views

Going to Holiday Valley New York on the saturday of Presidents Day weekend with my university's ski club. Just wondering what to expect for the resort? (Lifts, terrain, difficulty, crowds, etc…) Any and all recommendations are greatly appreciated!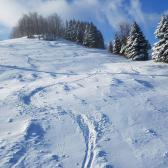 Went once on a MLK weekend. The skiing is good, though vert is not great (akin to Liberty and 7S). Tree skiing if fresh. Good greens to good blacks. The Wall is their super steep "slide for life" trail. Fun and short, usually light lines at the bottom of it. Ellicottville is very much a ski town and HV seems to focus on the skiing. Gets crowded as it seems to be the main local area drawing from Cleveland to Buffalo.

We have a condo at 7springs and take trips with friends to Snowshoe and Holiday Valley. Holiday Valley is a treat! We have never been overwhelmed by lift lines there like at 7S or SS, although who knows on Presidents Day Weekend. The Wall is nice for a challenge, but it's not our favorite run. We like the ridge line with Champaign, Ego Alley, Yodeler, Edelweiss, Chute, Shadows and Firecracker. Ego Alley is fun and there are glades to the sides which are a blast to ski. Edelweiss,Chute and Shadows frequently have great bumps to ski. We also love "the birds", falcon, eagle, hoot owl and raven.
When bumped up, Falcon is fun and challenging. We always have a great time there, and I'd have to rate it slightly higher than 7S (my home base) and SS. Please let us know what you think. I am curious to know your thoughts. Have a great time!
Snowcat got your tongue?
If you'd like to share your own comments, please
log in
to DCSki.