Cold Weather
4
posts from
4
users
Updated 7 months ago

I am so tired of the relatively warm weather we've been having, it's just depressing looking at the web cams at the local ski resorts seeing how little terrain is open, how thin the trails are (and getting thinner) and how few people are out there most days (I know Snowshoe is an exception).   The next two weeks look to be a good bit above average temps here, but the West will be well below average so just hoping that mass of cold air can shift it's way East for the last half of January.

Agree entirely. It's the big elephant in the room, partcularly for mid-Atlantic areas, including Snowshoe. Not sure the brain trust at TechnoAlpin can even solve for what's been, most recently, a very temperate and humid region (bad combination all around). Here's to the next ice age! ;-)

Ah unless techo alpin can move the bermuda high to where it should be ….. Good news the models show it moving to where it should be south of the Azores. Winter part 2 starts Jan 17 ish. 
Not just the mild temps but humid. hard to make snow with high humidity.  I do see a better NOA, AO and PNA after Jan 17.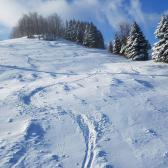 I think starting with the record wet 2018, our region began getting most of our year-round weather from the Houston/New Orleans/Gulf region. No good weather comes from there at any time of year. 
Speak truth to powder.
If you'd like to share your own comments, please
log in
to DCSki.