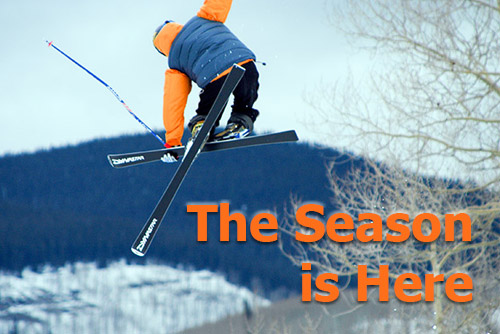 The Mid-Atlantic Ski Season Kicks Off
The past week saw the arrival of cold temperatures, and the dip in Mercury allowed ski areas to fire up their snowguns. Although lifts have already started running at several resorts, by the end of the December 16-17 weekend nearly every ski resort in the Mid-Atlantic will have kicked off its 2017-2018 winter season. DCSki has the latest opening information here.
4 comments

December 16, 2017
- On December 16, 2017, skiers and riders underwent a chairlift evacuation at Pennsylvania's Tussey Mountain after several chairs slid from the haul rope and crashed into each other.

November 26, 2017
- In March, 2017, DCSki Columnist Jim Kenney made his first ever visit to British Columbia's Whistler-Blackcomb. He provides this Firsthand Report.
November 26, 2017
- Blue Mountain celebrates its 40th season this winter. The Pennsylvania resort has made some enhancements to ski trails and has installed a new ski access gate system.

November 10, 2017
- On Friday, November 10, 2017, Pennsylvania's Seven Springs Resort took advantage of falling temperatures to fire up its snowguns.

November 5, 2017
- For the fourteenth year, the Pennsylvania Ski Areas Association (PSAA) is offering a Snowpass program that allows fourth and fifth graders to his the slopes free, up to three times each at each participating Pennsylvania resort, with some limitations.
November 5, 2017
- Sugar Mountain has updated its snowmaking system over the summer, replacing the oldest of its four water pumps with a new high-efficiency, variable-speed pump capable of pushing 1,000 gallons of water per minute to the North Carolina resort's snowmaking guns
November 4, 2017
- Continued snowmaking improvements set the stage for the upcoming winter season at West Virginia's Canaan Valley Resort.

November 4, 2017
- The $865 Gold Card acts as a season pass to North Carolina's six ski areas, but is limited in sales to 100 passes and going fast.

October 22, 2017
- Connie Lawn and Charles Sneiderman recently visited Liberty Mountain Resort's Fall Festival. They provide this Firsthand Report.

August 16, 2017
- Whitetail Resort is in the process of spending just over $1 million this summer towards capital improvements as it prepares for the upcoming winter season.