Mid-Atlantic Lost Ski Areas:
Oregon Ridge
Cockeysville, Maryland
Historical Overview - reported by M. Scott Smith, DCSki Editor
Matthew Graham provides the following note containing evidence of a past ski slope at Oregon Ridge Park:
"There are remnants of a rope tow at Oregon Ridge Park, north of Baltimore. It's a 140-foot high hill that's used as a hang gliding training hill. I don't know when the rope tow died. It's also a great sledding hill. I think someone was clocked at nearly 50 mph on a snow tube there once. Snowboarders also use it as a good training hill, walking back up after each run. And there are some good trails for XC skiing there."
Today, the Oregon Ridge Nature Center and Park Council maintains a web site at www.oregonridge.org.
Irvin Naylor, Founder and President of Snow Time, Inc, which owns Ski Roundtop, Liberty, and Whitetail Resorts, contacted DCSki in early 2008 to provide some memories of Oregon Ridge. According to Irvin, Oregon Ridge was started by an insurance executive, Bill Alexander, about the time that Blair Mountain folded, in the mid-1960's. Irvin writes about an encounter with Alexander:
"Bill Alexander was driven by his chauffeur to Roundtop to meet with Hans Geier and me to see if we would take over the struggling area. I remember the lunch well because Hans and I were each eating hamburgers and Bill Alexander, who suffered terribly from stomach ulcers, said that he would trade us the ski area if he could only eat one of our hamburgers! Oregon Ridge was about 200 vertical feet but strategically located in the southwest quadrant of the intersection of I-83 and Shawan Road, a marvelously convenient location even in the mid-60's!"
Ryan Calo wrote in with some additional details about Oregon Ridge:
"It was great to see Oregon Ridge listed under Lost Ski Areas! As a local resident, I'd like to give some more information that I've heard from several other area residents. Oregon Ridge was a local ski area in the 1960s. Remnants of the tow rope are still visible on the hill. However, no chair lifts were ever present when the ski area was operational. From what I've heard, it lasted only a few years and shut down in the late 1960s. The climate was not cold enough to sustain consistent snowmaking. Oregon Ridge is located approximately 13-14 miles due north of downtown Baltimore. The elevation at the top of the old ski hill is approximately 600 feet, which is one of the higher elevations in Baltimore County. The only place with a higher elevation in Baltimore County is farther north on the MD/PA line. Oregon Ridge Park is now run by the Baltimore Co. Dept. of Rec. & Parks, and has a renovated lodge (which used to be the ski lodge), a beach and lake, and is the home of many local events. See this web page for more details."
Chuck R. provides this anecdote about skiing at Oregon Ridge:
"It wasn't all that long ago that the rope tow was sporadically operational. I started my first real job after college in Hunt Valley, the nearby business park/community, in 1983. After paying for the post-college move from the flatlands of Missouri, I managed to 'find' two hundred dollars of excess moving expense money and, before my new wife could object.. I bought my first pair of skis. While my first skiing experience was at Ski Roundtop, I soon found that, if it snowed hard enough and if they had the park staff available, Oregon Ridge would run the rope tow. Ideal! Five minutes from work and free! I began to go there at lunch whenever I could manage the time. And on those perfect days, when there was enough snow, once in a while the tow would run… and I would be out there at lunch, in my suit, tie and ski coat, trying not to fall and mess my slacks up.

It only lasted a couple of years, then, probably for funding or liability concerns, the park stopped running the rope tow. But, hope never dies, and once in a while, when the snow is heavy on the ground and my kids are out of school, I make the trek to Oregon Ridge to take them sledding, and we all take our skis.. just in case."
Another DCSki reader, Marvin Hass, seems to remember Oregon Ridge having a chairlift (in addition to the rope tow others have mentioned), although he is not certain.
However, Eric Luebehusen discovered some photos from the Tribute Photo Archives in early 2013 that clearly show a double chairlift at Oregon Ridge.
In November, 2006, K. Norris provided the following twelve pictures to DCSki:
In April, 2009, Woody Bousquet provided the following two scans — one showing an Oregon Ridge ski patch (still sewn to an old jacket), and the other showing the front and back of an Oregon Ridge lift ticket. "I removed the old tickets from the same jacket," Woody writes. "They were part of a huge wad of stapled-on tickets from c. 1972."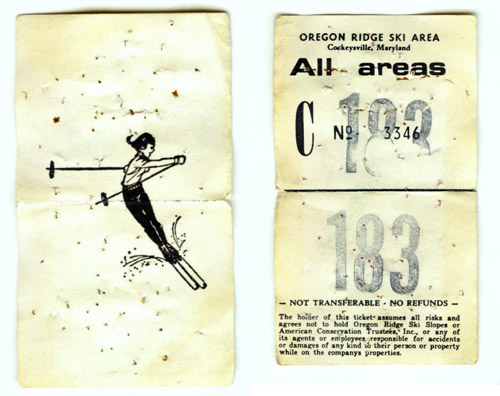 If you have any additional information about this ski area, please contact DCSki's Editor, or add your comments by scrolling below. To view historical information about other lost ski areas in the Mid-Atlantic region, click here. Note that DCSki's Lost Ski Areas section contains recollections pieced together by DCSki readers. We try to continually develop a clearer and more accurate picture of closed ski areas, but understand that some of the details reported on this page may be inaccurate.
The views and opinions expressed in DCSki Article Comments are strictly those of the comment authors and have not been reviewed or approved by DCSki. If you believe a comment is inaccurate or inappropriate, please contact DCSki's Editor.
Comments on Oregon Ridge
- posted by Craig Schultz
December 20, 2004 at 9:45 pm
In the early '80s there were a few photos of the ski hill in use. There was a double chair lift on the left side of the main trail and a rope tow on the right. Remnants of both are still there as of fall on 2004. The photos were not in the lodge then and the folks working in the park office didn't know about them.

Comments on Oregon Ridge
- posted by Snowsmith
January 12, 2005 at 12:57 pm
I skied there in 1985 after a decent snow storm. The only lift in operation was a rope tow. I do not know if they still hook up the rope tow after a big storm. There was only one trail to ski at that time. The base lodge is now the Limestone Valley Dinner Theatre.

Comments on Oregon Ridge
- posted by Phil Bowman
February 12, 2005 at 2:15 pm
I went up to Oregon Ridge after the recent snows in early february and the skiing was nice (and close!). I have alpine touring bindigns on my skis and was able to skin up and tour around and take a couple of nice runs down the main ski hill and through the glades on the sides where the sledders cant pack down the snow. All in all it is very enjoyable as long as you like to earn your turns.

Comments on Oregon Ridge
- posted by Marc Pachla
March 23, 2005 at 9:05 pm
I knew it, I knew it, I knew it! I just knew someone had tried to make a go of downhill skiing at Oregon Ridge. (My wife always thought I was nuts - telling me they likely put a tow-rope up for sledding only.) And I don't know why I'm so drawn to these lost ski area stories. I guess I find the dedication to establishing these hills facinating. I'm so glad this site is here.
A Michigan transplant, I lived in Baltimore 1994-1995. Twice, after one 5" snowfall and another 4" snowfall I made it out to Oregon Ridge on the basis of pure curiosity and speculation. As I often made the drive on I-83 to see my then fiance in Lancaster, every time I thought to myself upon returning to Baltimore: "that MUST have been a ski hill." The view from the freeway, even today, makes "the ridge" look like a 500' slope (its still a very dramatic view from the southbound lanes of I-83 in Hunt Valley) Although I didn't have touring bindings or climbing skins (very cool-I think William Wallace said in Braveheart:"You can take our ski lifts, but you can't take our freedom!), I did take my downhill skis, boots, poles and winter boots. I trudged up the hill, carrying everything, switched boots, clicked-in, put my other boots in my little backpack and skied some of that famous Baltimore County powder! I was in heaven because I never thought I could catch free runs in MD like I did back in the suburban parks of Detroit. It was a blast. I became mildly obsessed with my prospecting for free-run freedom because there are so many hills out there compared to Michigan. By far, my most memorable runs were down Federal Hill, right off the Inner Harbor in downtown Baltimore. (In case you think I'm some nut from Detroit making this-up, I have the pictures to prove it!) By the time I walked down the street in my ski boots from my Riverside address, the hill was white ice. One of my neighbors said, "You're not going to do what I think you're going to do....are you?" I invited him to follow my buddy and me. That hill is steeper than it looks, at least 35% to 40% slope. The east side is a much cleaner run(and better for the pictures-which, after all, is the whole point of doing it!) The north side was, in a word, dangerous- mostly because, if memory serves, I had to bunny-hop an unforseen retaining wall and sidewalk. Sadly, we had no pictures of me contorting my panic-stricken body only to clear the first 80% of these obstacles! Can you say sparks?! BTW, I can send the pictures if I get an address!

Comments on Oregon Ridge
- posted by Phil Bowman
December 6, 2005 at 1:52 pm
Not enough snow to hit the ridge yet but I'm waiting. Last year was fun as we had a few weeks there where skiing was possible. The trees off skiiers left of the main hill were a good time. If anyone is going out, drop me a line. psubowman@yahoo.com

Comments on Oregon Ridge
- posted by Chris Preston
December 16, 2005 at 9:26 pm
I know the slope has been closed for a long time. I usually go sledding over there. In the summer, early in teh morning, you can see Ray Lewis runnign up the hill with a 50 lb log on his shoulders.

Comments on Oregon Ridge
- posted by Chris Bowers
February 16, 2006 at 4:38 pm
I stopped in the visitors center there one day out of curiosity. I knew there had been skiing there and had seen the old rope tow before, but I wanted to find out what had really been there at its height. They gave me access to the materials they had in their "archive" which consisted of some old brochures, pictures and magazine articles. Neat stuff. They had a hall double, that started out at the bottom of the valley and dumped off in the trees at the top of the slope. They also had 4 rope tows, night skiing, and a Larchmont snowmaking system. I have one shot from the top, looking back down at the lodge, that actually looks like it could have been taken from a "real" ski area. Bummer it was closed down. The concrete pilings for the double are still there if you venture up the hill. I also seem to remember there being a poma there when I was little, but could find no evidence of that.

Comments on Oregon Ridge
- posted by Richard Hays
January 29, 2007 at 6:05 pm
I have been flying hanggliders there since 1976. At that time, the old concrete pilings for the double chair lift were quite evident. But many of the footers have been removed at the base of the hill. Only the ones up the slope remain, as does the departure mound atop the hill. The ropetow was functioning until the late eighties by the park.
I skied there numerous times when conditions allowed. It was a short, steep run. There was also a little known trail thru the woods to the right of the rope tow. May have been a maintenence road but it was definately skiable.

The park discontinued that operation for fear of a lawsuit. What a shame! I've found evidence of an old rope tow along the gas line slope too. And..their used to be a beginner lift to the right of the rope tow towers that still exist today.
Rumor had it that the double chair was actually moved to Roundtop after Oregon Ridge went bust. Pipes for snowmaking can still be found running up the slopes. Some of the original light towers are still standing too. The lodge is beautiful and still being used for special events.

Rich Hays ( local resident )

Comments on Oregon Ridge
- posted by madeline rockwell
January 30, 2007 at 4:51 pm
As I remember it, Oregon Ridge was originally built by Howard Head as a testing facility for Head skis, which was headquartered in Timonium at that time. It wasn't really colde enough to maintain snow cover.

Comments on Oregon Ridge
- posted by Al
July 4, 2007 at 8:32 pm
I remember skiiing at Oregon Ridge when it first opened in the early to mid 1960's. It was actually quite nice and very skiiable at that time. They had a double chair lift to the top with two main trails on either side. There were two rope tows that went part way to the top and a separate beginners area. They had good snowmaking, night skiing, and a nice lodge with equipment rental. The first couple of years they kept it open for a decently long season. I'm not sure if it was a couple of bad snowmaking years that made them close or that their customers just moved on to bigger, more distant areas, but it rapidly deteriorated in the late 1960's. There was actually a smaller ski area in Cockeysville that preceded Oregon Ridge. We just called it the "County Area" since it was located at the County Home on the ridge east of Cockeysville. On the west slope they had sledding with a jeep and trailer to pull the sleds up the hill. On the east slope they had a tractor powered rope tow for skiers. I would guess the vertical drop was about 50 to 70 feet. It was quite popular after a snow and it was free. I believe it closed when Oregon Ridge opened. I did not see it on the list so I'm mentioning it here for historical accuracy.

Comments on Oregon Ridge
- posted by Phil Bowman
January 3, 2008 at 4:25 pm
Still waiting for snow so I can hit the ridge this year.

Comments on Oregon Ridge
- posted by Bill
January 15, 2008 at 7:40 am
Ahh, Oregon Ridge, 1966. Very fond memory of sitting in the lodge and eating sugar twisty donuts. I was 5.

Comments on Oregon Ridge
- posted by The Malone-Ski
January 23, 2008 at 10:15 am
Thank You, Thank You, Thank you!

This is what the internet should really be about, free information to solve mysteries.... I'm in the area quite often and always looked over towards the ridge and was always vexed, telling my wife "that looks like a small local ski area but I can't find any information on it.

Good photos - strange how you get melancholy when you see the remnants of an old-fashioned rope ski lift.... Thanks for solving the mystery!

Comments on Oregon Ridge
- posted by Rob Baker
January 30, 2008 at 4:36 pm
I skied there quite a few times in the mid sixties. There was day and night skiing. It was a great resource. There was actually a series of ski races there that were somehow represented as state championships. It was a series of one-on-one pairings in various age groups, on a rut-filled slalom course. The series lasted about four weekends, as I recall, culminating in a finals race day. I was about 17 at the time. I can't remember the exact year, but it would have to have been prior to 1967. It would be great to find the records if they exist. Anyone know who owned/operated the area?

Plans are in the works
- posted by Chip
January 31, 2008 at 11:42 am
Plans are in the works to reopen Oregon Ridge.

Comments on Oregon Ridge
- posted by Rich Hays
February 1, 2008 at 3:54 pm
Message to Chip: what plans to reopen Oregon Ridge do you know of? Contact me at: mshgflyer@hotmail.com Thanks!

Rich

Comments on Oregon Ridge
- posted by Chip
February 1, 2008 at 4:51 pm
As of today, my teams work and plans have come to a halt. According to the head of the lodge Pamela, it will never reopen for a commercial skiing. Even after begging, pleading, and trying to brib, In her words "It will never happen". We even tried to do a one day temp snowboard/ski rail jam event, with us bringing the snow, riders, and crowd, and she still said no way. So this resort is lost for good.

I told her if it ever opens again, after she told me no, i am coming for her. She also stated many people before my team have tried and nothing has ever happened. She also said we had the best proposal to date, but it still won't work.

Comments on Oregon Ridge
- posted by Sandy Trimble
February 5, 2008 at 9:55 am
To Whom It May Concern, Oregon Ridge Park is NOT a state park. We are owned and operated by Baltimore County Recreation and Parks. Please correct you Site. Thanks, Sandy

Snowboarding Oregon Ridge
- posted by DR
October 16, 2008 at 11:51 am
I snowboarded back in the day at Oregon Ridge's tow rope. Fun times before most slopes would allow snowboards on the lifts. I can remember my cousin Denny Riordon doing crazy nose press rides and spinners at Oregon Ridge well before most of us knew what dorking around on the slopes was all about.

By the way, if Oregon Ridge doesn't want to re-open the tow rope, then they should build a skateboard park there. Then again, I'm in Colorado where skateboard parks are all over the place and free to ride. Not to mention our slopes....A-basin and Loveland opened up yesterday 10/15/08

Comments on Oregon Ridge
- posted by ggnagy/midatlanticlost
April 15, 2009 at 8:48 am
According to skilifts.org, the lift was installed in 1963. It was a hall double with a length of 1830' and a vertical of 281'

It is also tagged as a new area for the 63-64 season

Comments on Oregon Ridge
- posted by Mike D.
December 9, 2009 at 3:17 pm
The lift was removed and sold to Ski Roundtop. I believe it is the Fife and Drum Double still running today.

Comments on Oregon Ridge
- posted by Richard Hays
January 8, 2011 at 7:54 am
I contacted Ski Roundtop about 4 years ago regarding the history of the double chair on Fife and Drum. The person I spoke with said they spoke with a facilities manager that had been working at Roundtop for decades and decades and he said that chair lift was not the Oregon Ridge chair. The Double Chair in question at Roundtop has since been replaced. They were selling off the chairs and I was going to purchase one if it was in fact originally from Oregon Ridge. Sadly...unless I am mistaken...it was not. If somebody knows otherwise for sure...I'd love to know.

Comments on Oregon Ridge
- posted by Eric
January 1 at 12:11 pm
Thank you all for the information. Oregon Ridge as a ski area was before my time, but having been there for concerts and other occassions I have ventured up the slope and even noted the Chairlift "dropoff" at the top was still discernible. I wish it would re-open; what a wonderful resource it would be for families with little ones! I have also tracked down photos - copyrighted by The Sun - on ebay... which you can see here if you so desire. If there was a petition to sign to reopen as aski area, I would sign it in a heartbeat!

http://www.ebay.com/itm/BS-PHOTO-acg-666-Skiing-Oregon-Ridge-Cockeysville-Maryland-/350648836174?ptArtPhotoImages&hashitem51a44ca04e

Comments on Oregon Ridge
- posted by kevin
January 11 at 5:34 pm
sweet new photos... some classic lost area shots... thx 4 sharing

Comments on Oregon Ridge
- posted by Bill B
February 19 at 1:57 pm
My mother was one of the ski instructors at Oregon Ridge in its first year. I had just turned 10, and this was the first place I ever
skied. We have home movies, very short and of poor quality, of this ski area in operation. It was 50 years ago, but I don't recall that the rope tow went as far up as the chairlift.

Want to share your own comments on "Oregon Ridge" with other DCSki readers? Enter your comments below.