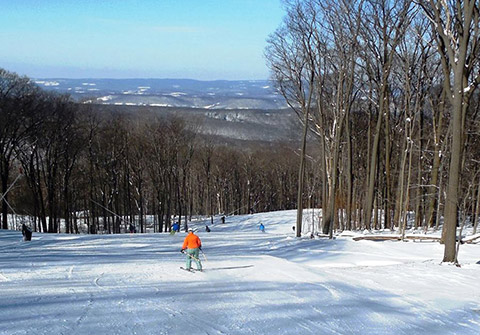 Laurel Mountain Ski Resort
Boswell, Pennsylvania
| | |
| --- | --- |
| Vertical drop: | 761 feet |
| Base elevation: | 2,005 feet |
| Peak elevation: | 2,766 feet |
| Skiable acres: | 70 |
| Longest run: | Over 1 mile |
| Trails: | 20 |
Laurel Mountain is the resort that keeps on ticking. Over the past several decades, the iconic Pennsylvania ski resort has had a bumpy ride. The resort first shut down in 1989, but was revived in 1999. But then several mild winters forced the ski area to shut down again. During the 2004-2005 winter season, Laurel Mountain re-opened as The Springs at Laurel Mountain, but closed again the next season. But that wasn't the end of the story. With consistent pressure from members of the community, Laurel Mountain once again re-opened during the 2016-2017 winter season, and hopefully this will be the re-opening that sticks. Laurel Mountain, Hidden Valley, and Seven Springs are now under the same ownership.
Dating back to the mid-1930's, Laurel Mountain has a rich heritage. Located in the scenic Ligonier region, the resort was first operated by the Mellon family, initially as a private resort. In 1958, the Mellon family made the ski area public. The ski area was turned over to the state of Pennsylvania in 1962, and various concessionaires operated the resort until March of 1989, when the resort was forced to shut down due to mild winters and a constrained water supply which restricted snowmaking.
DCSki readers report that Laurel Mountain has some of the most advanced terrain in the region - particularly Lower Wildcat, which is so steep that crews had to invent new techniques for putting in snowmaking pipes. Portions of Lower Wildcat have a 60% grade, making it the steepest slope in the state of Pennsylvania. But not to fear — there are plenty of beginner and intermediate slopes, too. Located within 493 acres of Laurel Mountain State Park, the area also offers some of the best views in the region.
A new quad chairlift was installed prior to the 2016-2017 winter season.
Although there is no lodging on-site, there are numerous hotels, inns, and bed and breakfasts within a 5-30 minute drive.
Cover photo provided by Jim Kenney.
Key Statistics
Resort Name:
Laurel Mountain Ski Resort
Vertical Drop:
761 feet
Base Altitude:
2,005 feet
Peak Altitude:
2,766 feet
Trails:
20 Trails:


Skiable Acres:
70
Longest Run:
Over 1 mile
Lifts:
2

(1 quad, 1 surface lift)

Night Skiing:
Yes; note that hours vary by day of week
Terrain Park:
Some freestyle terrain areas available.
Tubing Park:
(No tubing park)
Address:
374 Summit Ski Road
Boswell, PA 15531
Phone:
(888) 547-3388
Latitude:
40.163562
Longitude:
-79.165240
Links:

http://www.laurelmountainski.com/
Getting to Laurel Mountain Ski Resort
Estimated Distances from Major Cities
Baltimore, MD
3 hours, 45 minutes
213 miles
Washington, DC
3 hours, 45 minutes
210 miles
Arlington, VA
3 hours, 45 minutes
209 miles
Richmond, VA
5 hours, 25 minutes
308 miles
Pittsburgh, PA
1 hour, 10 minutes
54 miles
Harrisburg, PA
3 hours
169 miles
Philadelphia, PA
4 hours, 35 minutes
271 miles
Charleston, WV
4 hours
233 miles
Raleigh, NC
8 hours, 5 minutes
484 miles
Charlotte, NC
7 hours, 30 minutes
453 miles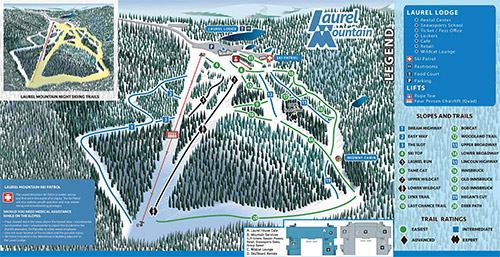 5:47 pm on September 29 / Latrobe / Westmoreland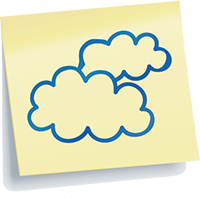 55° F
Mostly Cloudy
| | |
| --- | --- |
| Humidity: | 100% |
| Wind Speed: | 0 mph |
| Barometer: | 29.85 in |
| Dewpoint: | 55 °F |
| | |
| --- | --- |
| Visibility: | 10.00 mi |
| Sunrise: | 7:11 a.m. |
| Sunset: | 7:03 p.m. |
Much too warm for snowmaking right now.

Weather supplied by the National Weather Service. Errors or reporting delays may be possible.
Snow Conditions at Laurel Mountain:
Snow conditions currently unavailable.
News about Laurel Mountain
December 21, 2019

- After a burst of cold weather in November allowed some Mid-Atlantic resorts to snag pre-Thanksgiving opening dates, the balance of resorts have now officially begun their season in recent days thanks to a stretch of snowmaking-friendly temperatures.
February 9, 2019

- Jim Kenney hit the trifecta of fine ski conditions last weekend at Pennsylvania's Laurel Mountain Resort, experiencing a powder Friday, bluebird Saturday, and spring skiing Sunday. The icing on the cake? Spending the weekend in person with a couple dozen friends met through on-line communities such as DCSki. Jim provides this Firsthand Report of the unspoiled Laurel Mountain.
January 3, 2019

- The 2018-2019 winter season is off to a rocky start, with above-average temperatures throughout much of December. DCSki provides a roundup of current conditions and struggles across the Mid-Atlantic.
December 20, 2018

- Early-season cold temperatures enabled many Mid-Atlantic resorts to fire up the snowguns, but the cold gave way to some bouts of milder temps and heavy rain, which has delayed the start of the season for some resorts. Although pre-Christmas rain is still adding to the challenge, several additional resorts plan to open in the coming days.
March 27, 2018

- Back in February, DCSki Columnist Jim Kenney came up with a strategy to avoid President's Weekend crowds, jumping between Canaan Valley Resort, Laurel Mountain, and Seven Springs Resort. In this Firsthand Report, he describes how he avoided crowds and mostly avoided rain.