Tanglwood Ski Area
Tafton, Pennsylvania

(Click here for the official web site for Tanglwood, or scroll below to read DCSki's complete profile...)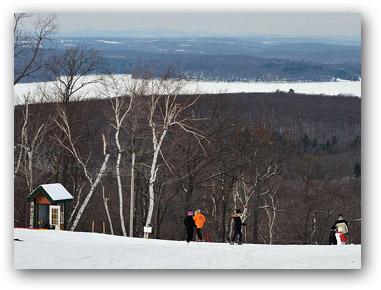 Resort Overview - reported by M. Scott Smith, DCSki Editor
A small ski area in the Poconos, Tanglwood caters mostly to families. Tanglwood is an "inverted" resort, with the lodge located at the top of the mountain. Two double lifts and one beginner tow service skiers and snowboarders, while another tow lifts services Tanglwood's snow tubing area. Tanglwood offers night skiing on certain nights of the week. Tanglwood has been in operation for more than forty years.
Note: Tanglwood was not open for the 2007-2008 winter season. Over the summer of 2008, new owners purchased Tanglwood, and re-opened the area for the 2008-2009 winter season. However, Tanglwood was once again closed for the 2010-2011 winter season.
November, 2011 update: As of November 12, 2011, it appears unlikely that Tanglwood will open for the 2011-2012 winter season. DCSki has been unable to reach Tanglwood's web site, and readers report that the ski area once again changed hands in the fall of 2011. Before making a trip, please contact the resort to verify operating conditions.
| | | |
| --- | --- | --- |
| Resort Name: | | Tanglwood Ski Area |
| Vertical Drop: | | 415 feet |
| Trails: | | 9 (20% beginner, 60% intermediate, 20% advanced) |
| Skiable Acres: | | 35 |
| Longest Run: | | 0.75 miles |
| Lift Capacity: | | 3,160 per hour |
| Lifts: | | 4 (2 doubles, 1 rope tow) |
| Night Skiing: | | Night skiing available only on certain nights of the week; check with resort for current operating hours. |
| Terrain Park: | | Yes |
| Halfpipe: | | (No halfpipe) |
| Tubing Park: | | Two runs serviced by a rope tow. |
| Address: | | 192 Paper Birch; South Tafton, PA 18464 |
| Phone Number: | | 570-226-9780 |
| Latitude: | | 41.416213 |
| Longitude: | | -75.16717 |
| Facebook: | | http://www.facebook.com/pages/Tafton-PA/Tanglwood-Ski-Area-and-Winter-Park/164642374763?v=wall&ref=ts |
| Web Site: | | http://www.skitanglwood.com/ |
---
Estimated Distances from Major Cities
| | | |
| --- | --- | --- |
| Baltimore, MD | 4 hours | 233 miles |
| Washington, DC | 4 hours, 45 minutes | 274 miles |
| Arlington, VA | 4 hours, 45 minutes | 274 miles |
| Richmond, VA | 6 hours, 20 minutes | 372 miles |
| Pittsburgh, PA | 5 hours, 30 minutes | 312 miles |
| Harrisburg, PA | 2 hours, 35 minutes | 153 miles |
| Philadelphia, PA | 2 hours, 40 minutes | 156 miles |
| Charleston, WV | 8 hours, 5 minutes | 514 miles |
| Raleigh, NC | 9 hours | 549 miles |
| Charlotte, NC | 10 hours | 627 miles |
To view a full-size trail map for Tanglwood, click on the following thumbnail image. The trail map will open in a new window. Please note that DCSki's trail maps can be out of date; always pick up a copy of the latest trail map at each resort.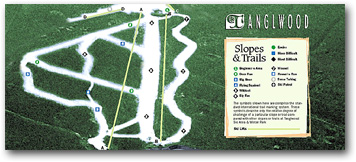 A snow condition report for Tanglwood is shown below. Because condition reports may not be updated regularly, be sure to check the date and timestamp on the report. Before making a trip, we recommend contacting resorts directly for the latest conditions.
Tanglwood, PA

As of 11:19:00 on 2011-03-14

Report data is over 2 days old -- please check back later.
To view additional ski condition reports for areas throughout the Mid-Atlantic region and across the world, visit the DCSki Conditions page.
The past five articles related to Tanglwood are shown below.
Who's Open? A Detailed Look at Mid-Atlantic Ski Areas (March 17, 2008)
Spring is a mixed blessing: Mid-Atlantic resorts begin to close one by one, but the weather is nice and the rates can't be beat. DCSki provides a detailed look at the current operating status of Mid-Atlantic ski areas.

Results of the 2008 DCSki Annual Survey: Top Resorts in the Mid-Atlantic (February 22, 2008)
During January, DCSki asked its readers to complete a survey, ranking Mid-Atlantic ski areas in a number of categories. Over 100 readers filled out this detailed survey, providing a measurement of what local resorts are doing well, and what they could be doing better. We also asked readers to cast a critical eye on DCSki itself. The results are in, so kick back, relax, and see if you agree with readers' picks for best resort in various categories.

Who's Open? A Detailed Look at Mid-Atlantic Ski Areas (March 20, 2007)
The season isn't over — far from it. Thanks to a dumping of natural snow this past weekend, many mid-Atlantic ski areas are in prime form as the end of March nears. A few resorts have thrown in the towel, but the majority of mid-Atlantic resorts will remain open through this weekend, with some aiming to stay open until April 1 or later. DCSki provides a complete roundup as of March 20, 2007.
(6 reader comments)

Resorts Gear Up for Season: A Complete Roundup (December 7, 2006)
Low temperatures in early December have allowed mid-Atlantic ski resorts to fire up the guns and prepare for their season openings. This detailed story provides opening plans for over 30 resorts in the mid-Atlantic region.
(2 reader comments)

DCSki Adds Coverage of Tanglwood (November 12, 2006)
DCSki has added coverage of Pennsylvania's Tanglwood Ski Area. The Poconos ski area has a vertical of 415 feet and 8 trails. DCSki now offers a detailed Resort Profile for Tanglwood and will cover news, events, and bargains related to the ski area.
(1 reader comment)
To view more articles related to Tanglwood, click here.
The DCSki Event Schedule currently doesn't have any events listed for Tanglwood. To view events at other resorts, please visit the DCSki Event Schedule.
The following bargains are related to Tanglwood.
(No matching bargains found.)
To view more bargains, click here. Remember, bargains may include exclusions or expirations not noted here. Contact the company offering the bargain to verify details.
The views and opinions expressed in DCSki Article Comments are strictly those of the comment authors and have not been reviewed or approved by DCSki. If you believe a comment is inaccurate or inappropriate, please contact DCSki's Editor.
Under New Management
- posted by Tanglwood Ski Area
November 3, 2008 at 1:51 pm
We are re-opening for ski, snowboarding and tubing!
Our new website is: www.tanglwood.net
Our phone number is: 570-226-SNOW (7669)
Come out for a great season!

Comments on Tanglwood
- posted by hammer
November 21, 2008 at 5:19 pm
tanglwood ski slopes will be open in december '08, come and enjoy!

Comments on Tanglwood
- posted by Aldee
November 10, 2010 at 1:09 pm
Nov. 2010. Looks like Tanglwood is closed again. Website down, not part of SkiPa.com, and a google search provides nothing.

Comments on Tanglwood
- posted by Aldee
November 27, 2010 at 5:04 pm
From Facebook entry on Nov 16, 2010. What I guessed above has come to pass. Tanglwood will be closed this year.

"Tanglwood Ski Area and Winter Park -- I am sad to announce that Tanglwood will not be opening for the 2010-2011 ski season. The sale of the property is still under negotiations and will not be ready for skiing this winter. It is anticipated that plans will be in the works for 2011 season. Thank you to everyone for making last season one of the greatest."

Looks closed...
- posted by Tom
January 5, 2011 at 2:27 pm
http://www.poconorecord.com/apps/pbcs.dll/article?AID/20101211/NEWS/12110334/-1/NEWSMAP

Comments on Tanglwood
- posted by DCSki Reader
March 12, 2012 at 7:07 pm
Does anybody know if tanglwood is opening for 12 13

Comments on Tanglwood
- posted by Aldee
May 8, 2012 at 11:53 am
Article in First Tracks Online (www.firsttracksonline.com) dated May 7, 2012 discussed how Tanglwood is being liquidated. Chairs, groomer, snow guns, etc. being sold off to other ski areas. So I guess that's that! RIP Tanglwood.

Comments on Tanglwood
- posted by Bill Deaton
June 21, 2012 at 8:43 pm
Confirmed Aldee's post. I am acquainted with the person who bought the resort. After careful consideration he decided to liquidate the assets. I was there today to rescue an old chair left for scrap. The chairs are gone along with the bullwheels and towers. I saw no grooming machines either so I'm assuming they are gone as well. Most of the Ski Patrol supplies were moved to Ski-Big Bear last season. I did not go downhill so I don't know what, if any, snowmaking equipment is still left.

Comments on Tanglwood
- posted by Twood
November 23, 2012 at 7:40 pm
Visited tanglwood was sold lift towers and snowmaking were removed;(

Want to share your own comments on Tanglwood with other DCSki readers? Enter your comments below. Feel free to describe the things you like most about Tanglwood, along with any areas you feel could be improved.