Alpine Mountain
Analomink, Pennsylvania

(Click here for the official web site for Alpine Mountain, or scroll below to read DCSki's complete profile...)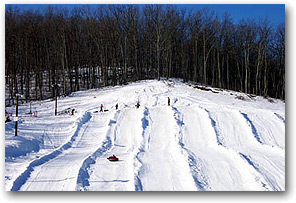 Resort Overview - reported by M. Scott Smith, DCSki Editor
Alpine Mountain Ski Area is located in the Poconos in northeastern Pennsylvania. The resort is one of the oldest ski areas in Pennsylvania, and also one of the least visited, making it perfect for new skiers and families looking for a lot of snow time and not a lot of crowds.
Expert skiers might not be impressed by Alpine Mountain's 550 foot vertical, but snowboarders will find a terrain park and halfpipe, and there is snow tubing, too. Most of the trails are wide and not too steep.
Alpine Mountain has a full service lodge with cafeteria, pizza parlor, ski shop, rental and repair shops, and a ski school. A lounge overlooking the slopes offers a casual menu, drinks, and live weekend entertainment.
During the summer, golf is available at the nearby Evergreen Golf Club.
Resort Name:

Alpine Mountain

Vertical Drop:

550 feet

Trails:

21 (3 beginner, 12 intermediate, 6 advanced)

Skiable Acres:

60

Longest Run:

3,500 feet

Lift Capacity:

5,800 per hour

Lifts:

3 (2 quads, 1 double)

Night Skiing:

Yes, on 100% of terrain

Terrain Park:

Yes

Halfpipe:

Yes

Tubing Park:

Six chutes, lit for night tubing.

Address:

P.O. Box 309, Route 447
Analomink, PA 18320

Phone Number:

(570) 595-2150

Latitude:

41.051111

Longitude:

-75.220833

Web Site:

http://www.alpinemountain.com/
---
Estimated Distances from Major Cities
| | | |
| --- | --- | --- |
| Baltimore, MD | 3 hours, 30 minutes | 197 miles |
| Washington, DC | 4 hours, 15 minutes | 233 miles |
| Arlington, VA | 4 hours, 20 minutes | 236 miles |
| Richmond, VA | 6 hours | 345 miles |
| Pittsburgh, PA | 5 hours, 10 minutes | 294 miles |
| Harrisburg, PA | 2 hours, 15 minutes | 126 miles |
| Philadelphia, PA | 1 hour, 55 minutes | 106 miles |
| Charleston, WV | 7 hours, 45 minutes | 487 miles |
| Raleigh, NC | 8 hours, 40 minutes | 521 miles |
| Charlotte, NC | 9 hours, 40 minutes | 600 miles |
To view a full-size trail map for Alpine Mountain, click on the following thumbnail image. The trail map will open in a new window. Please note that DCSki's trail maps can be out of date; always pick up a copy of the latest trail map at each resort.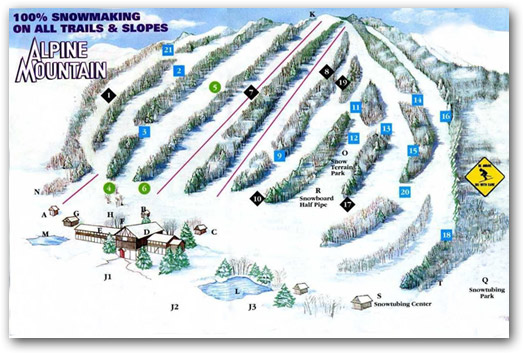 A snow condition report for Alpine Mountain is shown below. Because condition reports may not be updated regularly, be sure to check the date and timestamp on the report. Before making a trip, we recommend contacting resorts directly for the latest conditions.
Alpine Mountain, PA

As of 07:57:00 on 2011-03-15

Report data is over 2 days old -- please check back later.
To view additional ski condition reports for areas throughout the Mid-Atlantic region and across the world, visit the DCSki Conditions page.
The past five articles related to Alpine Mountain are shown below.
Mid-Atlantic Ski Season Gains Momentum (December 27, 2012)
A shot of cold air and some natural snow has helped launch the 2012-2013 winter season in a big way. Find out the status of Mid-Atlantic ski areas.

Who's Open? A Detailed Look at Mid-Atlantic Ski Areas (March 17, 2008)
Spring is a mixed blessing: Mid-Atlantic resorts begin to close one by one, but the weather is nice and the rates can't be beat. DCSki provides a detailed look at the current operating status of Mid-Atlantic ski areas.

Results of the 2008 DCSki Annual Survey: Top Resorts in the Mid-Atlantic (February 22, 2008)
During January, DCSki asked its readers to complete a survey, ranking Mid-Atlantic ski areas in a number of categories. Over 100 readers filled out this detailed survey, providing a measurement of what local resorts are doing well, and what they could be doing better. We also asked readers to cast a critical eye on DCSki itself. The results are in, so kick back, relax, and see if you agree with readers' picks for best resort in various categories.

Complete Breakdown of Opening Dates (December 6, 2007)
If you live in the Mid-Atlantic, you'll have your pick of several dozen resorts to ski or snowboard at this weekend. DCSki provides a complete breakdown of opening-day plans for resorts from North Carolina up through northern Pennsylvania. Cold temperatures and natural snow have produced remarkable early-season conditions.

Who's Open? A Detailed Look at Mid-Atlantic Ski Areas (March 20, 2007)
The season isn't over — far from it. Thanks to a dumping of natural snow this past weekend, many mid-Atlantic ski areas are in prime form as the end of March nears. A few resorts have thrown in the towel, but the majority of mid-Atlantic resorts will remain open through this weekend, with some aiming to stay open until April 1 or later. DCSki provides a complete roundup as of March 20, 2007.
(6 reader comments)
To view more articles related to Alpine Mountain, click here.
The DCSki Event Schedule currently doesn't have any events listed for Alpine Mountain. To view events at other resorts, please visit the DCSki Event Schedule.
The following bargains are related to Alpine Mountain.
(No matching bargains found.)
To view more bargains, click here. Remember, bargains may include exclusions or expirations not noted here. Contact the company offering the bargain to verify details.
The views and opinions expressed in DCSki Article Comments are strictly those of the comment authors and have not been reviewed or approved by DCSki. If you believe a comment is inaccurate or inappropriate, please contact DCSki's Editor.
Comments on Alpine Mountain
- posted by Nick Sonnier
February 28, 2007 at 4:38 pm
i came to your mountain on the 10th of February.It was the first time i have been snowboarding and it was the funnest thing i have ever done.I picked it up very fast thanks to your crew at the lifts constantly giving tips.I just wanted to thank you all for the best time of my life and i cant wait to do it again

Want to share your own comments on Alpine Mountain with other DCSki readers? Enter your comments below. Feel free to describe the things you like most about Alpine Mountain, along with any areas you feel could be improved.