Mystic Mountain Ski Area
Farmington, Pennsylvania

(Click here for the official web site for Mystic Mountain, or scroll below to read DCSki's complete profile...)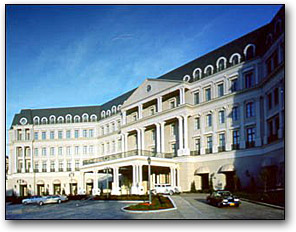 Resort Overview - reported by M. Scott Smith, DCSki Editor
Mystic Mountain Ski Area is part of the Nemacolin Woodlands Resort & Spa, a four-season resort that offers plenty of activities year-round in a luxurious setting.
Nemacolin has 10 restaurants, two PGA-rated golf courses, sporting clays, an equestrian center, and a spa. The Chateau LaFayette, in the French Renaissance style, offers elegantly appointed accommodations. A historic mountain lodge is also available, along with one and two bedroom townhouses. During the winter, Nemacolin runs a small ski area with both downhill and cross county skiing.
The ski area lacks vertical depth, topping out at 300 vertical feet, but the resort also offers snow tubing, and snowshoeing. 15 kilometers of cross-country skiing are available. Note that the Mystic Mountain ski area is typically only open on Fridays, Saturdays, and Sundays; call Nemacolin before planning a trip to verify the operating schedule.
Rentals, group discounts, and lessons are available, and on-site restaurants include the Hungry Moose Café and the Hitchin' Post Saloon, both located within the Sundial Ski Lodge.
Skiing is only one of many activities available at Nemacolin. Nemacolin features golf courses, a spa, a shooting academy, an equestrian center, and much more. There is even an off-road driving academy.
Resort Name:

Mystic Mountain Ski Area

Vertical Drop:

300 feet

Trails:

10 (3 beginner, 3 intermediate, 4 advanced)

Skiable Acres:

25

Longest Run:

2,600 feet

Lift Capacity:

2,000 per hour

Lifts:

3 (1 quad, 1 beginner tow, 1 surface lift)

Night Skiing:

Yes

Terrain Park:

Yes

Halfpipe:

(No halfpipe)

Tubing Park:

800-foot snow chute.

Address:

P.O. Box 188, Route 40 east
Farmington, PA 15437

Phone Number:

(800) 422-2736

Latitude:

39.805239

Longitude:

-79.535007

Facebook:

http://www.facebook.com/pages/Farmington-PA/Nemacolin-Woodlands-Resort/66068474115

Web Site:

http://www.nwlr.com/
---
Estimated Distances from Major Cities
| | | |
| --- | --- | --- |
| Baltimore, MD | 3 hours, 10 minutes | 191 miles |
| Washington, DC | 3 hours, 15 minutes | 188 miles |
| Arlington, VA | 3 hours, 15 minutes | 187 miles |
| Richmond, VA | 4 hours, 50 minutes | 286 miles |
| Pittsburgh, PA | 1 hour, 30 minutes | 78 miles |
| Harrisburg, PA | 3 hours, 15 minutes | 186 miles |
| Philadelphia, PA | 4 hours, 50 minutes | 288 miles |
| Charleston, WV | 3 hours | 188 miles |
| Raleigh, NC | 7 hours, 30 minutes | 466 miles |
| Charlotte, NC | 6 hours, 30 minutes | 408 miles |
To view a full-size trail map for Mystic Mountain, click on the following thumbnail image. The trail map will open in a new window. Please note that DCSki's trail maps can be out of date; always pick up a copy of the latest trail map at each resort.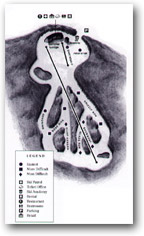 A snow condition report for Mystic Mountain is shown below. Because condition reports may not be updated regularly, be sure to check the date and timestamp on the report. Before making a trip, we recommend contacting resorts directly for the latest conditions.
(Conditions for Mystic Mountain are currently unavailable.)
To view additional ski condition reports for areas throughout the Mid-Atlantic region and across the world, visit the DCSki Conditions page.
The past five articles related to Mystic Mountain are shown below.
Who's Open? A Detailed Look at Mid-Atlantic Ski Areas (March 17, 2008)
Spring is a mixed blessing: Mid-Atlantic resorts begin to close one by one, but the weather is nice and the rates can't be beat. DCSki provides a detailed look at the current operating status of Mid-Atlantic ski areas.

Results of the 2008 DCSki Annual Survey: Top Resorts in the Mid-Atlantic (February 22, 2008)
During January, DCSki asked its readers to complete a survey, ranking Mid-Atlantic ski areas in a number of categories. Over 100 readers filled out this detailed survey, providing a measurement of what local resorts are doing well, and what they could be doing better. We also asked readers to cast a critical eye on DCSki itself. The results are in, so kick back, relax, and see if you agree with readers' picks for best resort in various categories.

Complete Breakdown of Opening Dates (December 6, 2007)
If you live in the Mid-Atlantic, you'll have your pick of several dozen resorts to ski or snowboard at this weekend. DCSki provides a complete breakdown of opening-day plans for resorts from North Carolina up through northern Pennsylvania. Cold temperatures and natural snow have produced remarkable early-season conditions.

Who's Open? A Detailed Look at Mid-Atlantic Ski Areas (March 20, 2007)
The season isn't over — far from it. Thanks to a dumping of natural snow this past weekend, many mid-Atlantic ski areas are in prime form as the end of March nears. A few resorts have thrown in the towel, but the majority of mid-Atlantic resorts will remain open through this weekend, with some aiming to stay open until April 1 or later. DCSki provides a complete roundup as of March 20, 2007.
(6 reader comments)

Resorts Gear Up for Season: A Complete Roundup (December 7, 2006)
Low temperatures in early December have allowed mid-Atlantic ski resorts to fire up the guns and prepare for their season openings. This detailed story provides opening plans for over 30 resorts in the mid-Atlantic region.
(2 reader comments)
To view more articles related to Mystic Mountain, click here.
The DCSki Event Schedule currently doesn't have any events listed for Mystic Mountain. To view events at other resorts, please visit the DCSki Event Schedule.
The following bargains are related to Mystic Mountain.
(No matching bargains found.)
To view more bargains, click here. Remember, bargains may include exclusions or expirations not noted here. Contact the company offering the bargain to verify details.
The views and opinions expressed in DCSki Article Comments are strictly those of the comment authors and have not been reviewed or approved by DCSki. If you believe a comment is inaccurate or inappropriate, please contact DCSki's Editor.
Comments on Mystic Mountain
- posted by Robert Allen
August 16, 2004 at 12:27 am
I skied Mystic Mountain and lived. Well, I didn't really ski as much as skate a lot. At only 300 vertical feet, Mystic is very flat. The terrain is flat on top with a short pitch at the end dropping to the lift at the bottom. In fact the upper lift station is on a 30-foot high man made pile of dirt so that off loading skiers have some momentum to make it through the flats to bottom again. The final pitch is fun but that is it. Don't stop on the flats as you will have to skate to get going again.

Clearly the resort spends its money on the ski lodge. One of the finest south of Vermont. New, well laid out, nice bar (with a mechanical bull) and good food too. The lodge was full of moms in pearls, sipping wine, waiting with small babies as dad skied with the rest of the family. Lots of high end SUV's in the parking lot. Very upscale as in tune with the resort. No brown baggers to be found here.

As is to be expected at the resort is 5 star. I stayed there it was very very nice. Kind of a newer Homestead. But the skiing at the Homestead is better!

I was disappointed I normally like to ski little hills. Some under 500 foot ski resorts in the Midwest rock. Sadly Mystic doesn't.

Comments on Mystic Mountain
- posted by tom glotfelty
November 7, 2004 at 10:54 pm
Your site is wrong. Mystic has a ripping terrain park. The resort is trying to get open for thanksgiving again which I think is like four out of the past five years. See if your beloved Canann or Timberline does that...

Yeh it's small but us locals love the 99 dollar season passes. New snomaking this year, so the planker that says Homestead is better should just stay down south.

Comments on Mystic Mountain
- posted by Denny
November 18, 2005 at 4:56 pm
I cannot find any information on your site about the fees, rental rates, lift charges, etc. Also, the website http://www.nwlr.com/ does not open readily to Mystic Mountain information. Where can I find out what I should expect to pay to use the facilities and ski or skateboard? Thank you.

Ski rates for Mystic Mountain
- posted by Kay, PR at Nemacolin
November 23, 2005 at 4:21 pm
In response to Denny's comments above, first of all, let me apologize for us not having pricing information in an easy-to-find location on our website.

Season Ski Passes are $119 for all ages if purchased by Dec. 1, 2005. After Dec. 1, the rates are $179 for adults and $149 for children under age 12. Season passes do not include rental equipment or snow tubing.

Day Passes are $33 for adults and $25 for children under age 12. Weekend Passes are available for two days at $60 for adults/$45 for children under age 12 and for three days at $85 for adults/$60 for children under age 12. Snow tubing, snow shoeing and cross country are also available at various fees.

As with all activities at our resort, you do not have to be a hotel guest at Nemacolin Woodlands Resort to enjoy skiing or the wide variety of other options we offer. New this winter: Dog Sledding!

Our ski season is "officially" set to open on Friday, Dec. 16, but judging by the current weather conditions (the day before Thanksgiving) we may be able to open earlier.

Comments on Mystic Mountain
- posted by B. WIlhelm
December 19, 2005 at 7:24 pm
Mystic Mountain is a great place to learn, to practice, or just have a great time without fighting your way through a crowd. For us locals, it gives us a chance to get in a lot of ski days without hours and hours of driving. The snow making is first rate. Yes, I like to ski other places, but it's nice to be able to get in a few runs without having to take a day off.

Want to share your own comments on Mystic Mountain with other DCSki readers? Enter your comments below. Feel free to describe the things you like most about Mystic Mountain, along with any areas you feel could be improved.