Winterplace Resort
Flat Top, West Virginia

(Click here for the official web site for Winterplace, or scroll below to read DCSki's complete profile...)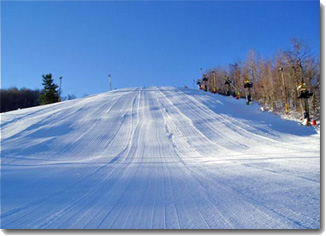 Resort Overview - reported by M. Scott Smith, DCSki Editor
Winterplace Ski Resort receives an average of 100" of natural snowfall each year, and that's not bad, given the resort's southern location. Winterplace primarily attracts skiers and snowboarders from South Carolina, West Virginia, and Virginia. In addition to natural snow, Winterplace has excellent snowmaking, covering 100% of terrain. Winterplace has increased snowmaking capacity in recent years. Fed by a 27 million gallon reservoir, the snowmaking system is capable of pumping out 5,300 gallons of water per minute.
Winterplace offers 28 trails, serviced by 9 lifts, including two quads. Two new carpet lifts were added to the snow tubing park in 2006. The teaching area was also expanded, and is eight times larger for the 2006-2007 winter season. All trails are lit for night skiing. Vertical drop is a relatively small 603 feet, although the longest trail is 1.25 miles.
For the snowboarders, Winterplace has a terrain park, with tabletops, rails, gaps, and more.
Snow tubing was a popular addition to Winterplace several winters ago. Sixteen lanes, served by two carpet lifts, are offered. Separate tubing tickets are required for snow tubing.
Several restaurants at Winterplace offer aprés ski fun, including food and music.
In recent years, Winterplace has made significant investments in snowmaking. In 2010, Winterplace purchased 53 fully automatic SMI Polecats, bringing its total number of state-of-the-art fan guns to 88. In 2011, Winterplace added additional snowmaking equipment and widened two trails.
During the summer, Winterplace offers mountain biking. Winterplace can also host events such as conferences, receptions, scouting events, family reunions, and meetings. There are plenty of hiking options, and scenic chairlift rides are also available for group activities.
Resort Name:

Winterplace Resort

Vertical Drop:

603 feet

Base Elevation:

2,997 feet

Peak Elevation:

3,600 feet

Trails:

27 (41% beginner, 44% intermediate, 15% advanced)

Skiable Acres:

90

Longest Run:

1.25 miles

Lifts:

9 (2 quads, 3 triples, 2 doubles, 2 Super Carpets)

Night Skiing:

Yes; 26 slopes and the terrain and tubing parks are lit for night skiing.

Terrain Park:

Includes two carpet lifts.

Halfpipe:

(No halfpipe)

Tubing Park:

Tubing park has 16 lanes and is serviced by two carpet lifts.

Address:

P.O. Box 1
Flat Top, WV 25841

Phone Number:

(800) 607-7669 or (304) 787-3221

Latitude:

37.591111

Longitude:

-81.11661

Twitter:

http://twitter.com/winterplacewv

Facebook:

https://www.facebook.com/winterplaceskiresort

Web Site:

http://www.winterplace.com/
---
Estimated Distances from Major Cities
| | | |
| --- | --- | --- |
| Baltimore, MD | 5 hours, 50 minutes | 359 miles |
| Washington, DC | 5 hours, 10 minutes | 323 miles |
| Arlington, VA | 5 hours, 10 minutes | 322 miles |
| Richmond, VA | 4 hours, 20 minutes | 271 miles |
| Pittsburgh, PA | 4 hours, 15 minutes | 262 miles |
| Harrisburg, PA | 6 hours | 379 miles |
| Philadelphia, PA | 7 hours, 35 minutes | 461 miles |
| Charleston, WV | 1 hour, 20 minutes | 78 miles |
| Raleigh, NC | 4 hours | 246 miles |
| Charlotte, NC | 3 hours | 188 miles |
To view a full-size trail map for Winterplace, click on the following thumbnail image. The trail map will open in a new window. Please note that DCSki's trail maps can be out of date; always pick up a copy of the latest trail map at each resort.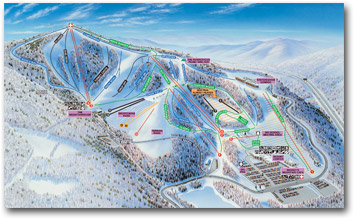 A snow condition report for Winterplace is shown below. Because condition reports may not be updated regularly, be sure to check the date and timestamp on the report. Before making a trip, we recommend contacting resorts directly for the latest conditions.
Winterplace, WV

As of 16:12:00 on 2011-03-20

Report data is over 2 days old -- please check back later.
To view additional ski condition reports for areas throughout the Mid-Atlantic region and across the world, visit the DCSki Conditions page.
The past five articles related to Winterplace are shown below.
To view more articles related to Winterplace, click here.
The DCSki Event Schedule currently doesn't have any events listed for Winterplace. To view events at other resorts, please visit the DCSki Event Schedule.
The following bargains are related to Winterplace.
(No matching bargains found.)
To view more bargains, click here. Remember, bargains may include exclusions or expirations not noted here. Contact the company offering the bargain to verify details.
Recent Tweets from Winterplace Resort
The views and opinions expressed in DCSki Article Comments are strictly those of the comment authors and have not been reviewed or approved by DCSki. If you believe a comment is inaccurate or inappropriate, please contact DCSki's Editor.
Comments on Winterplace
- posted by Donna Milam
December 8, 2004 at 7:31 pm
The best Internet guide we've found to Winterplace is SkiingWV.com. It features tons of information on the ski area as well as all else there is to see in the area.

Comments on Winterplace
- posted by Donna Milam
December 8, 2004 at 7:31 pm
The best Internet guide we've found to Winterplace is SkiingWV.com. It features tons of information on the ski area as well as all else there is to see in the area.

Comments on Winterplace
- posted by michelle
January 10, 2006 at 12:41 pm
i love that tubing i'm coming on the 20th w/ my church

Comments on Winterplace
- posted by Bill Smith
February 14, 2006 at 9:30 am
Winterplace has the worst website I have ever encountered, If you don't have "macromedia's bloated flash player enabled" there is nothing to see!

Please simplify your website guys, macromedia flash is soooo slow loading and a resource hog plus it is nearly impossible to stop once you download it!

I notice the website design firm "UrbanWildernessDesign " uses a heavy dose on there website "sigh".

Comments on Winterplace
- posted by .
August 26, 2007 at 8:53 pm
stop complaining about the places website. get off windows 95 and join the rest of the internet who uses macromedia flash player on a daily basis

Comments on Winterplace
- posted by DCSki Reader
August 26, 2007 at 9:38 pm
Designing a web site around Flash (especially without offering a non-Flash version) is a bad idea. It makes it very difficult for the site to be used by people with disabilities, or even people who simply like to increase the font size from the default. Sites just as dynamic can be created without using Flash, without needlessly limiting the audience. Flash is fine for ads, but not for a web site's navigation and main design elements. This has nothing to do with whether a user has an old or new browser.

Comments on Comments Winterplace
- posted by Glen
December 4, 2007 at 1:36 pm
Could you people comment on the ski area instead of the web site? Geez. I want to know about the on mountain experience. Anyone have an opinion on that?

Comments on Winterplace
- posted by pagamony
December 7, 2007 at 9:53 am
Ok. Winterplace has too little vertical, too many lifts, too many buses, and on weekends way, way too many skiers. They also have an engaged and helpful staff, an incredible snowmaking system, good weather, and some decent slopes such as snowbowl, turkey shoot, and woods run. There is a close local hotel at the I77 exit next to a 'gentleman's club', or more standard fare in Beckley - see the Winterplace website. They also have link with nearby Glade Springs which is an odd place for a resort community but the lodging deals are not bad. Important to arrive early for good parking. Have been there for a 13" snow and lots we left ungroomed and nobody complained about venturing into unmaintained trees. Ski Barn is much better for rentals. So, its not worth passing by any other place in WVa, but if that is your day trip then go for it.

Comments on Winterplace
- posted by Tamara
January 20, 2008 at 10:13 pm
Anyone know of a B1G1 promotion going on now for Winterplace?

Comments on Winterplace
- posted by Susan
November 18, 2008 at 11:55 am
This is a great family place. I want to bring my grandchildren and my step children soon.

Comments on Winterplace
- posted by PJ Johnson
February 8, 2010 at 7:58 am
Confused about when the resort opens for the season & when it closes or ends for the year for snow skiing & boarding? Can you help?

Want to share your own comments on Winterplace with other DCSki readers? Enter your comments below. Feel free to describe the things you like most about Winterplace, along with any areas you feel could be improved.