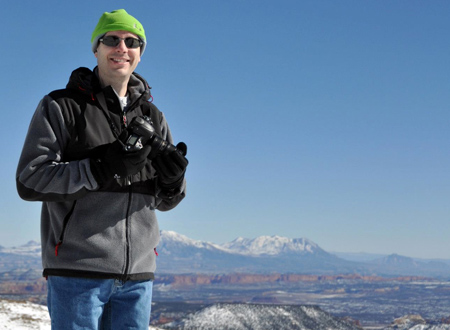 M. Scott Smith
Scott is Editor and founder of DCSki. He writes the articles, takes the photographs, designs the pages, programs the site, pays the bills, and occasionally catches a wink of sleep. In addition to DCSki, Scott works full time as a researcher and computer scientist.
Scott loves outdoor activities such as camping, hiking, travel, skiing, kayaking, and mountain biking. He is an avid photographer and writer, and also plays keyboards and drums. Scott grew up in Colorado and currently resides in Maryland. (That's right - he went from Colorado to Maryland - what was he thinking?!) Scott maintains a personal weblog at www.mscottsmith.org.
Scott is a member of the Eastern Ski Writers Association and the North American Snowsports Journalists Association.
Scott has written 810 stories for DCSki since 1997.
February 24, 2018

- DCSki's Editor continues his road trip with a stop at Colorado's Snowmass Resort. His first day there was less than ideal: Presidents' Day Weekend crowds mobbed the resort while strong winds shut down many of the lifts. But he tried again later in the week, and discovered why Snowmass is a favorite of many skiers and boarders.
February 20, 2018

- It's a good reason for bucket lists to exist: Yellowstone National Park in the winter. In between wearing out his legs skiing at Jackson Hole, DCSki's Editor spent a day snowmobiling through Yellowstone in search of an erupting geyser.
February 17, 2018

- DCSki's Editor checks in from his western road trip to describe Wyoming's Jackson Hole, a mecca for expert skiers known for its steep terrain and deep snow.
February 14, 2018

- DCSki's Editor is in the midst of a road trip through western states, in search of snow and adventure. His first stop took him to Idaho, where he discovered nice people and nice snow at Sun Valley Resort.
February 13, 2018

- DCSki's Editor is currently in the midst of a western road trip, where he's seeking out snow and adventure. His first day found him heading north from Las Vegas, where he found a railroad infrastructure perfectly preserved in time.
January 27, 2018

- DCSki's Editor offers his thoughts on the skyrocketing costs of skiing, and how he thinks it could hurt the snowsports industry in the long-term by scaring away new skiers and snowboarders.
January 8, 2018

- Usually, skiing requires snow, but the Mid-Atlantic ski season typically only lasts three months. Brian and Nancy Deely, owners of Pro-Fit Ski & Mountain Sports, decided to address that problem by adding a year-round, indoor ski simulator next door to their ski shop in Leesburg, Virginia.
January 7, 2018

- Somehow, DCSki's Editor had never skied at Liberty Mountain, despite covering Mid-Atlantic snowsports for over two decades. He fixed that on Sunday evening, and provides this Firsthand Report.
January 2, 2018

- On December 31, 2017, a middle-aged skier was discovered unresponsive around 10 a.m. on a slope at Pennsylvania's Whitetail Ski Resort and was later pronounced dead. His widow is seeking assistance from anyone who may have observed the accident.
January 1, 2018

- DCSki's Editor rang in the New Year on the slopes of Pennsylvania's Whitetail Resort, where he found fireworks, a bonfire, and frigid temperatures. He provides this Firsthand Report and set of photos documenting the event.