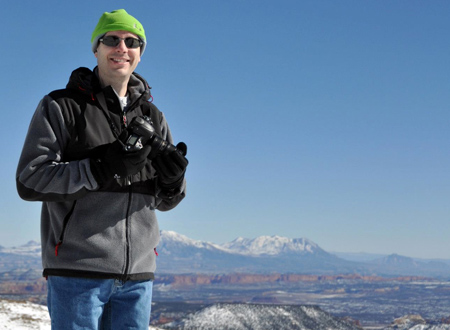 M. Scott Smith
Scott is Editor and founder of DCSki. He writes the articles, takes the photographs, designs the pages, programs the site, pays the bills, and occasionally catches a wink of sleep. In addition to DCSki, Scott works full time as a researcher and computer scientist.
Scott loves outdoor activities such as camping, hiking, travel, skiing, kayaking, and mountain biking. He is an avid photographer and writer, and also plays keyboards and drums. Scott grew up in Colorado and currently resides in Maryland. (That's right - he went from Colorado to Maryland - what was he thinking?!) Scott maintains a personal weblog at www.mscottsmith.org.
Scott is a member of the Eastern Ski Writers Association and the North American Snowsports Journalists Association.
Scott has written 843 stories for DCSki since 1997.
January 28, 2020

- Chris Diamond is a veteran of the ski industry, having served in leadership positions at Mount Snow and Steamboat. During his 44 years in the ski business, he saw a lot of change, but nothing like he's seen since he retired in 2015. Since then, he's published two books covering his experiences in the ski industry and the tectonic shifts caused in the past few years by acquisitions and the emergence of mega passes. DCSki interviewed Chris to discuss his books, his perspective on the industry, and where he sees the industry moving forward next.
December 28, 2019

- Lifts have evolved a lot over the years, and there are now thousands in operation across the world — ranging from simple surface lifts to high-speed gondolas that have a 1.88-mile free span between two towers. And thoroughly documenting all of those lifts — past, present, and future — is Peter Landsman, founder and editor of the excellent web site LiftBlog.com. DCSki recently interviewed Peter to learn more about his passion for lifts and the success he's had operating LiftBlog.
December 21, 2019

- After a burst of cold weather in November allowed some Mid-Atlantic resorts to snag pre-Thanksgiving opening dates, the balance of resorts have now officially begun their season in recent days thanks to a stretch of snowmaking-friendly temperatures.
December 17, 2019

- In mid-December, DCSki's Editor got a chance to visit Colorado's Keystone Resort for the first time for his first turns of the season. He provides this detailed Firsthand Report.
November 21, 2019

- On Wednesday, November 20, 2019, West Virginia's Timberline Resort entered a new era as it was purchased at auction by Perfect North Slopes, adding a promising new chapter to the beleaguered resort.
November 20, 2019

- Thanks to unseasonably cold temperatures in November, four additional Mid-Atlantic ski resorts will be kicking off their winter seasons by this weekend.
November 16, 2019

- Wisp has made some snowmaking improvements for the 2019-2020 winter season, and has also upgraded to RFID lift tickets for a more streamlined experience.
November 13, 2019

- West Virginia's Canaan Valley Resort has been busy in recent months preparing for the upcoming winter season, making snowmaking enhancements and decreasing the time it will take for skiers and boarders to get their lift ticket and make it to the slopes.
November 13, 2019

- We're just barely into mid-November, but mid-winter temperatures have already settled across the Mid-Atlantic, dipping below freezing and convincing many area resorts that it's a good time to commence snowmaking operations. For two Pennsylvania resorts in the Poconos, this weekend will mark the beginning of their ski season. Big Boulder plans to open on Friday, November 15, 2019 at 3 p.m., while Blue Mountain plans to open on Saturday, November 16.
November 9, 2019

- Record-breaking cold temperatures in the Mid-Atlantic region may have many people wondering what happened to Fall, but for skiers and snowboarders, they welcome the early freeze. The snowmakers at Pennsylvania's Seven Springs and Hidden Valley Resorts welcomed the cold by firing up the snowguns early on the morning of November 8, 2019.