Blue Knob Four Seasons Resort
Claysburg, Pennsylvania

(Click here for the official web site for Blue Knob, or scroll below to read DCSki's complete profile...)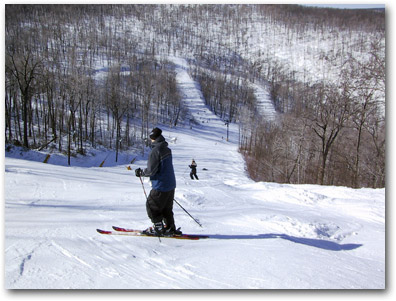 Resort Overview - reported by M. Scott Smith, DCSki Editor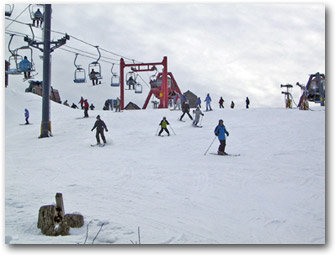 With a 1,072 foot vertical drop, an average annual snowfall of over 100 inches, and the most challenging terrain in the region, Blue Knob attracts plenty of skiers and snowboarders each winter. The Pennsylvania resort boasts the highest summit elevation of any ski resort in Pennsylvania - 3,172 feet. At this high elevation, precipitation during the winter is usually in the form of snow, and the snow sticks to the slopes well into spring. The high elevation and north-facing slopes also bring some chilly (and windy) temperatures — on a very cold day, Blue Knob is, well, very cold. Like West Virginia's Snowshoe Mountain Resort, Blue Knob is an "inverted" resort — the lodge and parking are found at the top of the mountain, so the first run down the mountain does not require a lift ride, and there's always a temptation to take "one last run" at the end of the day.
Experts will find plenty of challenges at Blue Knob, from steep, narrow chutes to advanced glade and bowl trails — terrain uncommon for the Mid-Atlantic. Beginners will find easier trails at the top of the mountain; lower trails are for experts only. The bulk of Blue Knob's terrain is most suited for advanced intermediates and advanced skiers.
Blue Knob has a Snowboard Park for the snowboarders, and also has a snow tubing park.
Most of the trails at Blue Knob are covered by snowmaking, but others rely on natural snowfall. 40% of trails are lit for night skiing, but as with most resorts in the region, trails can become icy after dark.
The natural snow cover can result in great conditions for cross country skiers, who will find plenty of trails. Sleigh rides are also offered in the winter.
Lodging options at Blue Knob include condominiums. Nearby Altoona and Bedford have other lodging options, such as hotels and bed and breakfasts. Food is available at the lodge and a restaurant/bar located near the condominiums.
In the summer of 2011, Blue Knob gave its lodge a face lift, and enhanced snowmaking by adding a new large pump and additional snow guns.
(Photos courtesy of Blue Knob Resort.)
Blue Knob is a year-round resort. When the snow melts, Blue Knob has plenty to offer: a nine-hole golf course, tennis courts, swimming pools, and mountain biking and hiking trails. Blue Knob offers the largest connected mountain biking and hiking trail network in Pennsylvania, including 40 kilometers of hiking trails. Guided canoe and kayak trips are also available on the nearby Juniata River, offering scenic trips through the Allegheny Mountains. On weekends and holidays, lift service is provided to shuttle bikers from the bottom to the top of the mountain.
Resort Name:

Blue Knob Four Seasons Resort

Vertical Drop:

1,072 feet

Trails:

34 (6 beginner, 14 intermediate, 14 advanced)

Skiable Acres:

100

Longest Run:

9,200 feet

Lift Capacity:

5,200 per hour

Lifts:

7 (2 triples, 2 doubles, 3 surface)

Night Skiing:

Yes, on 40% of terrain

Terrain Park:

Yes

Halfpipe:

(No halfpipe)

Tubing Park:

Yes

Address:

P.O. Box 247
Claysburg, PA 16625

Phone Number:

(800) 458-3403 or (814) 239-5111

Latitude:

40.293537

Longitude:

-78.561773

Twitter:

http://twitter.com/BlueKnob

Facebook:

http://www.facebook.com/people/Blue-Knob/100000448662262

Web Site:

http://www.blueknob.com/
---
Estimated Distances from Major Cities
| | | |
| --- | --- | --- |
| Baltimore, MD | 2 hours, 50 minutes | 164 miles |
| Washington, DC | 2 hours, 55 minutes | 161 miles |
| Arlington, VA | 2 hours, 55 minutes | 160 miles |
| Richmond, VA | 4 hours, 30 minutes | 259 miles |
| Pittsburgh, PA | 2 hours, 5 minutes | 108 miles |
| Harrisburg, PA | 2 hours, 5 minutes | 120 miles |
| Philadelphia, PA | 3 hours, 45 minutes | 222 miles |
| Charleston, WV | 4 hours, 25 minutes | 279 miles |
| Raleigh, NC | 7 hours, 10 minutes | 435 miles |
| Charlotte, NC | 7 hours, 45 minutes | 467 miles |
To view a full-size trail map for Blue Knob, click on the following thumbnail image. The trail map will open in a new window. Please note that DCSki's trail maps can be out of date; always pick up a copy of the latest trail map at each resort.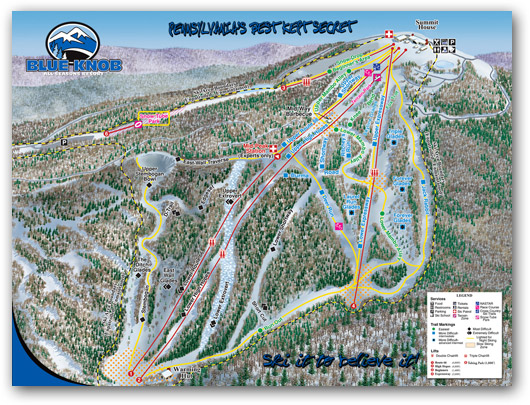 A snow condition report for Blue Knob is shown below. Because condition reports may not be updated regularly, be sure to check the date and timestamp on the report. Before making a trip, we recommend contacting resorts directly for the latest conditions.
Blue Knob, PA

As of 05:08:00 on 2011-03-14

Report data is over 2 days old -- please check back later.
To view additional ski condition reports for areas throughout the Mid-Atlantic region and across the world, visit the DCSki Conditions page.
The past five articles related to Blue Knob are shown below.
Mid-Atlantic Ski Season Gains Momentum (December 27, 2012)
A shot of cold air and some natural snow has helped launch the 2012-2013 winter season in a big way. Find out the status of Mid-Atlantic ski areas.

Great Glades Almighty! (November 12, 2012)
What's so great about glade skiing? Is it the adrenaline rush of a high speed slalom through the trees or maybe the seductive siren song of better, softer snow? DCSki Columnist Jim Kenney explores this question, while sharing his own favorite glades.

Hidden Valley and Blue Knob Resorts Partner on a Passholder Exchange Program (October 22, 2011)
Season passholders at Hidden Valley Resort and Blue Knob Resort will be able to benefit from a new Passholder Exchange program for the 2011-2012 winter season.

Firsthand Report: Annual DCSki Gathering at Blue Knob (March 20, 2011)
Members of the DCSki.com and Epicski.com forums converged on Pennsylvania's Blue Knob Resort in late February, enjoying the company of each other and snow-covered slopes. Jim Kenney provides this Firsthand Report and pictorial.

Firsthand Report: Blue Knob Get Together (March 7, 2010)
From February 19-21, 2010, members of the DCSki and Epicski on-line communities met in the physical world on the slopes of Pennsylvania's Blue Knob resort, enjoying conditions and camaraderie fit for the record books. Rob Davis provides this Firsthand Report.
(2 reader comments)
To view more articles related to Blue Knob, click here.
The DCSki Event Schedule currently doesn't have any events listed for Blue Knob. To view events at other resorts, please visit the DCSki Event Schedule.
The following bargains are related to Blue Knob.
(No matching bargains found.)
To view more bargains, click here. Remember, bargains may include exclusions or expirations not noted here. Contact the company offering the bargain to verify details.
Recent Tweets from Blue Knob Four Seasons Resort
The views and opinions expressed in DCSki Article Comments are strictly those of the comment authors and have not been reviewed or approved by DCSki. If you believe a comment is inaccurate or inappropriate, please contact DCSki's Editor.
Comments on Blue Knob
- posted by Justin
August 15, 2004 at 8:03 pm
My friends and I (seniors in high school in Fairfax & Prince William County) all like to snowboard at Blue Knob the best. We've never seen Blue Knob's snowboard park, but the mountain is big enough and we can usually find decent glades and steeps (even if it means cutting to the little chutes under the lifts.) Also, throughout the mountain, there are a bunch of cool little hits and whatnot, like a log to railslide and a dropoff through some woods. Knob doesn't get boring, even though it is only one mountain face. There is plenty to mix and match and the runs are pretty long as far as Mid-Atlantic boarding goes.

Comments on Blue Knob
- posted by Jim Kenney
August 15, 2004 at 8:03 pm
If you catch windy or icy conditions, first impressions of Blue Knob can be disappointing. But for the better skier/boarder Blue Knob's harder edge is worth a closer look. I was a season pass holder there in the 70's and 80's. I've skied all over the USA since, yet I still measure other ski areas by trails experienced at Blue Knob; Extrovert-steep, Lower 66-bumps, Shortway-narrow and glades before glades were cool. Blue Knob has considerable diversity and length to its trail mix and, in my opinion, more challenge than any eastern ski area south of Hunter Mtn, NY. It skis bigger than its 1,072-foot vertical. It has always been a little on the wild side for weather, terrain, conditions and facilities maintenance; comparable in spirit to places like Wildcat NH, Mad River Glen VT, or the old versions of Aspen Highlands CO and Park West UT (the Canyons). It's not always easy to arrange, but to get the best of the wild side of Blue Knob you need to be there when they've got some natural snow.

Don't expect glamorous non-skiing amenities at Blue Knob. It features a ramshackle mtn-top complex that can be a bear to get to in hazardous driving conditions. If you're from the mid-Atlantic and prefer upscale aprs-ski and guaranteed white, short, tilted runways you'll probably have a better time at Whitetail, Seven Springs or the east side of Snowshoe.

Lift tickets at Blue Knob are currently a little cheaper than most and lift lines are far shorter than back in the 70's when they would often stretch a half mile up Mambo Alley on weekends.

Comments on Blue Knob
- posted by MiniTrucker14
August 15, 2004 at 8:03 pm
I am a local loyal to Blue Knob. I love skiing there, and it has never got boring, since I learned to ski there, until present day. I am now 15 and a really good skier and I find much challenge to be found in Blue Knob for different styles. I am fortunate to get there a lot. I like the people there, and the workers are nice. Food is a wee bit expensive, but I don't go there to eat!

(No subject)
- posted by Jay D.
December 3, 2004 at 5:27 pm
I've been at blue knob every winter since I was 8 years old with my dad. I'm now 14 and I snowboard. I'm from Upper St. Clair a small township south of the Pittsburgh area. It's a bit of a drive to Blue knob but it's always been worth it. I'm a snowboarder and it's always been great at blueknob! Snowboarders there terrain park isn't the top of the line but besides that other jumps and strails through the woods on the main trails are great! Blue knob is definetly one of the most challenging ski resorts I've been to since I've started snowboarding. I've been to New York, Virginia, and west virginia and no ski resorts quite cut it except for Blue Knob. The challenging runs at Blue knob keep me, my friends, and my dad coming back. Blue knob is the only ski resort I know of around this area that has a good variety of black diamon trails and double black diamond trails, Yet it still has good trails for beginers. When Blue Knob gets powder it's the greatest skiing conditions anywhere! Blue knob has always been a less popular resort but thats why i like it. it has short lines and the resort's diversity has always appealed to me i really suggest going if your any type of skier or boarder. If you want you can head to there website at http://www.blueknob.com/ (sorry it's not a link). Also on the site there is e-mail addresses that you can contact to ask any questions about the resort.

Comments on Blue Knob
- posted by Snowboarder18764
December 3, 2004 at 5:34 pm
I'm a teenager from pittsburgh and all my friends an me love to snowboard. I head out there atleast 5 times every winter it's a great place! Their terrain park isn't to great but the glades and other double black diamonds give you alot to work with! There is always a couple of good kickers to launch off of and good sets of jumps. Usually there is a log or two great for boardsliding. You never get bored at blue knob there is always somethin new to try there. When they get powder it's awsome! Blue Knob has always been great I really suggest going there if your a skier or boarder of any level it's always good.

Blue Knob Rocks
- posted by Matt Stuckey
February 25, 2005 at 6:13 am
Just go ski it- you'll find out. There is not another mountain within a long drive that has the variety and challenge Blue Knob does! It's also a great place to mountain bike and camp in the summer. I live a 1/2 hour from the mountain, and would love to provide anybody who is interested some info about how to best enjoy the place- drop me an email emailstuck@yahoo.com.
See ya at the Knob!

Comments on Blue Knob
- posted by Chris Seymour
March 27, 2006 at 12:39 am
I heard from locals that a bear got into the new snowmaking pond and ripped the liner. The resort did not make much snow this year when it was cold enough. Does anyone know who owns this resort? Has any outside corporation looked to purchase it?

Comments on Blue Knob
- posted by skibummds
October 11, 2006 at 11:30 am
Blue Knob is a great mountain that is not very well managed. The expert terrain is rarely open. To my knowledge Bone Yard, Mine Shaft, and East Wall Glades have not been open at all for the last several years. None of the glades are cleared of enough debris to be skiable without several feet of natural snow. It is reminiscent of Snowshoe's Knot Bumper, Grab Hammer, Shanks Mare, Camp 15 (now lower Shays) in the 1980s. Even the main expert runs with snowmaking were not open last season (05-06) for any length of time. For example, Extrovert did not open until February, and then closed almost immediately due to icy conditions. The whole place closed after March 12, without any notice for those who had season passes or advanced tickets purchased, and despite a favorable weather forcast. Most mid-atlantic resorts stayed open until the end of March. I think the resort management should stop catering to the ski bus crowd and start building real skier clientele who are willing to invest in property and season passes, like Snowshoe and Seven Springs have done, because with better management Blue Knob definitely has the potential to compete.

Comments on Blue Knob
- posted by Rich Hays
December 17, 2007 at 1:37 pm
Mixed feelings: I started skiing at Blue Knob about 40 years ago. Back then we stayed in the old army barracks atop where the parking lots are now. A coal furnace choking out black sooty smoke sometimes laid on the snow up by the beginner slopes, making it look almost black. That said; back then... Blue Knob rocked! I wasn't really good enough to ski it well but I tried. And...I never seemed to get there when all the trails were open. Only once actually when we got snowed in at the top with about a foot of new powder!
Years later, I went back. I was shocked that little had changed. A lift was added but basically it was the same ol' same ol'. Most trails were not open and Mambo Alley seemed to funnel all the traffic as it had before. Some years after that I went back again in hopes of catching Stembogan open or Extrovert and again, no.
Blue Knob has the potential to be the best ski area in Pa. if it only would spend money on its facilities. Like snomaking and lifts. Its big, challenging and diverse. But...frustrating to go there time and again for only a portion of the mountain being open or in so-so conditions. And the trail map is a teaser. What appears to be trails to the left actually aren't. Whats up with that?

Comments on Blue Knob
- posted by diana
March 23, 2008 at 8:28 pm
Skiing at blue knob is a blast...My favorite trail would deffinatly be stembogin, I like the bowl. At blue knob there are slopes for every one to enjoy, weather you are a beginer or have skiied for years.

Comments on Blue Knob
- posted by mark
November 20, 2008 at 11:43 am
the best terrain in the mid-atlantic seems to be run run by hicks. For the most part I find this to be a good thing. This is the last place any pretentious snob would want to go to and is one of the few places in the mid-atlantic where one can actually ski on natural snow. Yes, you have to time it right and definitely bring rock skis. I fear that if the management tries to seriously compete with other areas we might witness the tragic widening of narrow tree-lined runs and the addition of glue of manmade snow. My gripes with the management lie in their failure at times to open lower mountain runs when there is sufficient snow because they want to hoard it to themselves. This is disgusting. I also find it ridiculous to name Stembogan as 4 different runs (as well as others) in an attempt to make it look as if they had many more runs than they actually do (I call this the Killington effect).

Comments on Blue Knob
- posted by devil
December 29, 2008 at 7:13 pm
blue knob is a gem.. pray to the snow gods so we can slay in its goodness.

Comments on Blue Knob
- posted by Ron
February 5, 2009 at 9:51 am
Just returned from my first, but surely not my last visit to Blue Knob. The long runs are great. Snow was as expected for the conditions with a few icy spots. Only suggestion is, speed up the lifts.

Comments on Blue Knob
- posted by YT
February 5, 2009 at 11:53 am
Went to Blue Knob on Super Bowl weekend. I just got back into skiing after a ten year break. The first place I ever went skiing was Blue Knob back in the mid 70's when I was but a little kid. I don't think anything has changed since then. Which in a way I like.. other resorts near to D.C. all have that mall atmosphere and crowds. Conditions were great on Saturday, some fairly fresh REAL snow and I had a blast. Only real downside as far as the skiing itself is the ancient slow lifts. But the lack of crowds, good snow, longer runs and terrain variety make up for it.

Super Bowl Sunday was nice.. being so close to Pittsburgh most of the locals weren't at the slopes so we had the place mostly to ourselves. Did get a bit warm in the afternoon so the snow did get heavy but not bad at all.

The people there are super friendly, the atmosphere laid back and the skiing very good when the snow falls. This is not a big resort though, if you're wanting other amenities like a variety of food and lodging and other night life you will likely be disappointed. Come here to SKI!

Comments on Blue Knob
- posted by L
February 26, 2009 at 10:15 pm
Blue Knob is a very special resort.

Sure, the lifts are ancient, their website is prehistoric, the amenities are lacking, and their snowmaking capacity sucks.

But Blue Knob makes up for those things with SOUL! It is, in my opinion, the regions's finest "skier's mountain," a throwback to the "good ol' days..." if you will, something of a secret. The place is dripping with character. There is a definite state park vibe. Plus, right after a storm, you really won't find better terrain around. Glades and bowls? you know it...

Like YT said, go to really get your SKI on!

Dear Blue Knob Management:
Please pave the rough section of the roadway!

Comments on Blue Knob
- posted by stepehen
March 1, 2009 at 2:21 pm
im thinking about taking a trip up to blue knob next week (march 6th threw 8th) but they only have 17 of 34 trails open now and i dont want to drive 5 hours and ski only half the mountain is blue knob still good with only 50% of its trails open??

Comments on Blue Knob
- posted by Tim G
March 3, 2009 at 3:52 pm
" Ski Good or Eat Wood"
Blue Knob

what?
- posted by chris
January 3, 2010 at 8:47 pm
What happened to the mine shaft and bone yard glades, and most of east wall? They don't appear to be on the trail map. I know they're barely open but I've been on them a few times and they're lots of fun. Although they all had some debris here and there, why shut them down?

Comments on Blue Knob
- posted by telemark04
February 18, 2010 at 10:01 pm
Returned to Blue Knob for the first time in a few years on 2/14/10. Conditions were epic. Roughly 4 feet of natural snow. Entire mountain open and areas of unmarked terrain also skiable. Bone Yard, Mine Shaft, East Wall, the Ditch, are all still there, marked, and skiable with good natural snow. Blue Knob is a beautiful mountain with terrain that is unmatched anywhere in the Mid-Atlantic. Real expert glades and steep runs on the lower mountain. When it snows deep, this is the place! I'd like to see some careful upgrades to the lifts and facilities which preserve the character of the place, along with expanded skiing below the doubles at the bottom to add overall vertical.

Not perfect, but darn good
- posted by Mike12
November 4, 2010 at 11:22 am
I live near the mountain, about 30 minutes away. I feel really lucky to have a resort like Blue Knob right in my back yard. Many locals don't appreciate what they have with Blue Knob. Yes, it does get really cold some days. Yes, it does get very icy some days. But you have to look at the overall picture when it comes to Blue Knob. It's a very fun place to ride and it's pretty affordable. Last year was amazing because of all the snow we got. I hope we get dumped on this year, too! I talked to someone who grew up riding Blue Knob and he now lives out in CA. He says if you can ride the Knob, you can ride anywhere. It's so true. It prepares you for anything you can encounter when you're out on the slopes. I'm definitely looking forward to a fun-filled season!

Comments on Blue Knob
- posted by Chimney Ridge TC
September 3, 2012 at 9:47 pm
Anyone have any info on backcountry skiing, I am exploring the trails on foot and documenting what Im doing but I am curious has anyone ever made a map of the off-piste skiing at Blue Knob. Thanks!

Pow weekend
- posted by adamsnowman
January 28 at 4:10 pm
I just returned from a powder weekend at blue knob.

Group of three skied two days and lodged one night for under $150 each for everything. The condos are definitely dated. However very liveable and the linens ok. Note the condos are 5 min drive from the main lodge - not ski in ski out. There are however 2 bar/resaurants walking distance from the large condo complex.

The actual lodge is kind of small, foods decent, but the bar is tiny and not super charismatic.

The mountain is nice, the runs are long, there are some legit steep black runs. Nice Skiiable glades, which were still very bony but I got some good pow turns out of it.

The drive from DC was very easy, 3.5Hrs. All Interstate until the last 20-30 min. Despite several inches of snow within 24 hours the highways were completely clear. Only the last part climbing the mountain (15min) was snow covered but cleared enough to be fine even in my small FWD car.

I'd say this or timberline are my favs in the area for cost/performance/distance from dc.

Comments on Blue Knob
- posted by Michael Linkroum
March 16 at 5:53 pm
Never been there and I live way down by Charlotte,too far,but judging by the reviews and trail map it would be my stomping grounds if I lived in any of the mid Atlantic cities like DC,Balt,Pitt,Philly.Appears to be a skiers mountain and not a resort like 7 Springs or Snowshoe,which is a big bonus!One of these days when I get more $$,I'm making a long road trip to hit Timberline and Blue Knob all in one trip!Of course it will have to be after lots of natural snow has fallen!

Want to share your own comments on Blue Knob with other DCSki readers? Enter your comments below. Feel free to describe the things you like most about Blue Knob, along with any areas you feel could be improved.