Stowe has a special place in my heart. It was my first big mountain experience as a teenager; my go to ski resort during college breaks; and the first place I skied with my wife. One of my fondest memories is driving up the Mountain Road in Stowe with my wife 20 years ago and hearing her reaction as the mountain first came into view: "Wow! That's a big mountain." Indeed it is. To me, it's the ultimate East Coast destination resort. After my trip in early February, I can attest that Stowe compares favorably with some of the best places I have skied globally, including Lech in Austria, and Snowbasin in Utah.
Why? It starts with terrain. Stowe's terrain rocks. Every trail coming off the Fourrunner Quad and the 8-person gondola covers more than 2,000 feet of vertical, and all trails from the Sensation Quad on Spruce Peak have a respectable 1,750 vertical.
However, it's more than simply vertical — Stowe's terrain is interesting. Stowe boasts everything from classic New England narrows to trails almost bowl-size in width. With woods galore, and a variety of natural terrain features including waterfalls and cliffs, skiers much more advanced than me can always find challenges skiing Mount Mansfield, Vermont's highest peak. The front four double black diamond trails (Goat, Starr, Liftline, and National) are arguably the most challenging marked trails in the East.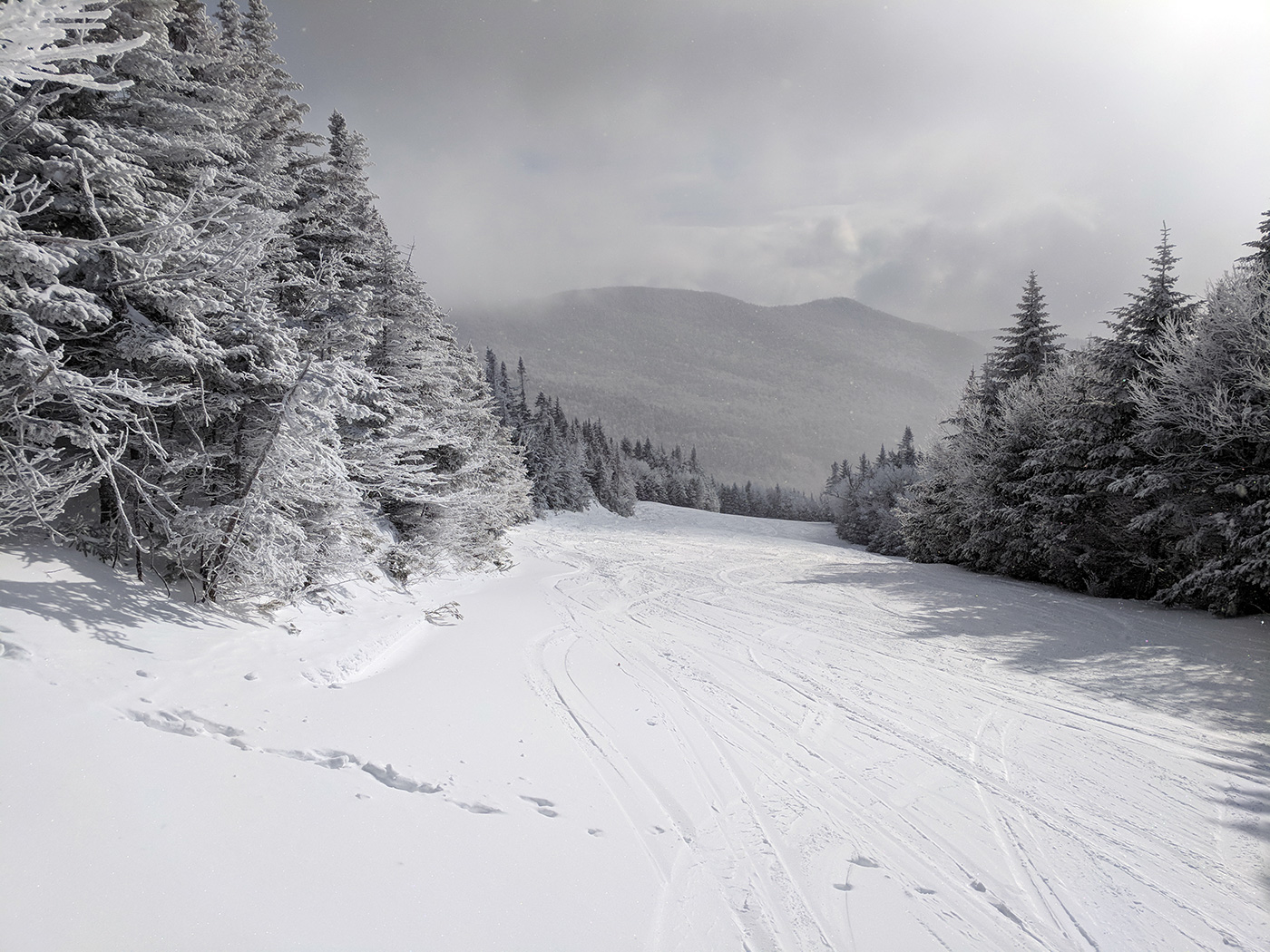 One of the things I love about Stowe is that you can ski the same trail many times and it feels different every run depending on the line taken and the conditions. Double fall lines, and lots of natural dips and curves can be found on nearly every blue square and single black. For my ability level, I love Main Street on Spruce — a broad single black racing course with Euro piste flavor. I also adore Hayride on the Mansfield side and some of the mountain's intermediate runs, including Gondolier, and North Slope. A very special trail for me is Sterling. Sterling meanders down Spruce peak seemingly forever. In places, it's barely wide enough for two skiers and in other spots, more open — sort of like a stream running through the occasional mountain meadow. During a storm, it catches a lot of windblown snow, so no snowmaking occurs on it. It's a natural snow farm.
Experts flock to Stowe for the challenging and diverse terrain but I would be remiss if I did not to mention the beginner terrain. In my opinion, Stowe has some of the best green circle terrain in the world. Skiers in search of lower angles can experience a true big mountain odyssey by skiing the 3.7-mile toll road from the Mount Mansfield summit to the Toll House double and then make their way across Mansfield on Crossover. Other fabulous beginner trails include Easy Mile and the Meadows learning area on Spruce Peak.
Fifty-five percent of the mountain is marked intermediate and nearly all are groomed daily as well as many single blacks such as Nose Dive and Hayride. Skiers and snowboarders from the Mid-Atlantic will find Stowe's blue squares a bit steeper than other intermediate trails in the east. Best to think of them as Western blues. During my stay, frequent snow meant that most trails skied au natural.
A huge advantage for Stowe is its northern latitude not far from the Canadian border. When it's raining at central and southern Vermont, Stowe often gets snow. It also gets ample lake effect snow from nearby Lake Champlain. Average snowfall tops 300 inches. During the week we visited, the resort received 27 inches of snow.
The downside of the weather at Stowe is that it can get bone chilling cold, especially on the many gray sky days that define New England winters. Ethan From would feel at home here. That's the main reason my wife and I have shied away from Stowe over the years in favor of the warmer western resorts and Europe.
What convinced us to give Stowe a shot this year was the poor snow record in Utah combined with the possibility of slope-side accommodations at Spruce Peak Village, which began rolling out residences in 2008. A lucky deal on a studio unit at the Stowe Mountain Lodge sealed the deal. By staying at Spruce Peak, we could dip into the condo to warm-up or have lunch. Its convenient boot-up room and ski valet just steps from the Over Easy Gondola (the link to Mount Mansfield) and the Sunny Spruce Quad offered exceptional convenience. One day when my wife was fighting a bit of a cold, I let her sleep in while I caught the first ride on the Fourrunner at 7:30 — one of the earliest lift openings in the country. We then met up later in the morning for turns on Perry Merrill and Gondolier — two of the mountain's signature blue groomers.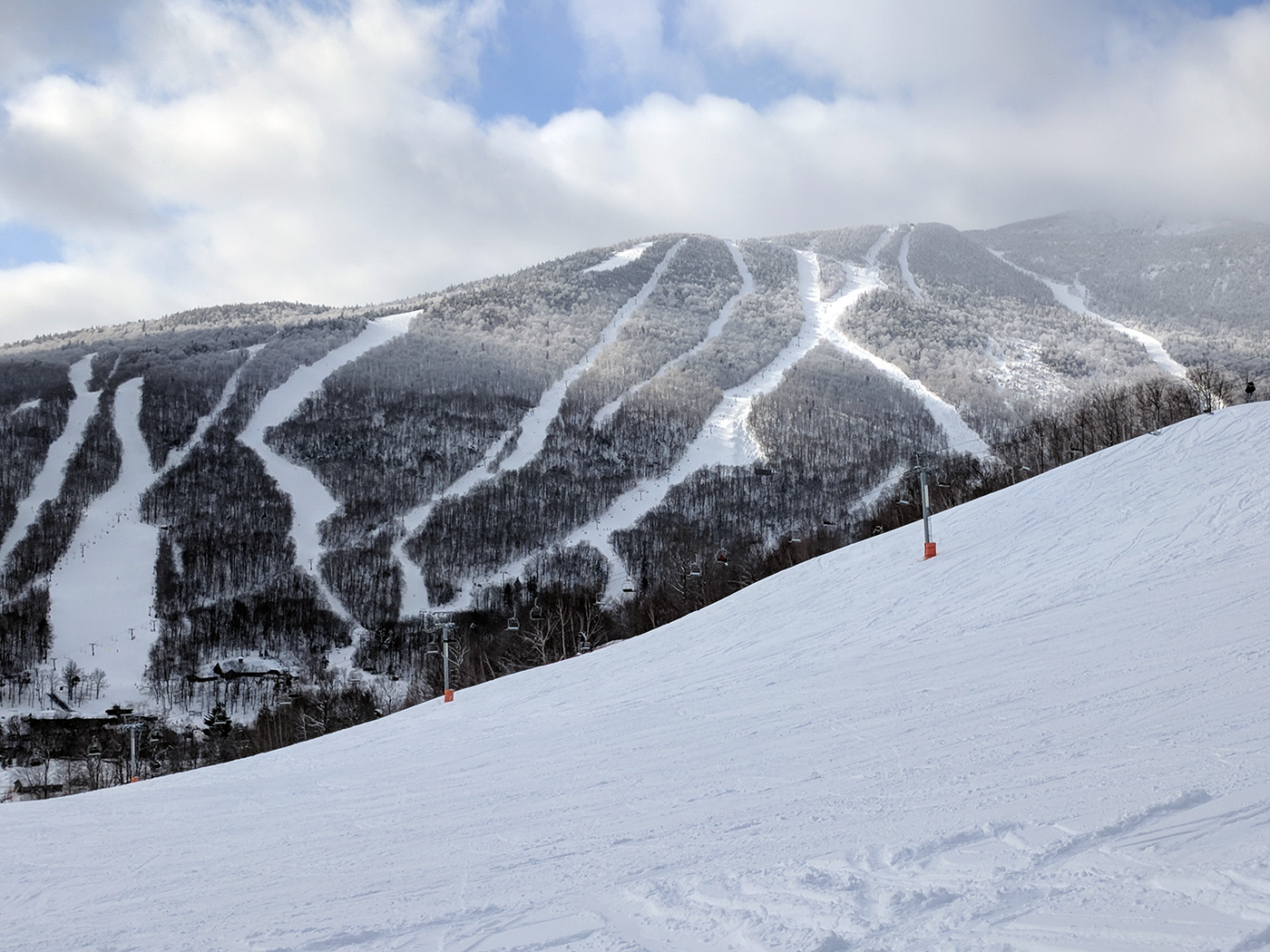 Typically, we would start out on Mansfield and end up at Spruce. This approach chases the sun, which rises above the Sunrise trail on Mansfield and sets on Spruce Peak. Of course, we barely saw the sun during our snowy week-long stay but that did not slow us down. Everything both on and off piste was open by the end of our stay. I rented Dynastar Legend 84s at nearby Pinnacle Sports for the trip. These all-mountain skis performed well in the conditions we received. Pinnacle, which offers one of the largest lines of demo skis in the country, allows you to swap skis daily but I chose to stick with the Dynastars the entire week.
Although we had a condo at Spruce and the weather was mainly in the mid-teens, we rarely needed to warm up because of our clothing (I wore a 300 weight Polartec middle layer most days), liberal use of hand warmers, and my wife's new Hotronic boot warmers. I have never seen so many Hotronic-equipped boots than during my stay at Stowe.
One of the joys of staying on the mountain is being only steps from your room after your last run. Another is watching the snow pile up at night, knowing that you will be skiing untracked terrain for much of the next morning (if not the entire day). Midweek at Stowe, even on powder days, is empty. While Stowe certainly offers similar amenities to any five star destination resort, it still receives most of its visitors on the busy weekend days — especially Saturdays. Low crowds and no lines during the peak of the season will certainly make me think twice about traveling to Europe on lean snow years in the West.
Another factor in Stowe's favor is its close proximity to DC. For the first time in my life, I flew to Stowe from Washington. The direct American Airlines flight from Reagan National to Burlington was just 70 minutes wheels up to wheels down. United Airlines offers a similar direct service from Dulles. My flight was on an Embraer 175 regional jet — a bit smaller than the more common Embraer 190s with limited overhead storage. The flipside of small is lightning fast loading and unloading. From Burlington, it's a one hour drive to the resort. I used some points to rent a car but barely used it my entire stay. For provisioning, Burlington has three very fine grocery stores just a stone's throw from the airport: a Trader Joe's, a large Hanaford Market, and City Market Onion River Co-Op, a gourmet grocer similar to Whole Foods. Stowe itself has a smaller Shaw's supermarket.
Stocked with goodies from Burlington including Vermont cheese and fresh produce, we rarely ate out. One night, we had dinner with friends at the Trapp Family's Lodge's Bierhall — a more casual restaurant than the main hotel dining room. The Trapp Family Lodge was founded by the famous Trapp family portrayed in the Sound of Music (1965). In addition to fine Austrian cuisine and craft brewed beer, it also has some of the finest Nordic terrain in the country. On another night we dined at Spruce Mountain Lodge's Solstice restaurant. It features nouvelle cuisine and is the only restaurant open midweek at night at Spruce Village. Many people staying at Spruce Mountain Lodge eat at the Hourglass Lounge, which offers a slightly more affordable menu. Skinny Pancake, a tasty Vermont crepe chain, stays open for dinner on weekend nights. Because we had a condo, we self-catered for most other meals — a tactic that partially offset the higher cost of staying slope-side.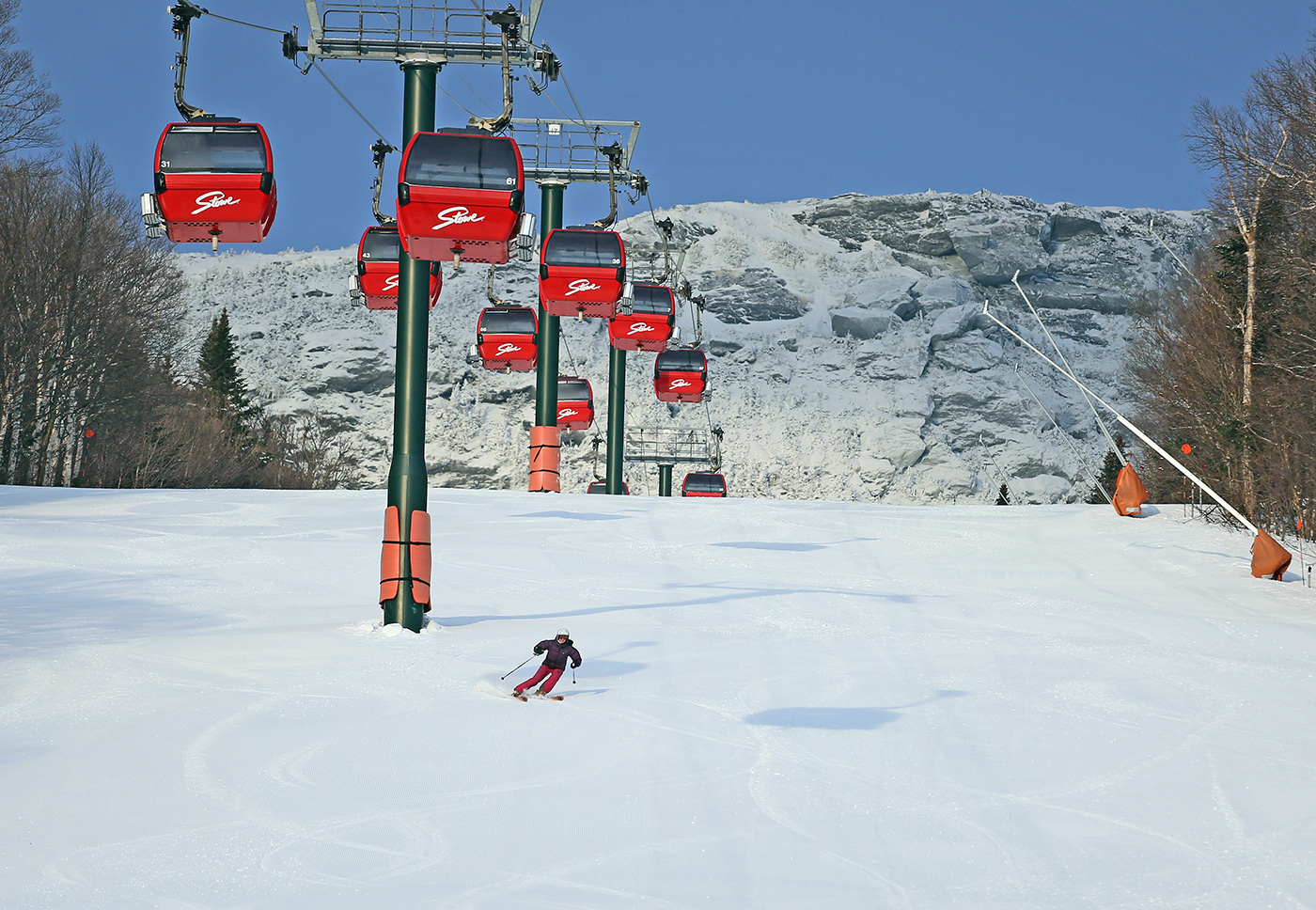 So how has the resort changed in 20 years? When I last visited Stowe, the resort relied heavily on natural snow to cover its trails and slow lifts to haul people up the mountain. I came close to getting frostbite one January day when I got stuck on the old Spruce Peak double. Lodges were beat-up affairs and the food was awful. Burgers were dry and tasteless and the pizza came frozen from a box. Today Stowe, owned by the Vail Corporation since February 2017, stands out as a five star resort with fine slope-side accommodation and day lodges that not only offer delicious burgers made with grass fed Vermont beef and topped with locally made cheddar, but also Asian entrees, gourmet salads, fresh seafood, etc.
Stowe now makes snow on 83% of its slopes. Even on days it was puking snow, guns were firing on Spruce to build up reserves for the spring. Slopes are serviced mainly by high-speed, detachable lifts with chip card activated gates — allowing me to ski twice as many runs in a day than I could during my college years. Spruce Village has everything from an artisan coffee shop to an ice rink and a performing arts center. Its brick walkways have heaters underneath to melt snow. All this comes at a higher cost, but obviously a price tag many seem able to bear because the resort thrives today. Everyone from the lift attendants to the locals take immense pride in the place. I hope to return soon.