After late season snow storms dumped 14 inches of snow on Whitetail, I began plotting a visit to one of my favorite local resorts. The stars finally aligned for a March 25 trip, which was also the resort's final day of the season. My wife and I left the DC area on early Sunday and as we crested South Mountain we were stunned by the view — nothing but snow all the way down to the valley floor. In all my years of local skiing, I had never seen so much snow, so late in the season in the Hagerstown area.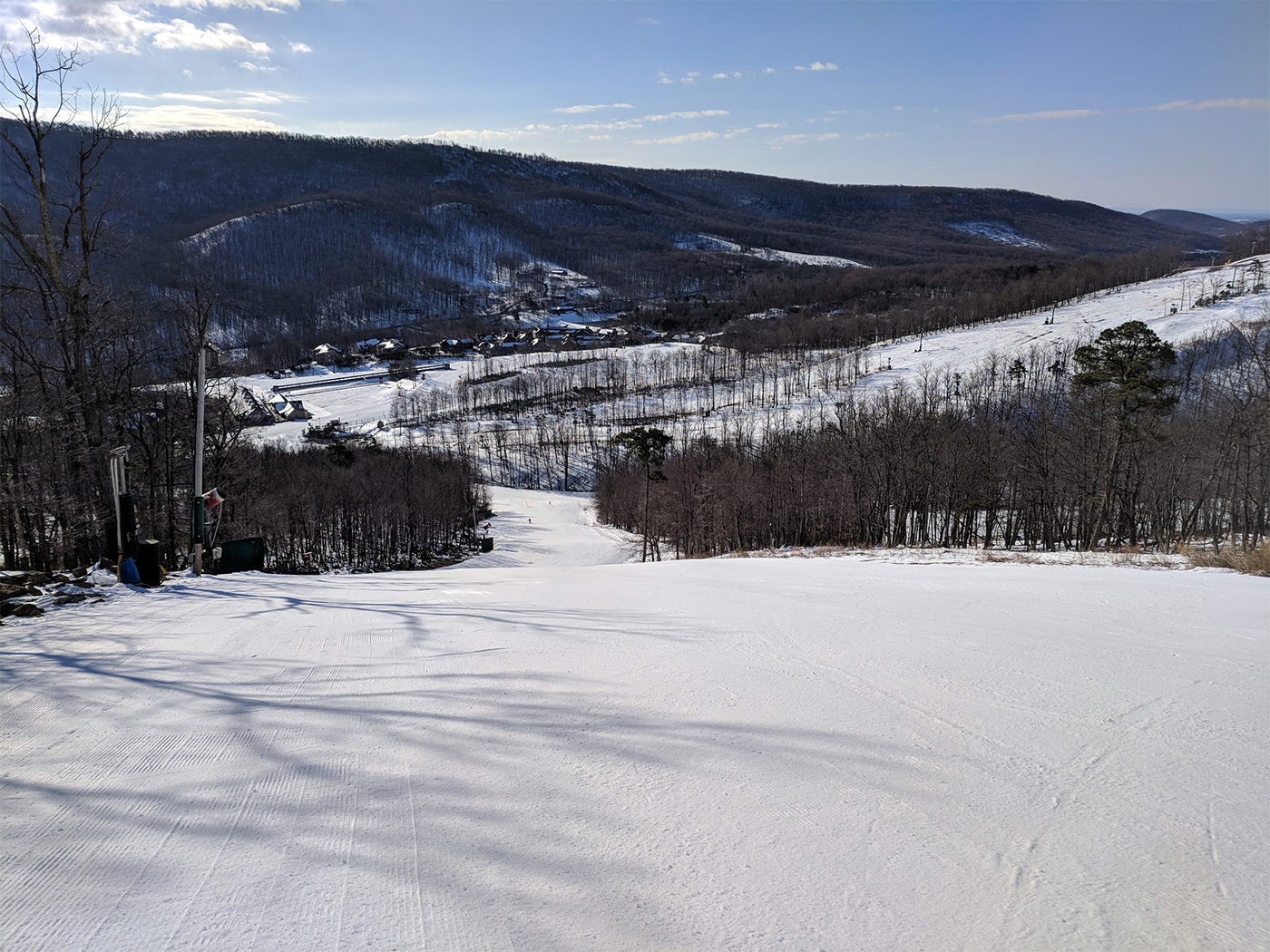 Whitetail advertised 17 out of 23 trails including everything serviced by the Expert's Choice quad and all but two trails on the Whitetail Express side of the hill. Adult, 8-hour lift tickets were $77 — not cheap but a good value given the terrain offerings, low crowds, and excellent amenities at the resort. Whitetail, in many respects, soars above many of our local hills in many ways. It was purpose-built with separate areas of the mountain devoted to each ability level; a high-speed quad on the main intermediate section of the hill and a fast fixed-grip on the expert's side; and a Deer Valley inspired day lodge. With its efficient uphill transportation system, one can log a lot of vertical on the hill — so much so that many people just buy the 4-hour tickets. On most days, lifts spin from 8:30 a.m. until 10 p.m., but on the 25th, the resort shut down for the day and the season at 5 p.m.
Before leaving my house, I swapped my low-light Smith Chromapop goggle lens for a full-sun lens. Intense sunlight and longer days are two of the things I enjoy most about spring skiing. I also love the ever-changing conditions of a spring day. In the morning, the snow was hard for our first runs on Snow Dancer (blue), and Fanciful (blue) but by the time we hit Angel Drop (blue) at 9:30, it had softened some. From about 10 to 11, conditions were nearly ideal on the top two thirds of Bold Decision (single black) and Far Side (single black) with the bottoms still a bit icy due to inversion temperatures. We spent much of the morning on those two signature black diamond trails because skier traffic seemed so low there. Little did we realize until we crossed back over to the Whitetail Express that no lines could be found anywhere that day! Whitetail groomed everything except Exhibition, and Jib Junction was open with many terrain features including big kickers.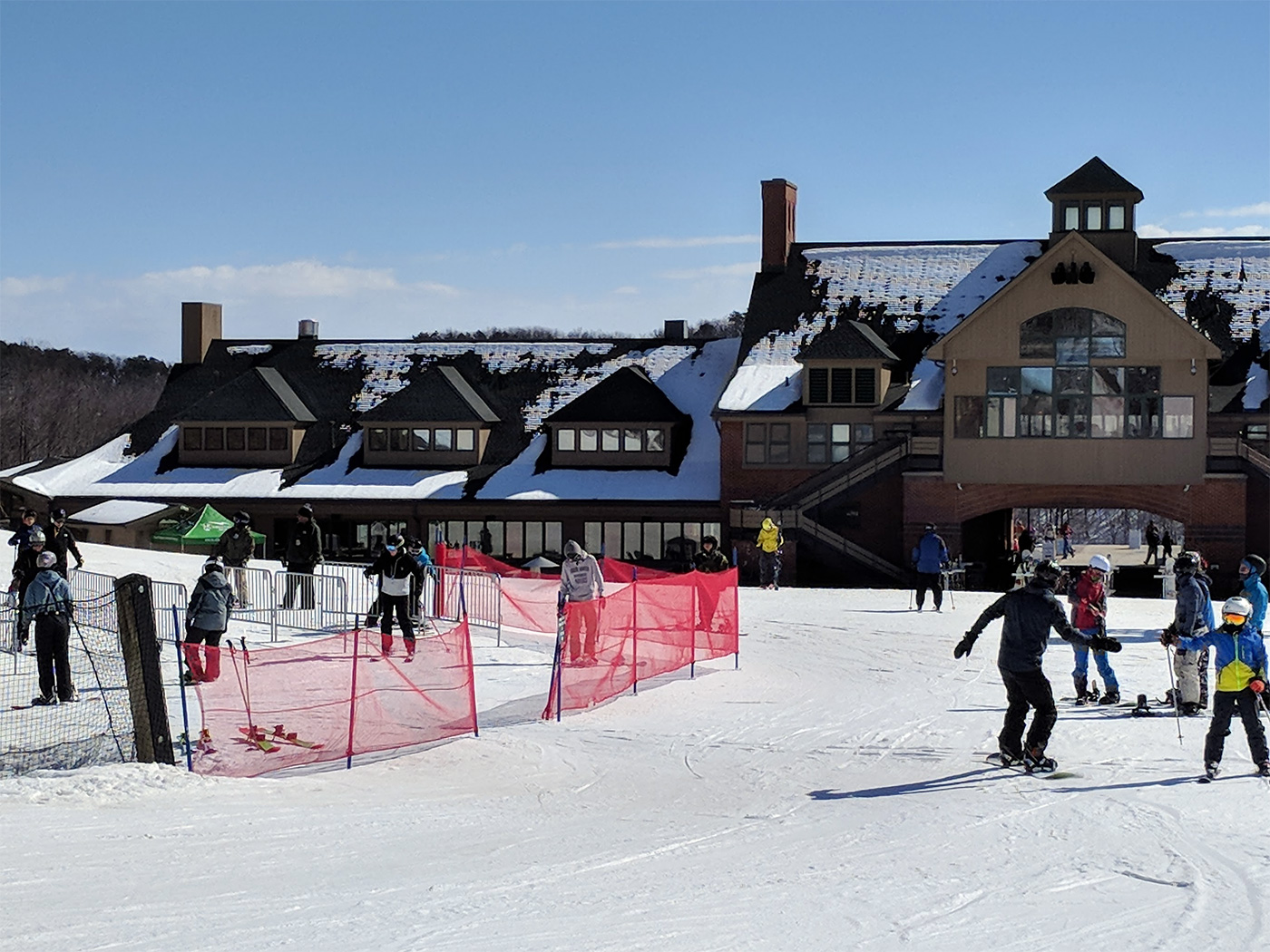 Avid bird watchers, my wife and I picked up nine species riding the lifts including two first of the year migrants: the Eastern Phoebe and Brown Thrasher. This was the first time ever I had heard an Eastern Phoebe singing at a ski resort covered in snow.
After 15 runs, we took a break for lunch at the cafeteria. We had wanted to eat at Mountain Hearth but it was hosting a Season Pass holder's appreciation lunch. Clearly, Whitetail shows a lot of love towards its most valuable clientele — something some of the other local resorts might consider doing occasionally (hint, hint).
My cheeseburger was not the equivalent of the one DCSki Editor Scott Smith recently feasted on at Snowbasin, but was decent for ski resort grub. I also appreciated the excellent Wi-Fi in the cafeteria and the friendly staff. On my last trip to the resort many years ago, I remember teenage line czars yelling at everyone to cue up properly at Whitetail Express. Service has definitely improved since then. All staffers I encountered were exceptionally polite and courteous.
Our afternoon was spent racking up more mileage on the hill. The snow started getting mushy by noon but it was still fun and playful. Skiing mashed potatoes and caramel macchiato tested my skills and built some challenge into the day. By run 25, I was done. It had been more than four weeks since my last ski day and my lower body reminded me of that fact. On our last ride up, we caught a brief snow flurry — a fantastic coda to the season. I promised myself to return to Whitetail again next season. As their motto goes, "Nothing close, comes close."
There are no reader comments on this article yet.