Jim Kenney's Top 20 Ski Areas (Part Two)
by Jim Kenney

This isn't your standard ski resort ranking article.  This is personal.  Drawn from the nearly 100 ski areas I have visited in North America over the last 50+ years, this list contains those that stood out in my memory as being the most fun and/or special.  No question, I am being highly subjective.  Some of the biggest and most illustrious ski areas I've visited aren't on the list.  

In Part One I posted my favorite ski areas in the East.  In Part Two I'm sharing my views on the rest of North America. Again, these rankings aren't really based on an order of preference.  How could you be so heartless as to rank your children by how much you love them?  They are simply a collection of 20 fine ski areas where a really good time was had by moi.

The Rest of North America: 

12. Vail, CO:  Say what you may about the corporate machinations of Vail, but if you catch the flagship mountain with good snow on a moderate crowd day it is one heck of a fun place to explore.  And explore is the operative word.  Vail is massive, both vertically (3450') and horizontally (5317 acres).  The expansiveness of the back bowls is mind blowing.  There may be better places for extreme and double black diamond terrain, but if you are looking for an intermediate-advanced snowriders paradise - this is it.  

The town of Vail is over-the-top in some respects, but if you're traveling with non-skiers it can keep them entertained for the better part of a week.  I made my first visit to Vail on a college spring break in 1976.  When I first saw Mid-Vail (a large mid-mountain meadow where numerous lifts and trails converge) it was lunch time on a pretty March afternoon.  There were 10,000 people partying in the sunshine that day at Mid-Vail as the smell of grilled meat (and funkier stuff) wafted through the air.  I couldn't help thinking - this is the big time! 

Feb 2015, The back bowls of Vail, photo by Jim Kenney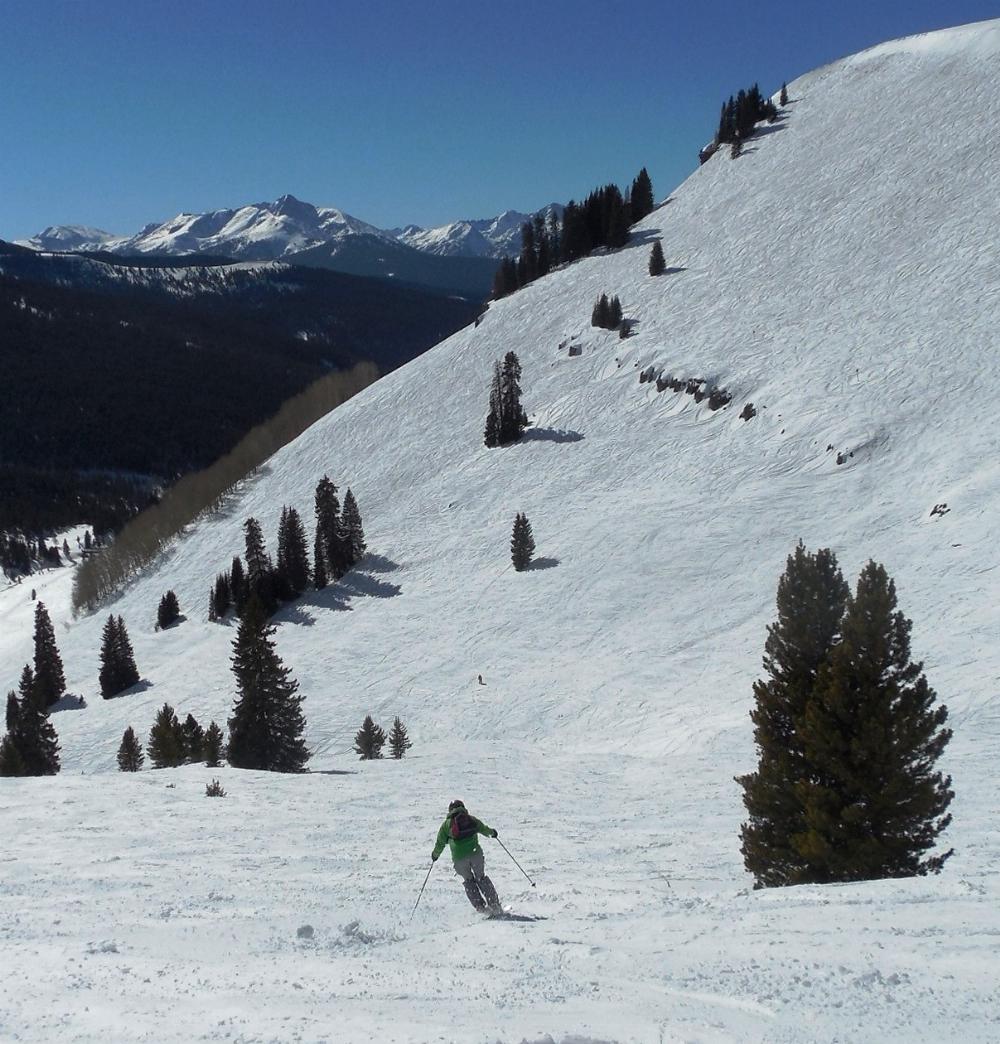 11. Breckenridge, CO:  This is a Colorado skiing-behemoth that I mistakenly resisted for decades due to a reputation for crowds and a flat lower mountain.  However, after my first visits in 2015 I kind of fell in love with Breckenridge.  I've returned several times and have about ten total days on the mountain.  It's the high alpine terrain at Breckenridge that really makes it special.  The upper mountain features good snow, smaller crowds, steep chutes, and huge open bowls.  

There is memorably exciting hike-to terrain above the lifts at Breckenridge that is accessible to determined tourists with decent black diamond skills. My favorites in this category are the Lake Chutes above the Imperial chairlift and the Six Senses area above the Kensho chairlift. Both require about 15 minutes of climbing at close to 13,000'.  I find the town of Breckenridge more bourgeois than Vail and I mean that in a good way. Some of the bars in town still offer a burger and fries for around $10-12.

Feb 2015, The Lake Chutes expert terrain accessed by hiking to the summit of Breckenridge's Peak 8, elevation 12,998', photo by Jim Kenney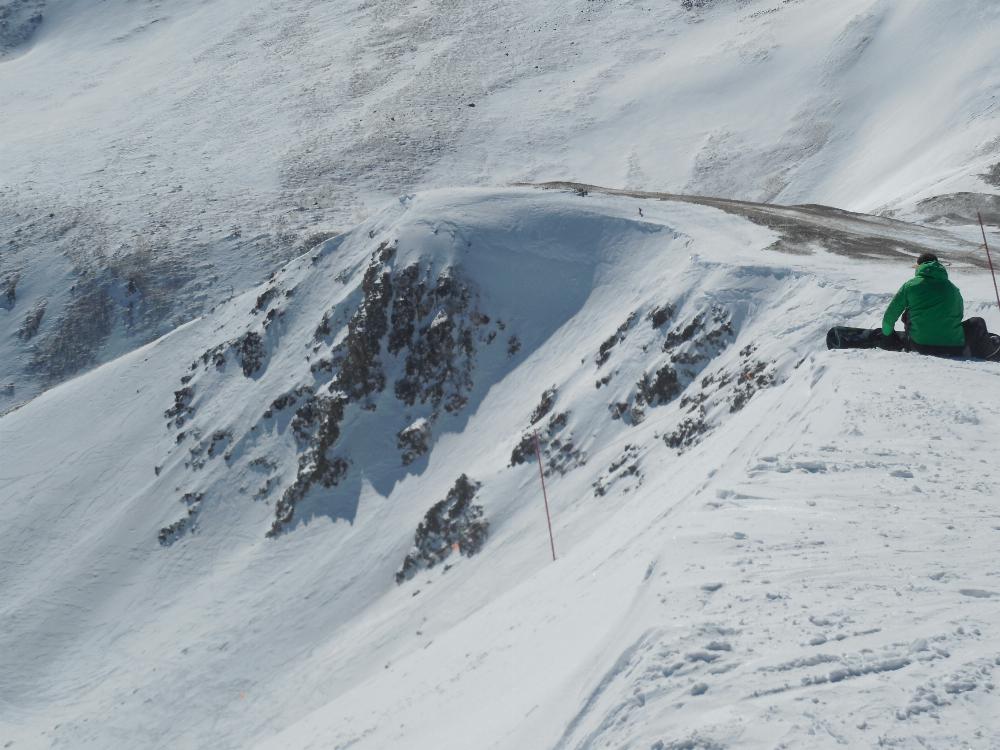 10. Aspen Highlands, CO:  Aspen Highlands is among my very favorite ski areas in the US.  The terrain is very challenging and the scenery is exceptionally beautiful.  The place is usually not too crowded either.  There are two other great ski areas (Snowmass and Aspen Mountain) and one of America's quintessential ski towns (Aspen) nearby and that combination makes the region a fantastic destination for a ski-week vacationer.  

I first skied Aspen Highlands in 1976.  I skied it in 1991 after a storm dumped 30" of snow in 30 hours.  I've skied it a bunch of other times and I hope to ski it again this upcoming season. The best compliment I can give a resort is the desire to return! The hike-to skiing in Highland Bowl is spectacular with a scope that is off the charts compared to most recreational ski terrain. I've dropped into the middle part of Highland Bowl a few times (from the snowcat dropoff point), but I've never hiked to the top.  It's still something that I aspire to, but the thought of it scares me.

Feb, 2016, View of the Maroon Bells from Aspen Highlands, photo by Jim Kenney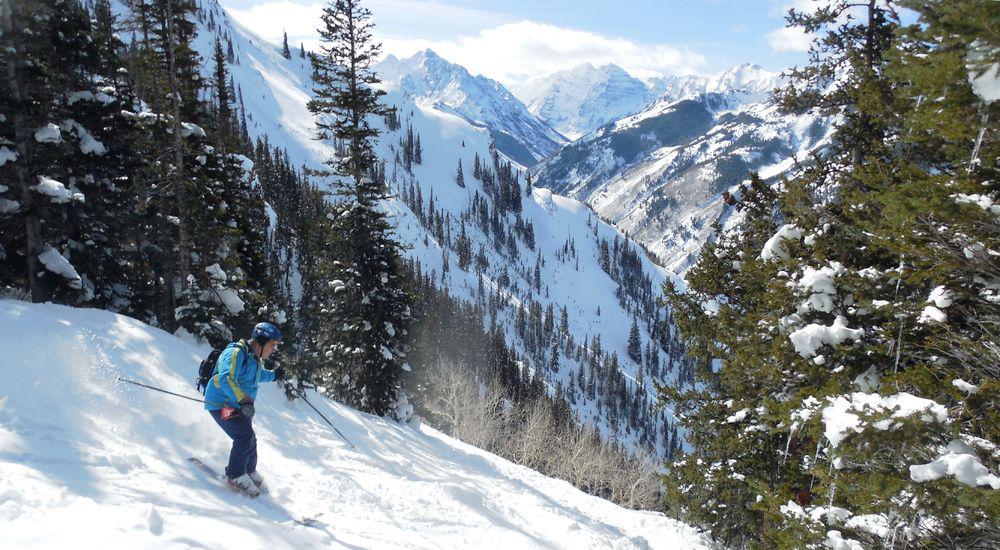 9. Crested Butte, CO:  My first visit to majestic Crested Butte was in 2019 making it the most recent "new to me" resort on this list.  I skied it for two days in late February and had such a good time at this off-the-beaten-path resort that I returned again for three more days in early April of the same snowy year.  I stayed slopeside on both visits and that surely colored my outlook.  Crested Butte feels far from the maddening Colorado crowds of Interstate 70!

Besides the great snow conditions, what I really liked about Crested Butte was alternating between taxing expert runs and relaxing intermediate runs while skiing among a low crowd mix of friendly locals and happy tourists.  One day in April 2019 my son and I made the 15 minute hike to the true summit of Crested Butte (elevation 12,162') and skied down the front/south face of the mountain including a route through Funnel Chute.  It was one of the great runs of my life and consisted of nearly 3000 continuous vertical feet of double black diamond terrain.

April 2019, Dropping in from the true summit of Crested Butte, photo by Jim Kenney


8. Arapahoe Basin, CO:  As long as I'm covering a good sample of Colorado on this list I can't leave out A-Basin.  Over numerous visits in the last 15 years I've seen it grow from a local's favorite to a top tier destination, especially with the addition of The Beavers chairlift/terrain in 2017.  A-Basin has two strong calling cards:  top notch expert/extreme terrain and an extra lengthy ski season.  An added bonus is that's also a premier spot to enjoy après ski tailgating and socializing at the slopeside "Beach" parking lot.

Lift served skiing at A-Basin takes place between approximately 10,500 and 12,500 feet.  Hiking the East Wall can add another 500 vertical feet.  The elevation is high and A-Basin is one of the best and most reliable places in America for spring skiing.  Besides all that, the vibe is good!  The mountain is well run and the clientele is generally very skilled.  Even after numerous visits I feel there are tons of black diamond lines I've not yet skied off the Pali chair and the Beavers chair.  I've never hiked to the top of the East Wall, it's still something that I aspire to, but the thought of it scares me.

April 2009, Arapahoe Basin from Highway 6, photo by Jim Kenney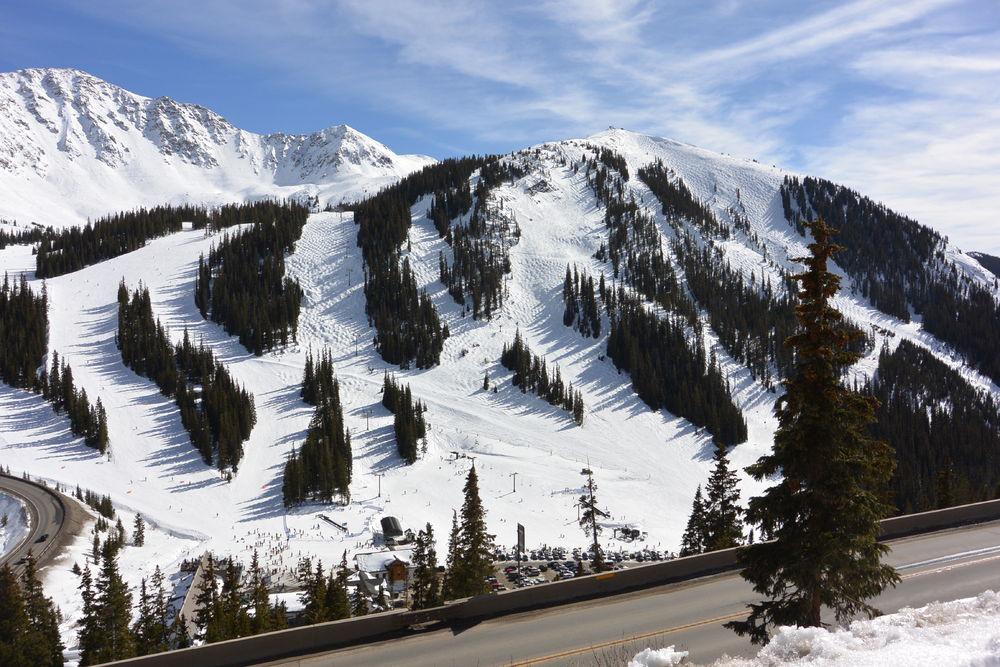 7. Park City, UT:  I have about 30 ski days spread across 30+ years at Park City.  In some respects it's a lot like Vail with a huge amount of intermediate terrain situated next to a great ski town.  While it's a little more disjointed than Vail, the combined Park City and Canyons sections of the resort contain even more skiable acreage (7300 acres).  Every time I visit Park City I discover something new and it's easy to avoid crowds by going high and wide to the highest lifts or the farthest fringes of the trail layout.  

My favorite advanced terrain at Park City, from left to right on the trail map, includes the bumps of McConkey's, the chutes of Jupiter, the trees of Peak 5, the bowls of Ninety-Nine 90, the glades of Tombstone, and the off piste from the Super Condor chair. Most days you'll find moderate to minuscule lines at all of these lifts.  If you can't find fun skiing at Park City, then you aren't looking very hard.

Jan 2016, Jupiter chair at Park City, photo by Jim Kenney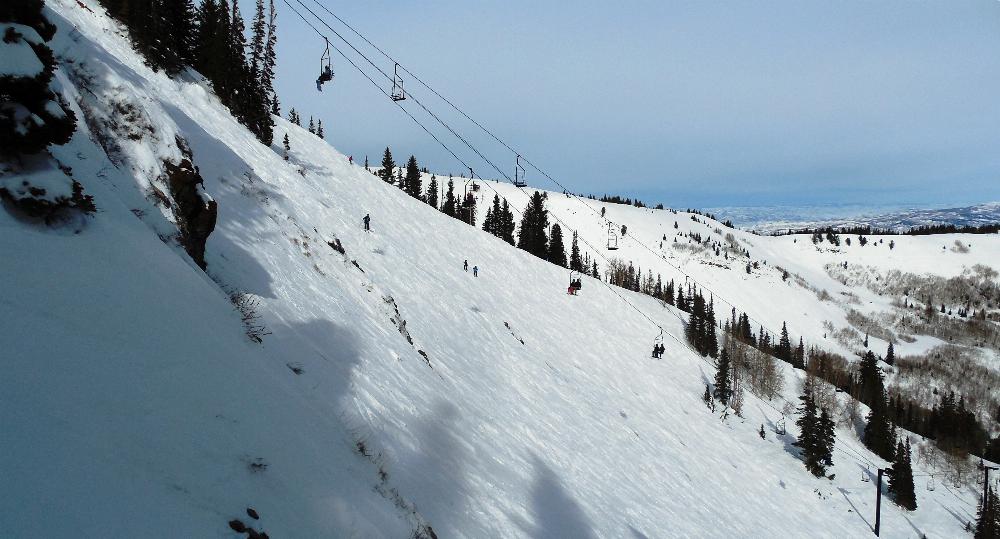 6. Kirkwood, CA:  There are bigger and better known west coast ski areas than Kirkwood, but this is the mountain I have more ski days at than any other in the state of California.  Kirkwood punches above it's weight class.  The signature in-bounds feature is The Wall, a steep, treeless headwall about a half-mile wide and nearly 1000 vertical feet tall.  But within the area's 2300 skiable acres and 2000' vertical drop there are a ton of other terrain nuances that are mostly foreign to mid-Atlantic skiers including chutes, slots, cornices, gullies, cliffs, cirques, bowls, and shoulders.

Kirkwood is good for crowd avoidance and a trememdous amount of formidable sidecountry can be accessed by traversing along the highest lift-served ridges of the mountain.  It's about 40 miles south of Lake Tahoe and is less trafficked than many ski areas in the region.  Because of it's comparatively high base (7800') it's also known for some of the best snow conditions in the state of California. It often has a fairly high ratio of snowboarders to skiers.  

Jan 2013, The Slot at Kirkwood, photo by Jim Kenney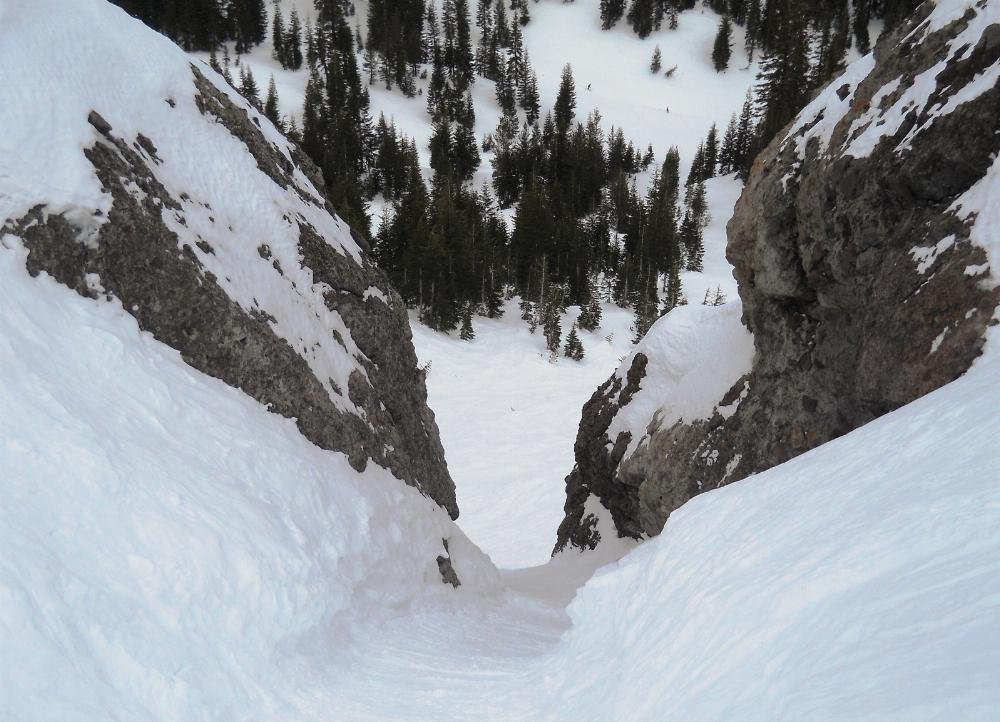 5. Mt. Bachelor, OR:  I have only three days at Mt. Bachelor, but they were great.  Strangely enough, they occurred on consecutive days in what might be thought of as early season at most North American ski areas, late December 2012.  Bachelor is one of many dormant volcanoes in the Cascade Mountains of Oregon and in the right conditions you can ski 360 degrees off the summit.  The volcanic scenery and the thousands of frozen hoodoos (snow and frost covered trees) standing guard around the mountain are striking and perhaps even a little bizarre to an East Coaster.  

The entire layout (~4000 skiable acres) was open for my visit including a giant expanse of fabulous off-piste terrain on the backside.  Additionally, the Northwest chair (2360' vertical) serves conventional groomed runs that are long, steep, and sweet.  The range of elevation of the lift served terrain at Mt. Bachelor (~5700-9000') is fairly friendly to vacationing flatlanders adjusting to altitude.  Mt. Bachelor's bed base resides in the town of Bend about 20 easy miles to the east.  Bend has boomed in recent decades as an outdoor sports mecca and as a craft beer town with 22 microbreweries.  What can I say, active people get thirsty.   
December 2012, the backside of Mt. Bachelor, photo by Jim Kenney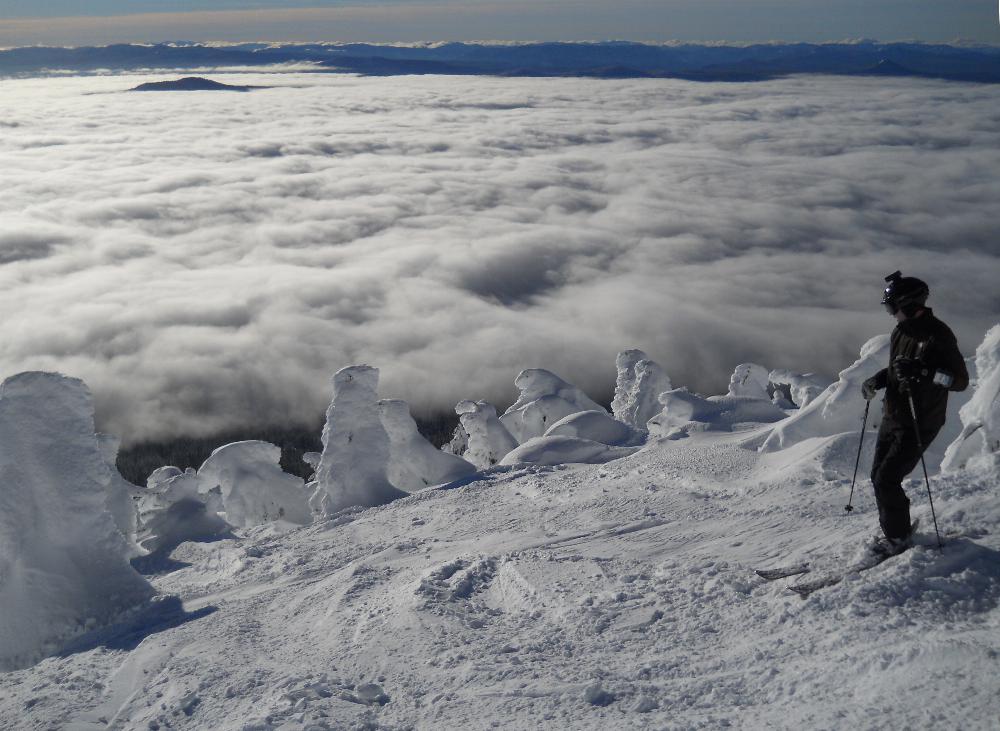 4. Jackson Hole, WY:  I dreamed of skiing the bodacious terrain of Jackson Hole all my life.  I finally made it there as a 61 year old man in 2015.  I've been back several times since.  In my youth it was primarily viewed as a remote destination for hard charging experts.  But everybody with a mega-pass seems to be an expert these days and Jackson Hole is super popular at this point in time.  

With a vertical drop of 4,139' and 2500 acres of in-bounds terrain there is something for everyone at Jackson Hole.  But still, this mountain unquestionably remains one of the great proving grounds in American skiing.  Be there or be a blue square :-)  On my first visit in 2015 I stared down the steeps of Corbet's Couloir and it seemed almost doable, but I didn't bite.  On my two return visits it has not looked so doable, or maybe I just came to my senses?  Skiing Corbet's is still something that I aspire to, but the thought of it scares the hell out of me.

March 2018, Vince Kenney entering Corbet's Couloir, photo by Jim Kenney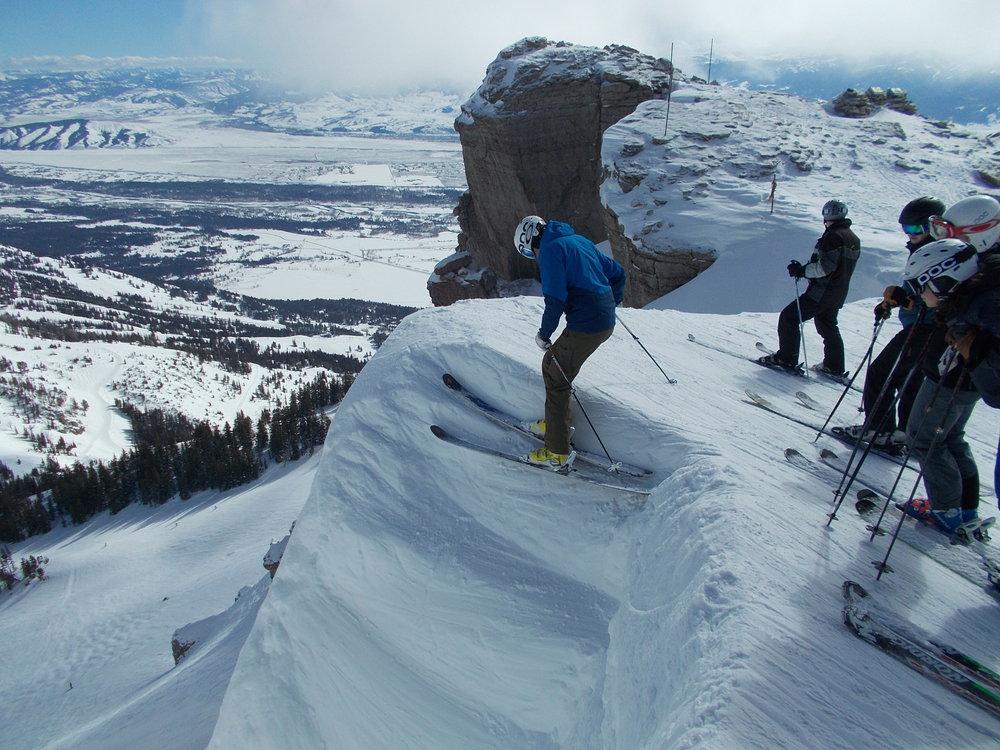 3. Banff-Sunshine, Canada:  Banff is another bucket list ski region that took me a lifetime to finally visit. Canada's SkiBig3 ski areas (Banff-Sunshine, Lake Louise, and Mt. Norquay) are all within about 30 miles of the town of Banff. I skied one or more days at each in late March of 2018.  The skiing and scenery is excellent at all of them, but I single out Banff-Sunshine for the powdery snow conditions I caught there and the exceptionally fine time I had in the mid-mountain Sunshine Mountain Lodge.  

Sunshine Mountain Lodge is rustic, but classy like the slopeside lodges of Alta, UT.  However, it's more remote with fewer total rooms and less competition for the goods!  We stayed at the lodge for three great powder days.  On one of our days at Banff-Sunshine my son Vince and I donned avi-gear and made the short hike up to ski Delirium Dive.  It was super scenic and contained some of the deepest and softest snow I've ever skied in high angle terrain.  Late March at the Sunshine Mountain Lodge is the place to go if you are looking for a memorably secluded, end-of-the-world ski experience.

March 2018, Entrance to Delirium Dive at Banff-Sunshine, photo by Jim Kenney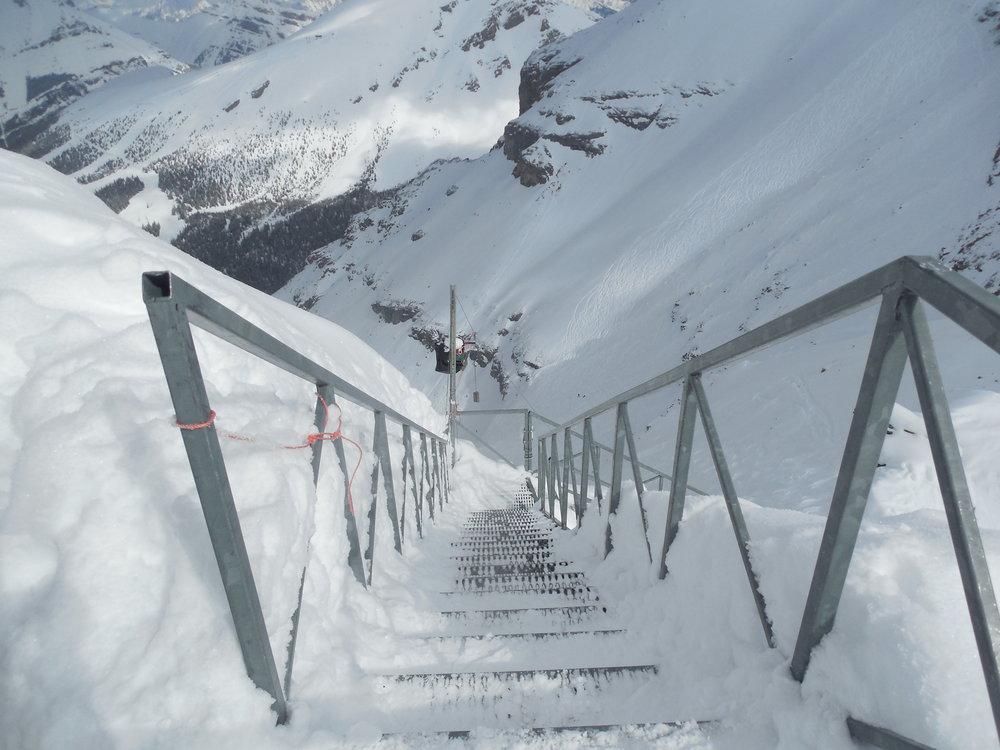 2. Taos Ski Valley, NM:  Taos is a one-of-a-kind Mom and Pop ski area with world class steeps. I've made two visits here; way back in 1992 and more recently for a couple of days in 2012.  Believe me, it's STEEP and that's based on both my visits occurring before installation of the experts-only Kachina Peak chair in 2014.  Underestimate this place at your peril.  The terrain at Taos commands respect.

While the new chair means the 21st century has arrived at Taos Ski Valley, it still has a remote, funky, throwback feel, and that goes for the nearby city of Taos too.   My son Vince was with me for the 2012 visit and one of our highlights was hiking up to Highline Ridge for a father-son run down Corner Chute.  It's one of the easier routes from the ridge.  Afterwards Vince reflected with new insight about his young friends who claim bragging rights after skiing an advanced run in the Mid-Atlantic.  "If they only knew what rates as a black diamond at a place like Taos!"  
Jan 2012, greetings from Highline Ridge, photo by Jim Kenney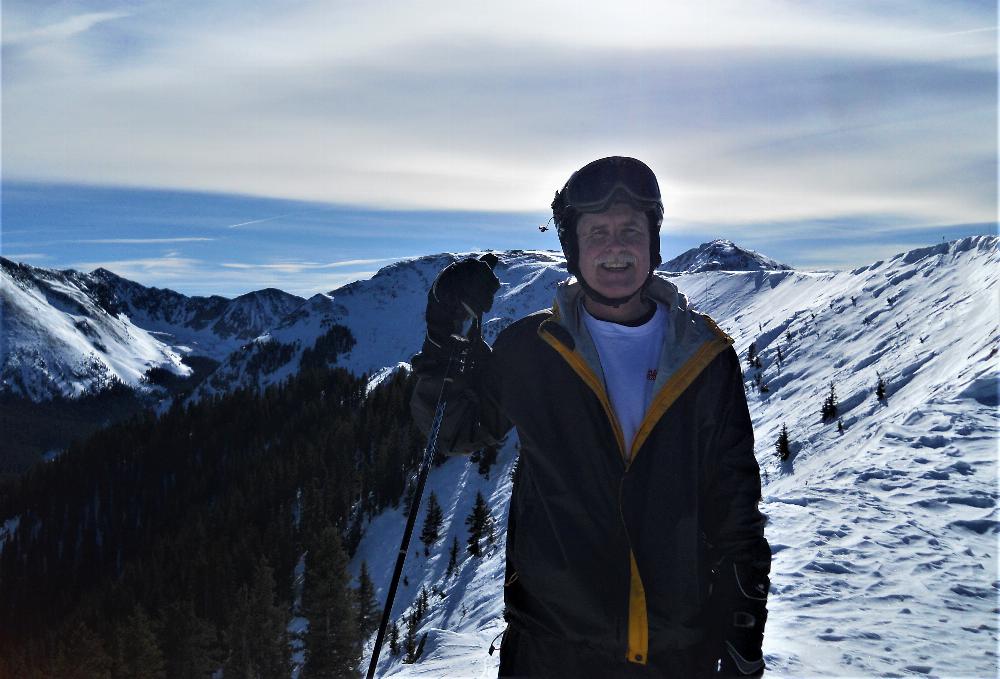 1. Snowbird, UT:  Vince moved to Salt Lake City in 2015 and since then Snowbird has become my home away from home.  I've probably logged about 125 days at Snowbird in the last six ski seasons.  It's a wonderful mountain (2500 acres, 3240' vertical) and I am continually humbled by both the terrain and all the great skiers/snowboarders that come out to play at Snowbird. I am still learning how to manage myself on the mountain; when to attack, where to relax, how to dress, how to pace myself and survive the beast.  

Snowbird's a complete mountain with burly steeps in the Cirque, great tree skiing in Gad Valley, and heavenly bowls in Mineral Basin.  The snowiest week of skiing in my life occurred at Snowbird in late January 2017 when a storm cycle dropped 70" of snow while I was visiting.  But the very best days are when weather forecasters erroneously predict only 3" of snow.  The crowds don't bother to show up, but then the little storm overproduces with 10" by 2 PM.  Those are the kind of days that make an old man feel young.

April 2019, surprise spring powder day at Snowbird, photo by Jim Kenney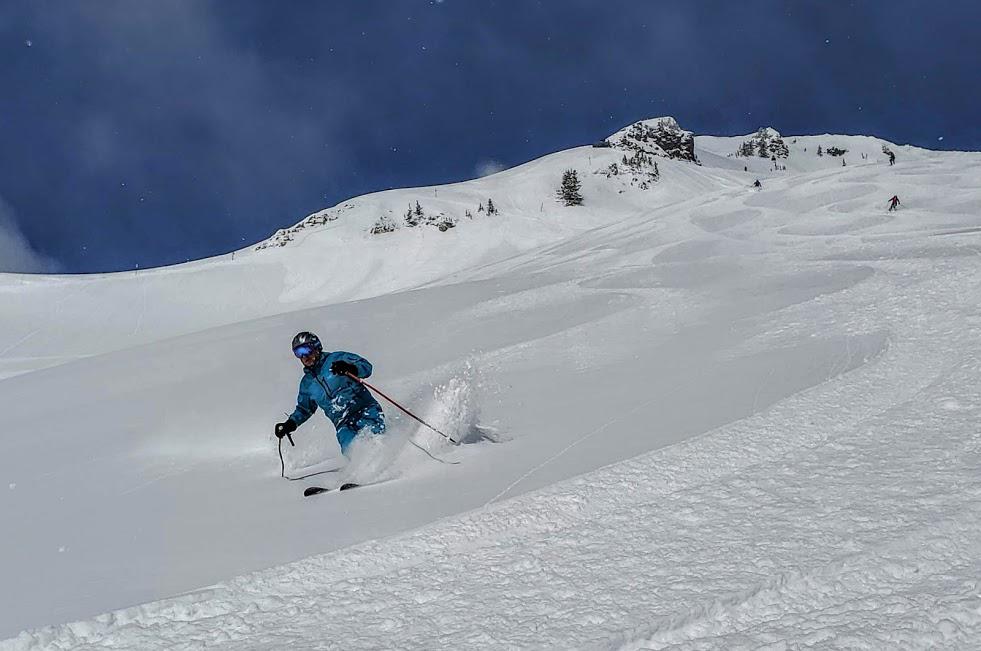 Conclusion:  There you have it, 20 of my favorite mountains. Contrary to the old expression, familiarity does indeed breed love from my experience with ski areas.  The two places that I have skied the most in life, Blue Knob, PA and Snowbird, UT, are two of my very favorites.  When you learn the lay of the land, skier traffic patterns, and the prevailing snow conditions you develop something of a comfort factor that takes the fun of skiing to a sublime level - no matter where you're at.  I wish you a great 2021-22 ski season and hope you get many chances to enjoy a home field advantage at your favorite ski area.