"Back in the mid-80s I tried to go to work for the company that was developing this resort. If memory serves me, it was the same guy who built Snowshoe. They ran out of money and what you see here is the start of the 'on mountain work.' I hiked up to what would have been the base of the mountain [25 years ago] and what you have is a wonderful north facing ridge that is over 1,000 feet of vertical drop to a base that is at 3,000 feet above sea level. During the '80s I would make the 2-hour drive from DC and walk up to the base. The road was closed with the usual 'No Trespassing' sign in place, and I would just marvel at this natural east-west ridge, much like what Vail is built on, but smaller, with plenty of snow from November on through the season because of its great elevation.
At the real estate sales office in Harmon, they had large scale model of what the resort would look like. At the time, my family had built a retreat at Wintergreen and I grew up skiing on the famous New England hills, so I had some idea of what I was looking at. If I had 20-50 million dollars, who knows!"
Readers report that this "ghost" hill is Tory Mountain, an ambitious effort that got off the ground but was never quite finished.
In June, 2010, reader Rob sent the following two images.
This is Tory Mountain.

Harman, WV, not Harmon.
Looks like this was bought in 2004.

http://www.dcski.com/articles/viewarticle.php?articleid26&modeheadlines
I was the graphic designer on that project c1982 and still have the original brochure and renderings created for it. As I recall the cost of getting utilities to it was the issue. Developer was Fred Rossignol Development. I can be found on Facebook.
What did the Brochure say as far as Vert drop,Amount of runs & lifts?..Can you post a trail map?
if you google map Harman, WV, you can clearly see ski trails cut south of Harman. they face generally south, however, not north as stated in post at the top. if you scroll "up", north, you'll find Canaan and Timberline in the Canaan Valley, they face essentially north. It's tough to make a south facing ski area work well in the northern hemisphere, ask Whitetail ... (although they survive by virtue of proximity to metro DC)
RLR, check you map! NE exposure, perhaps, but south! The trails are on the north side of Job Knob. Driven by there multiple times on the way to college, when you could still see the trails as you climbed up RT 33 from Harman.
I still have 2 T shirts from Tory MT. They are classic!!! I live in Elkins. Several of my friends were in on it from the beginning!
I telemarked this area with George Bell and Mike Cumashot from Snowshoe in 1984 or 5. There was lots of natural snow and the slopes were wide and had a very consistent pitch, mostly steep. Near the top Mike jumped off a ridge and caused a slab of snow about 50 feet wide to slide 100 feet down. That was the only avalanche I've ever seen in WV. Later in the day George had a field mouse skewered on the tip of his ski pole at the bottom of a run. Tory Mountain...Wild and Wonderful!
There exists another unfinished ski area near Snowshoe, I think was started by Manyon Millican and Doc Brigham of Snowshoe, sometime in the early Eighties. The coordinates are: 3816'33.96"N and 8009'32.51"W or 3.92 miles NW of the Marlinton Motor Inn on US 219.

It would have had an almost 1,200' vertical drop with a top elevation of 4142'. The best image from Google Earth was taken on 8-24-07 where the lift line and various slopes are clearly visible. I don't really remember why the project was never completed, but it probably had something to do with funding.
Cliff,
I think you are referring to to the Laurel Creek Club which is just NE of Big Spruce Knob in Woodrow, WV. See this forum thread. http://www.dcski.com/ubbthreads33/ubbthreads.php?ubbshowflat&Number48058
GGN,
Thats the spot, thanks!
I was unable to access the thread you referred to.
Just wondering if anyone had any additional info on this project...
After talking to individuals who were involvedin the Tory mountain project there was another project proposed and planned for the same vicinity called Shadow Mountain.  I understand that there were plans and brochures designed for it's potential. That, of course gave wat to Tory.  
This was one of my Grandfather's dreams which was never seen all the way through. "Doc" Thomas H Brigham. We have some old documents and brochures on the original plans.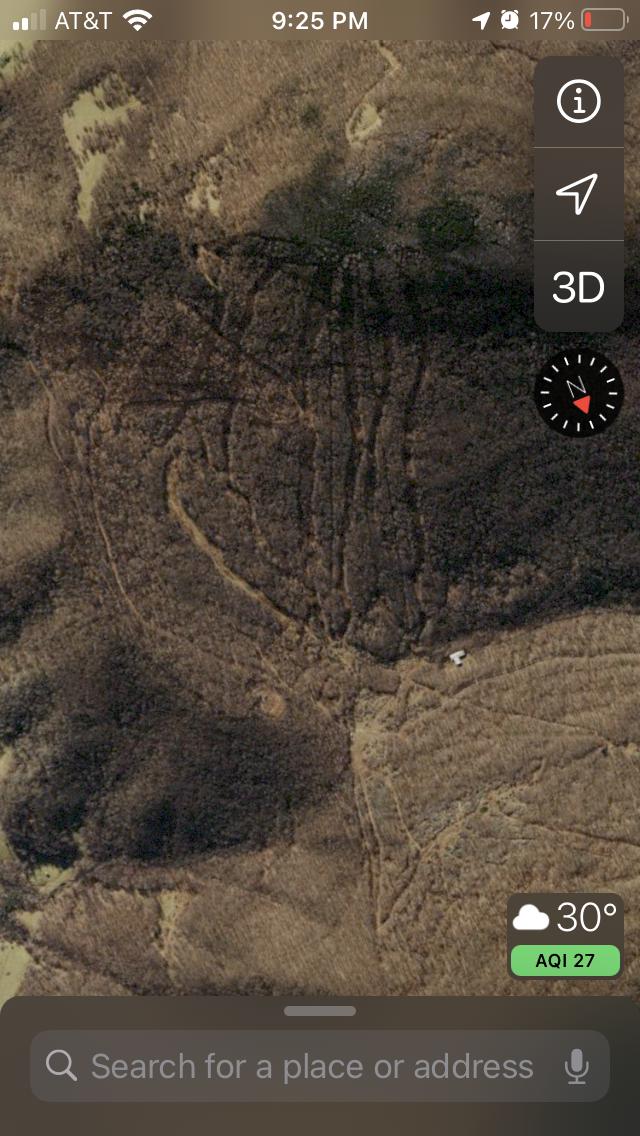 Interestingly enough if you zoom out and rotate 180 degrees and zoom in again it does appear to be north facing. I think Google maps is messed up.