The past week saw the arrival of cold temperatures, and the dip in Mercury allowed ski areas to fire up their snowguns. Although lifts have already started running at several resorts, by the end of this weekend nearly every ski resort in the Mid-Atlantic will have kicked off its 2017-2018 winter season.
You can track the status of local ski resorts on DCSki's Snow Conditions page, which is updated daily. Several ski areas in Pennsylvania, West Virginia, and North Carolina were already open as of December 14, 2017. A wave of ski areas will begin their seasons on December 15 or December 16.
Wisp Resort, Maryland's only downhill ski area, will open on Friday, December 15, 2017.
"We anticipate opening Squirrel Cage, Grouse Way, Wisp Trail, Sunset Blvd and the Wisp Kids Learning Area along with Central Park Terrain Park for Opening Day, Friday, December 15," said Wisp's Mountain Operations Director Artie Speicher. "On Saturday, we will add Boulder Run, Bear Paw and Muskrat on the front side along with seven trails in the North Camp area."
As of Wednesday, December 13, Wisp reported that it had already sent 47 million gallons of water through its snowmaking system.
"After the past two turblent winters (due to weather), the entire team at Wisp is determined to persevere and make this winter count," said Jerry Geisler, Wisp's General Manager.
In Pennsylvania, several ski areas have already welcomed skiers and snowboarders. Blue Mountain, Elk Mountain, and Roundtop are already open. Seven Springs first opened the day after Thanksgiving and has opened the slopes each weekend since. Seven Springs will start daily and night skiing operations for the remainder of the season beginning Friday, December 15. Hidden Valley starts its season on December 16, while Laurel Mountain will begin its operations on Thursday, December 21, 2017. Whitetail Mountain opens on Friday, December 15 and plans to have 7 trails open with 6 lifts running.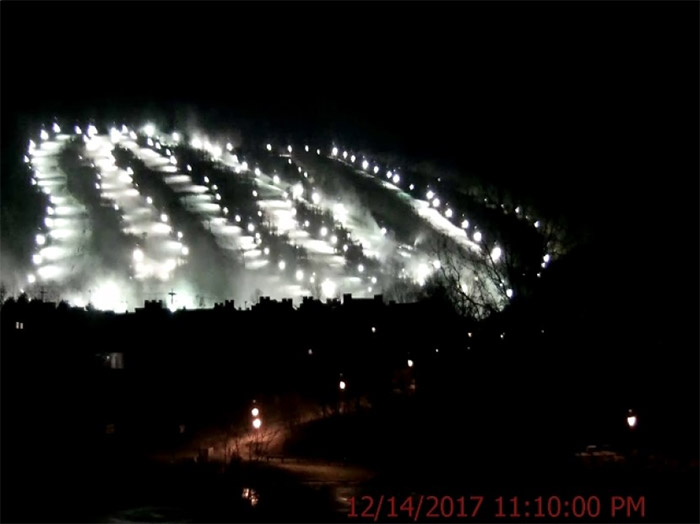 Virginia's four downhill ski areas will all be open by this weekend. On Friday, December 15, Massanutten will open with 4 lifts and 6 trails including Diamond Jim and Upper Showtime. Wintergreen will also begin its season on Friday, and plans to have Upper Dobie, Lower Dobie, Potato Patch, Progression Park, Upper Cross Trail, Lower Cross Trail, and Eagles Swoop ready to go on opening day thanks to 4 recent inches of natural snow and aggressive snowmaking. The Homestead has been making snow and plans to open on December 15, while Bryce will begin its season on Saturday, December 16.
In West Virginia, Canaan Valley Resort will open on Friday, December 15. According to General Manager Steve Drumheller, Canaan Valley Resort will have 10 runs and trails on-line for opening day, including the 1.25-mile long Timber Trail and multiple advanced runs.
"We've increased our snowmaking capacity by more than 20 percent this year on top of some major enhancements last year that doubled our capacity, so skiers can expect a great experience even if the weather isn't cooperating," said Drumheller.
Snowshoe Mountain Resort has already been operating and reported 18 trails open on December 14. Timberline Resort plans to begin its season on December 16 with the base area, Woods Hole, White Out, Teaching Area, and Timberline Trail from the mid-station to White Out open. The resort will then move its snowmaking attention to Salamander, White Lightning, Lower White Lightning, and Lower White Out, which it plans to open by Christmas week.
Winterplace plans to open on Friday, December 15 with at least 14 trails and 4 lifts.
Last but not least, in North Carolina, Beech Mountain and Sugar Mountain are already open and continue to expand their trail lineup. On December 14, Beech Mountain and Sugar Mountain were both reporting 12 trails open with packed powder conditions. Beech is celebrating its 50th season this winter.
Early season hours and conditions can vary and can change at any moment, so DCSki recommends contacting a resort directly before planning a visit to verify the latest operating status. Many resorts also have early-season discounts and specials. You can use DCSki's handy Interactive Resort Locator to browse mid-Atlantic ski areas. We'll continue to provide updates and firsthand reports on the Mid-Atlantic ski scene throughout the winter, and be sure to check out the DCSki Forum for community discussion and tips.