Canaan Valley Resort Recognized by Liftopia's Best in Snow Awards
On December 20, 2017, Liftopia announced its Second Annual Best in Snow Awards, and Mid-Atlantic ski area Canaan Valley Resort received top billing in two categories.
Liftopia is an on-line and mobile marketplace for lift tickets and mountain activities, and each year the service surveys thousands of skiers and snowboarders to determine the ski areas consumers are most passionate about. The Awards are broken into Top 10 lists in multiple categories, including categories ranked by region.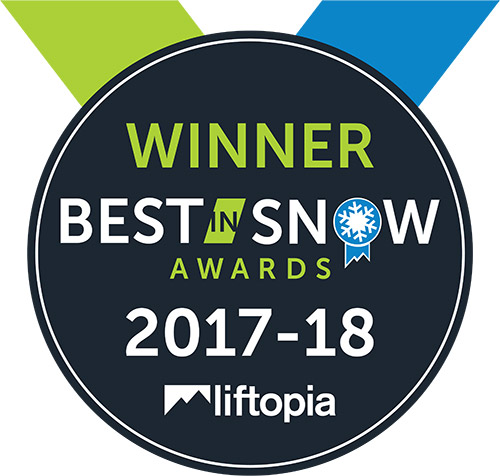 West Virginia's Canaan Valley Resort placed in two of the regional categories, including Best Snow Consistency and Quality for the Southeast and Least Crowded for the Southeast.
"This award is an early Christmas present, and the mountain staff is elated that their efforts to offer the best ski experience in the region have been recognized in such a tangible way," said Steve Drumheller, General Manager of Canaan Valley Resort, shortly after the awards were announced.
"We know the Liftopia community includes many of our long-time friends and fans, and we are grateful for their ongoing support and enthusiasm," he added.
This is the second year in a row that Canaan Valley Resort has won this honor.
"By measuring customer's passion for their favorite areas, The Best in Snow Awards give consumers an opportunity to see which ski areas may become their next new favorite," explained Evan Reece, co-founder and CEO of Liftopia.
"Our method ensures a level playing field for ski areas of all sizes and brings skiers lesser known ski areas in addition to the larger ones we already know and love," Reece said.
The two top winners in the Overall Best in Snow category were Vermont's Magic Mountain and Utah's Alta Ski Area.
Following Canaan Valley Resort in the Top Ten rankings for Top Overall Ski Areas in the Southeast were Timberline Four Seasons Resort, Snowshoe Mountain, Beech Mountain, Winterplace, Wintergreen, Sugar Mountain, Cataloochee, Massanutten, and Wisp.
With a sustained stretch of sub-freezing temperatures, ski areas in the Mid-Atlantic are off to a good start for the 2017-2018 winter season. Most areas will start the New Year with a majority of their terrain open, thanks to round-the-clock snowmaking.
There are no reader comments on this article yet.