An Annual Conundrum: When to Begin Snowmaking
3
This time of year is a tricky one for ski area managers in the Mid-Atlantic region.
Sometime in November, there's a good chance the temperature will dip below freezing. There might even be a nice string of cold temperatures, tempting resorts to fire up the snow guns.
But Mother Nature can be a tease. Chilly temperatures in early or mid-November can often lead to a mild spell in December before winter really settles in. (And, let's be honest — in the Mid-Atlantic, that mild spell can arrive mid-winter, too — but by that point ski areas have usually built up a large base of snow to weather a bit of melt.)
So when conditions become favorable for snowmaking in mid-November, local resorts face a choice: do they amp up their snowmaking infrastructure in an effort to snag a pre-Thanksgiving opening date? Or do they save their ammunition for another day?
Different Mid-Atlantic ski areas have different strategies. They also have different elevations and weather patterns, which can influence their decision making.
There are several reasons to begin snowmaking as soon as possible. Perhaps obviously, snowmaking is a prerequisite to opening the slopes and beginning a season. The sooner a resort makes snow, the sooner it can begin bringing in winter season revenue.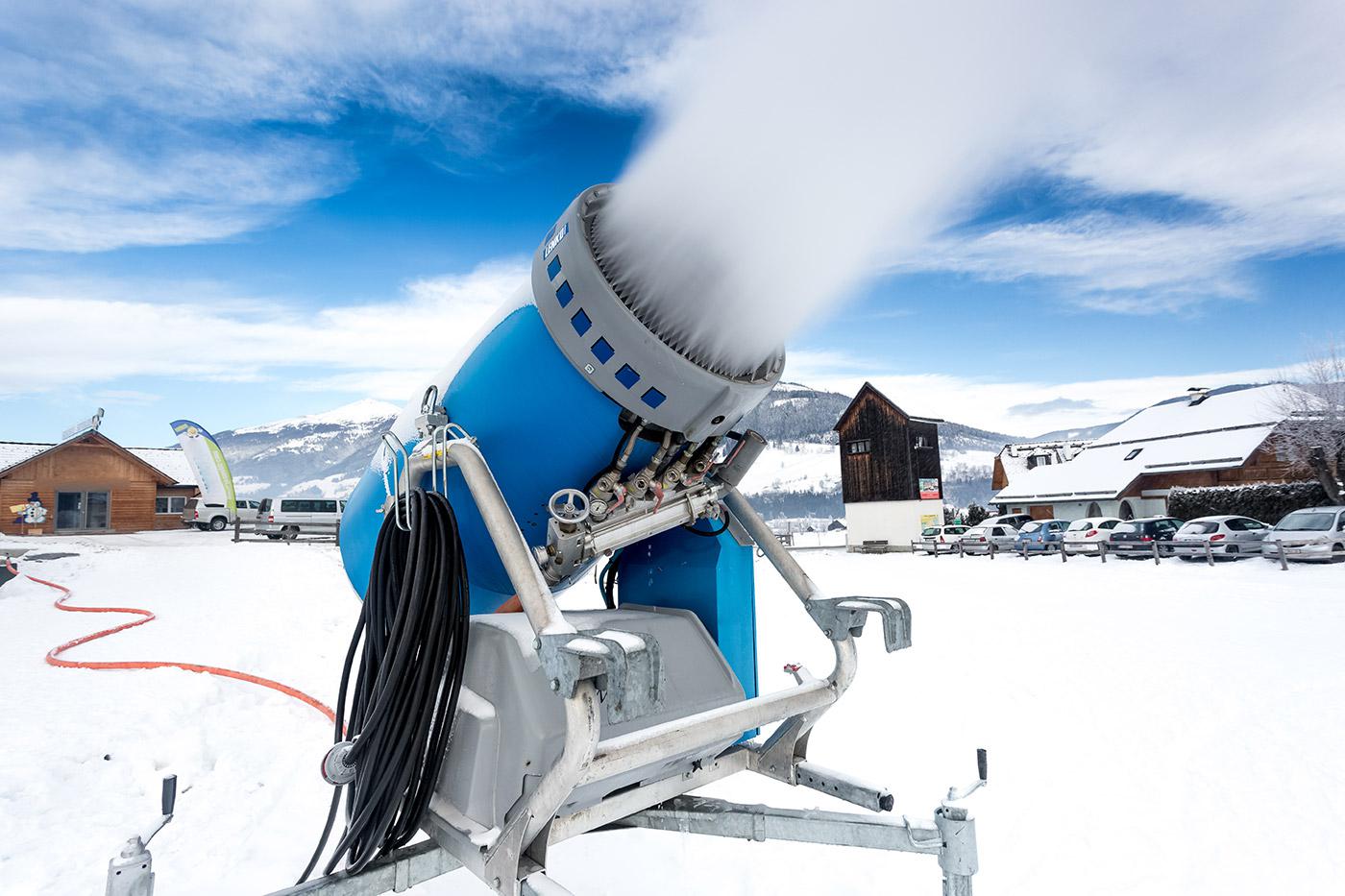 Early snowmaking can also begin to build up a base, even if it's not quite enough to open for the season. That starting base might survive a brief warm spell and put a resort in a better position to resume snowmaking once temperatures drop back down.
There is also a marketing element to the decision. The first ski area to open often garners headlines in the mainstream media as generates excitement across social media. Every winter, there are ski areas across the country that compete for the earliest opening date just for that reason.
But there can be downsides to beginning snowmaking early, especially in the fickle Mid-Atlantic region.
Although natural snowfall is always welcome, Mid-Atlantic areas rely almost exclusively on manmade snowmaking to cover and maintain their slopes. And despite efficiency improvements over the years, snowmaking remains exorbitantly expensive.
There are two primary types of snow guns: compressor-based and airless. Compressor-based guns work better in warmer conditions, but require large electricity-chugging compressors. Newer airless fan guns use less electricity, but can be more expensive to purchase and maintain, and the cost of moving huge quantities of chilled water across a mountain are still very high. Covering an acre of terrain with a foot of (non-compacted) snow can cost several thousand dollars. When a resort goes all-out, firing up its entire snowmaking system for days at a time, that expense balloons.
Therefore, when resorts make snow, they want the snow to stick around. It's not infrequent for Mid-Atlantic resorts to get burned — they begin making snow, but it's not enough to open any slopes, and that snow then melts before a window of snowmaking returns. It's not a complete loss, though: it provides a chance to test out the snowmaking system (to "blow the mice out of the pipes," as one ski area executive once told me), ensuring that the system is working and serving as a "dry run."
Most resorts also want to make sure that once they open for the season, they can remain open.
Opening a resort doesn't just require snow on the slopes. It requires lifties manning the lift, patrollers patrolling the trails, and cafeteria staff wiping tables. There are dozens of seasonal positions across a resort that must be staffed for the resort to begin operating. Those employees are looking for sustained employment throughout the season, so once a resort staffs up, it doesn't want to have to temporarily lay off employees. Those employees might end up not coming back.
Opening briefly and then closing due to weather can also complicate marketing and create a communications nightmare for resorts, Some guests may have heard a resort was open, only to discover after arriving that it had closed. (Another reason to always check current operating conditions before making the trek.)
Some ski areas also decide to try to open as many slopes as possible (which might delay an opening) to improve the overall product and decrease crowds, while other resorts aim to open a few slopes first, steadily increasing available terrain as conditions permit.
So managers must weigh a lot of variables in deciding when to begin snowmaking, how much muscle to put behind the snowmaking, and when to formally launch the season. It's not as simple as looking at the overnight temperature and seeing that it's conducive to snowmaking.
Nice. I try and keep metrics. 28 Years: Local Jan 7 was the late open and  mar 4 early close.
early open day after thanksgiving and late close Mar 30.    Dec 15 - mar 15 is about an average season.
Seems most resorts did add more snowmaking, but the big $ went to new or used lifts. 
NOAA Climate trends ( trends are just that and avg) 
 11-16  until 11-22 cold than 11-26 until 11-30. (6 cold, 4 mild, 4 cold) 4/10 ratio. 
long-range Equal chances (love that word)  3 days above 3 days below one normal temp is a general idea.
I will guess a bet on dec 16 for Liberty.
Zardog
Ski resorts, especially in this area are a risky business. Making all that snow to watch it get washed away by heavy rains or melted with warm weather has to be expensive. That said, is that covered in the cost of the pass? 
I think they went all in this year. Blow whenever you can seems to be the plan.
It has worked out so far and I think areas built a lot of good will this weekend. 
We will see what the rest of the season brings!