On September 24, 2018, it was announced that Snow Time, Inc. was being purchased by Peak Resorts. Snow Time was the parent company that operated Pennsylvania resorts Liberty, Roundtop, and Whitetail — each within a 90-minute or so drive of Washington, DC. The sale of Snow Time to Missouri-based Peak Resorts marks the end of an era for the Mid-Atlantic ski scene.
The history of Snow Time begins with Irv Naylor, who was born in Baltimore, Maryland in 1935. Irv received an M.B.A. at the University of Miami in Florida. In 1963, he had moved to York, Pennsylvania and started his first company, Lok-Box, Inc., which manufactured wooden packaging. A year later, he founded Ski Roundtop.
"When I arrived in York in 1960 I had never skied and, obviously, knew nothing about the industry," Irv recounted back in 1984.
Irv skied for the first time at Mt. Snow, Vermont during the 1961-1962 winter season, which he described as "frustrating, cold, and unfulfilling." But he didn't give up on the sport: after a few lessons, he was able to tackle beginner and intermediate slopes.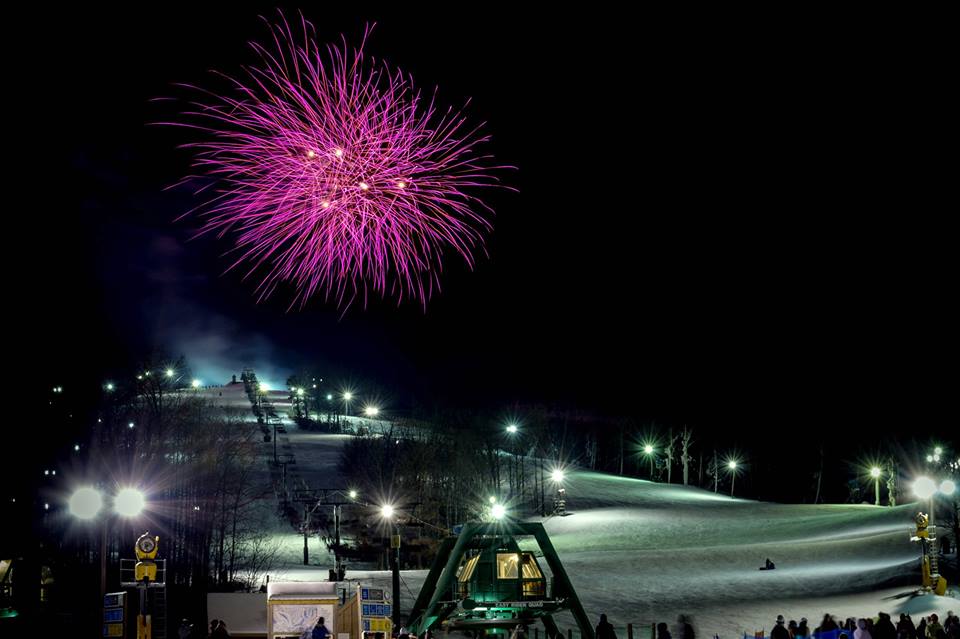 Back then, the Mid-Atlantic ski scene consisted of ski areas such as Wisp Mountain, Braddock Ski Way and Oregon Ridge, the Laurel Highlands, Big Boulder, Split Rock, Camelback, Elk, and Blair Mountain. Some of those resorts are now lost to time and are documented on the DCSki Lost Ski Areas page.
"As I became more interested in skiing, it occurred to me that both Oregon Ridge and Blair Mountain were too small to be commercially viable but that the then state-of-the-art snowmaking could make a larger hill a financial success," Irv wrote.
After looking at various options around the Maryland state line and consulting with a surveyor, Roundtop Mountain — the highest point in Pennsylvania's York County — caught Irv's attention. At the time, Roundtop Mountain and 384 surrounding acres were owned by one person, Elizabeth Barrett. Irv was able to purchase the land for $30,000.
Irv then set his focus on starting Ski Roundtop, Inc., which included lining up early investors and founding a new corporation. During the summer of 1964, Ski Roundtop, Inc. was incorporated and had raised a total equity of $242,400.
Plans were already underway to open the new ski resort in time for the upcoming winter season.
"Sometime during the summer of 1964 a man called and asked me what I intended to do about the 'ski patrol,'", Irv recalled. "Since I had never heard of a ski patrol, I told him I'd buy him dinner if he'd explain the 'ski patrol' to me." That man — Bob Beers — became Ski Roundtop's first patrol leader.
After a lodge was built and a ski school was established, Ski Roundtop was ready for its grand opening in December of 1964. The grand opening kicked off with festivities including a fashion show.
But Mother Nature wasn't on board that winter. According to Irv, "Roundtop's first year was almost a disaster — it was 60 degrees and rainy/foggy for the entirety of the Christmas week and all of us wondered if we were involved in an 'impossible dream.'"
That first year, Ski Roundtop welcomed 12,500 skiers over 74 ski days, bringing in revenue of $80,919.
"We sold our timber to generate additional revenue to help financially bridge us until the next year," Irv wrote.
The next four to five years were rough, but the fledgling ski area experienced consistent growth and soon its prospects were looking good.
Meanwhile, a nearby ski area known as Charnita (named after Charles and Anita Rist, the original developers) had experienced a downturn and gone bankrupt. In 1974, the ski area had been repossessed by a bank, and the bank approached Ski Roundtop, Inc. to see if they would be interested in purchasing the ski resort.
Irv recalled the negotiation as being "tedious," but after receiving a substantial capital improvements loan with favorable terms, he agreed to purchase the ski area, which was then renamed Ski Liberty. According to Irv, Ski Liberty's first year brought in 34,000 skier visits over 85 days, with gross sales just over $400,000.
A national gasoline shortage in 1980 threatened visits to Ski Roundtop and Ski Liberty, and to counteract that, Irv and his team came up with a unique marketing idea: they offered to fill the tank of anyone buying a full-day lift ticket. To support that promotion, they bought a filling station with a "substantial gasoline allocation" off Route 15.
Liberty began to expand, adding a motel, tennis courts, and a swimming pool. An alpine slide was added in 1977.
Meanwhile, to the north in Windham, New York, a private ski area operated as a club had fallen upon hard times, and Irv was contacted to see if he might be interested in buying the property. After performing a market analysis, Irv purchased the ski area in 1981. During the 1981-1982 winter season, Ski Windham welcomed 85,000 skier visits over 122 days and generated revenue of nearly $2 million.
The ownership of Ski Windham continued through 2005, when Snow Time, Inc. announced it was selling the property to a group of investors with connections to the Windham community.
By the 1980s, Ski Roundtop, Inc. began to recognize that its name was confusing, since it now owned several separate ski properties. Irv first attempted to rename the parent company "Ski America," but a court challenge required a name change, and "Snow Time, Inc." became the final name choice.
For many years, Ski Roundtop and Ski Liberty ruled the day skier market in the Baltimore/D.C., region, but they were met with competition when Whitetail Ski Resort opened in Mercersburg, Pennsylvania during the 1990-1991 winter season. Funded by deep-pocketed Japanese investors, Whitetail offered many firsts for the Mid-Atlantic region, such as a high-speed quad chairlift, a Deer Valley-inspired day lodge, and an impressive vertical of 935 feet. Whitetail presented itself as a luxury resort, limiting the number of tickets sold each day to prevent overcrowding. Whitetail even re-groomed its slopes between the day and evening sessions during its first years of operation.
Whitetail quickly attracted crowds and began drawing business away from nearby ski areas. On its opening weekend, traffic was backed up for miles on I-70 as people flocked to the resort.
However, soon the realities of fickle Mid-Atlantic weather began to be felt. The 1996-1997 winter season was a disaster, with warm temperatures and more rain than snow. The next year, the phrase El Nino entered the public lexicon, and obliterated the ski season for Mid-Atlantic ski areas.
Ski Roundtop and Ski Liberty were able to "weather" the unseasonably warm temperatures, but with huge startup costs and debt, Whitetail was on the verge of collapsing and the original investors were looking for a way out.
By 1998, Whitetail was negotiating to be purchased by the Dauphin County General Authority (DCGA). Under the proposed agreement, Whitetail's land and physical assets would be transfered to the municipal authority — echoing other arrangements across the country where ski areas had become county- or state-owned.
However, Snow Time, Inc. lobbied against the sale, arguing that it would result in unfair competition. For a period of time, this resulted in a public volley of words between Snow Time and Whitetail.
"I'm not sure whether this is a case of 'unfair' competition or a reflection of Ski Liberty and Ski Roundtop's concern about the substantially superior quality of experience at Whitetail," argued Richard Perl, Chairman of the Whitetail Ski Company at the time.
The lawsuit by Snow Time did put an end to the DCGA purchase, though, and Whitetail was back on the auction block.
It perhaps shouldn't have been a surprise when Snow Time emerged as a bidder, scooping up its former rival for pennies on the dollar. On August 24, 1999, it was announced that Snow Time would be purchasing Whitetail Resort, adding to a portfolio which already included Ski Roundtop, Ski Liberty, and Ski Windham Resorts.
Mid-Atlantic skiers were originally worried that the sale would remove competition — after all, Whitetail had aggressively competed with Ski Liberty and Ski Roundtop, and competition is good for consumers. But in the end, Snow Time allowed each ski area to operate semi-independently and cater to its own strengths, while offering benefits such as a shareable season pass.
Since then, Snow Time has been a highly respected ski area operator, consistently re-investing profits back into its ski areas. Nearly every year, Roundtop, Liberty, and Whitetail have made notable capital improvements — regularly updating base facilities, installing the latest in state-of-the-art snowmaking, and expanding year-round opportunities.
That these resorts have excelled in a climate that is challenging is a testament to Irv's careful stewardship over the years as well as the work of dedicated staff to this day.
In addition to the business challenges Irv has faced throughout his life, he was dealt a challenging hand on April 17, 1999 while riding his horse in the Grand National timber steeplechase in Butler, Maryland. An accident led his horse to fall on him, breaking the C5 vertebrae in his neck and leading to paralysis.
"I remember little after the fall — just that I was paralyzed and could move neither my feet/legs nor my arms/hands," Irv recounted.
The paralysis meant that Irv's days of skiing were behind him, and he soon became a vocal advocate for stem cell research.
He continued to serve as the Founder and Owner of Snow Time, Inc., but has now entered retirement. Snow Time announced that Irv and his family had decided it was time to transfer ownership of the resorts to a company who can continue their healthy growth and operation into the future. The sale is reportedly worth $76 million.
"I am extremely pleased to pass along the stewardship of Snow Time and our three mountain resorts to Peak Resorts," Irv said in a statement earlier this week.
"Having watched the progress they continue to make at the formerly family-owned Hunter Mountain, I view them as the perfect operators to take Liberty, Roundtop, and Whitetail to the next level," Irv said.
Based in the midwest, Peak Resorts operates 14 ski resorts, including New Hampshire's Attitash, New York's Hunter Mountain, Vermont's Mount Snow, and Jack Frost/Big Boulder in the Poconos of Pennsylvania.
At this time, the management teams and staffs at Roundtop, Liberty, and Whitetail are expected to remain the same. Skiers and snowboarders shouldn't expect major changes at these resorts this winter season, although season pass options are likely to change in subsequent seasons.